Less than 18 months ago, Levi Casboult was the apprentice in a powerful three-pronged Carlton forward line.

But his then forward-line partners Jarrad Waite and Lachie Henderson have since departed – to North Melbourne at the end of 2014 and Geelong at the end of last season respectively – meaning Casboult will likely enter 2016 as the Blues' No.1 key forward.

With 2015's wooden-spooner embarking on the first stage of a list rebuild at November's national draft, next season is expected to be a tough one for Carlton, with supply to its forward 50 likely to be spasmodic.

Taking over as the Blues' chief spearhead in such circumstances could be a daunting prospect, but Casboult is excited.

He told AFL.com.au shortly before Christmas that he had never considered joining Henderson in asking for a trade at the end of last season.

At the time, Casboult's manager Anthony McConville said "a number of clubs" had shown interest in his client, with reports later linking him to the Brisbane Lions.

But Casboult said at Carlton's Gold Coast training camp in mid-December that the chance to be part of the Blues' regeneration under new coach Brendon Bolton was too good to pass up.

"I was a Carlton supporter growing up so I was excited by the opportunity to get us back up to the top of the ladder, but also with the opportunities for myself down forward," Casboult said.

"There is a big opportunity for me to be that big key forward, so I was never going to leave – there are always plenty of rumours and things going around at that time of the year.

"For a while I've wanted to take on a bit more of a leadership role down forward, not necessarily in the sense that I've got to do everything, but in terms of leading the boys in the structural stuff.

"A few of the young boys (draftees Harry McKay, Charlie Curnow and Jack Silvagni) and even the boys coming from other clubs might be playing down there as well, so I want to do whatever I can to help get the team going in the right direction."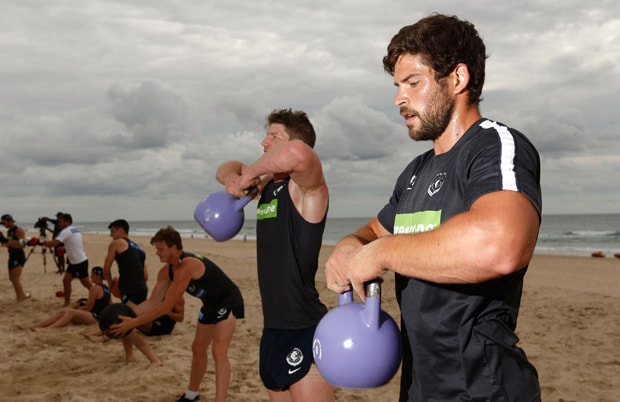 Levi Casboult takes part in a beach circuit during the Club's Gold Coast Training Camp. (Photo: AFL Photos)

Casboult does not envisage he will have to change his playing style too much in the wake of Henderson's departure.

The former rookie says he played predominantly as a high forward alongside Waite and Henderson in 2014, then was stationed closer to goal last season as Henderson worked further up the ground.

The 25-year-old is comfortable in either role and says the modern game dictates key forwards generally have to play a mixture of both.

"These days you don't really find a stay-at-home forward. You've got to get up and be able to help defend and then get back and provide an option inside 50," he says.

"I'm comfortable doing either."

Casboult was on a modified pre-season program before Christmas as he recovered from the right posterior cruciate ligament injury he suffered in round 19 against Collingwood.

The forward was mainly limited to running and bike riding, but started to do some off-line running before the club broke for the holiday period.

Casboult has yet to resume kicking practice, but is confident the work he did with former Collingwood and North Melbourne spearhead Sav Rocca last year will continue to keep his past goalkicking yips at bay.

"I've really enjoyed working with Sav and I think we've got things down pat now," he says.

"It's just a case of perfect practice.

"Because of my knee I haven't kicked for a while, but I'll keep working on it."

Casboult is also relatively optimistic about the Blues' on-field prospects next year.

He acknowledges pre-season talk is cheap but refuses to accept the general consensus of external pundits that 2016 is going to be a tough year for Bolton's baby Blues.

"It's going to be a long year if you think that way," he says.

"We're still out to win. What's the point in putting in a pre-season if you think you can't win?

"We understand where everyone else thinks we're at, but we've got our own measures inside the club that we want to go by.

"It's just about putting in the hard yards now and getting out there come February/March and giving it our best.

"We'll have a good crack at it next year and see how we go."