A 'genuine investment' from Carlton and a highly beneficial training camp has the Northern Blues in good stead heading into the 2016 campaign, according to senior coach Josh Fraser.
Northern returned to the familiar surrounds of Ikon Park on Monday night after venturing to Mulwala for a weekend camp, designed for both gruelling training on the track as well as the establishment of the club's culture.
According to Fraser, the camp delivered in spades, cementing a further sense of camaraderie among a new-look playing group and coaching staff.
The camp had a particularly Carlton feel about it with the club's first-year recruits - including prized No. 1 draft pick Jacob Weitering - venturing down for the first night.
It was the youngsters' commitment to the cause which stood out to Fraser as one of the many positives to come from the weekend.
"It was outstanding - you talk about highlights of the camp, that's definitely right up there," Fraser said.
"To have the first-year players not only attend the camp but the way they bought into the program, the Northern Blues system and players the way they did was terrific."
Fraser lauded the efforts of Carlton senior coach Brendon Bolton, citing his contribution in making all levels of Carlton a united front as a key factor in Northern's continued development both on and off the track.
"The investment from Brendon and the Carlton Football Club into our Northern Blues program has made us one: we really are connected as a football club," Fraser said.
"I know 'Bolts' wasn't there but if he was, he would've been thrilled with what took place: it says a lot about the program he's put in place at Carlton and the calibre of the young men that have been brought into the footy club."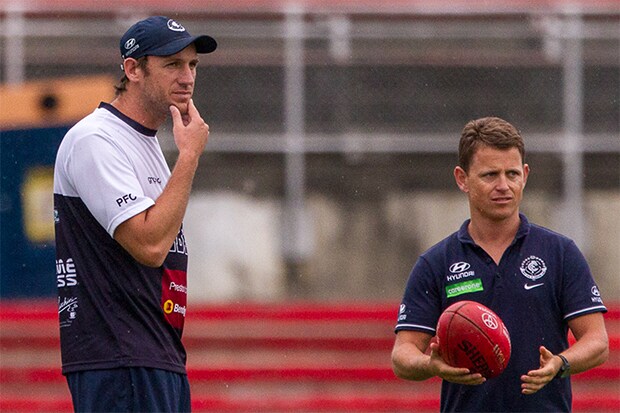 Josh Fraser with Brendon Bolton. (Photo: Jason Heidrich)
On the camp, Fraser said the camp was a key instigator in solidifying the standards and expectations the group has been working towards over the summer.
"When you set these kind of things up you're helpful of achieving some key objectives but there's always a sense of not quite knowing if you're going to hit your mark with all of them," Fraser said.
"On reviewing it with the coaches and the players, we felt that we came away in a much better place than when we went there and we really achieved what we wanted to and then some."
Coming into a club adapting to substantial change over the off-season (only 14 players remain from the 2016 campaign), Fraser and his fellow coaches have set upon a fully-fledged reset.
With a large majority of new faces at the club at playing and coaching level, a key objective of the camp was creating a launching pad for the upcoming 2016 campaign.
A fantastic unified performance for @NBluesFC #preseasoncamp #2016 #VFL #enduring pic.twitter.com/9Ilq718WdY

— Mathew Pell (@MathewPell) February 7, 2016
"We had some really good, fruitful discussions about our cultures and values and above all else what it means to be a Northern Blue," Fraser said.
"The leaders certainly came to the fore and there was a definite buy-in to the culture we're trying to establish, which was the big objective.
"What I saw were some blokes training at VFL standard bordering on elite standard, and it gave their peers no choice but to jump on board for the ride."
With Northern's first practice match less than five weeks away, Fraser said both the program and expectations on all involved with the club would continue to be ramped up.
Click here to see the Northern Blues' 2016 VFL fixture
"I think now we can really start to drill down, review and be held accountable to our values and trademarks," Fraser said.
"Five weeks may sound like a long time but it'll be around very quickly: we want to prepare our boys for battle as best we can and have them ready to perform."
The Northern Blues' first practice match takes place in just over a month, hosting Box Hill at Ikon Park on March 12. Their VFL season gets underway on April 10, travelling to Whitten Oval to play Footscray in their season opener.