The Carltonians celebrated their Season Launch in style last Thursday night at Showtime Events South Wharf with over 150 guests in attendance.
Coinciding with St Patrick's Day, the event was a great occasion to recognise the contribution the Irish have made to the Carlton Football Club. Traditional Irish dancers captivated the gathering with a charming performance.
Carlton's Irish contingent Zach Tuohy, Ciaran Sheehan & Ciaran Byrne joined the Carltonians in celebrating their national holiday speaking about the sacrifices that have come with chasing their dreams across the other side of the world.
Director of Coaching & Performance Development Neil Craig was a guest speaker at the event and outlined to attendees the positive growth throughout the football department.
Carltonians-sponsored players Kade Simpson and Dillon Viojo-Rainbow joined Dylan Buckley in a very entertaining panel interview where they gave an insight into their pre-season and detailed their personal expectations for season 2016.
President Vince Loccisano hailed the evening a resounding success, setting up an exciting 2016 for the Carlton Football Club's premier match-day coterie.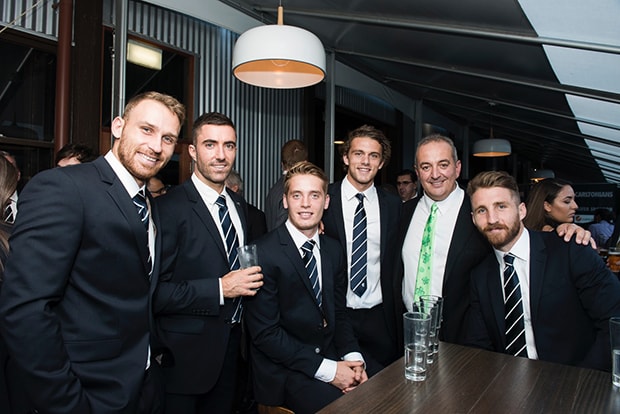 Carltonians President Vince Loccisano is joined by Blues players (left to right) Ciaran Sheehan, Kade Simpson, Ciaran Byrne, Dillon Viojo-Rainbow and Zach Tuohy at the Season Launch. (Photo: Carltonians)
"It was tremendous to have such a vast array of special guests help us celebrate St Patrick's Day and more specifically the start of season 2016 with Carltonians members, who are some of the club's most loyal and passionate supporters," he said.
"It's only fitting that the Carltonians are acknowledged and respected for our unconditional support of the club through thick and thin.
"We are really looking forward to the start of what promises to be an exciting and rewarding journey."
There are still opportunities to join the Carltonians for season 2016 where you can become involved in match-day and non-match-day events within the inner sanctum of the Carlton Football Club.
To find how to get involved with the Carltonians visit www.carltonians.com.au