Name: Spiro Pazios
Carlton member years: 3
Favourite players: Anthony Koutoufides & Stephen Silvagni
Memorable matches: Round 9, 2005 v Melbourne (last game at Princes Park).
"Carlton stands for excellence in my eyes, because I come from an era when the Carlton Football Club was supreme, and that's where it needs to be and that's where it deserves to be," said long-time Blues supporter Spiro Pazios.
After being a passionate Carlton supporter for nearly 35 years, Spiro felt compelled to sign up as a member three years ago.
"Carlton has always been a very strong club both on and off the field, but probably in recent times it hasn't," Spiro said.
"I felt it was the time to put my money where my mouth is and start to support them in more than just barracking for them.
"I want Carlton to be strong again, I think a strong Carlton is important for the AFL and the country as well – it's important for everybody."
Taking his membership and loyalty a step further, Spiro also signed up his 24-year-old son, and will next year buy a membership for his 16-year-old daughter as well.
"My son is a mad Carlton supporter, and well my daughter didn't have a choice, she had to be a Carlton supporter," Spiro laughed.
Although Spiro has lived in the ACT for 16 years, he was actually born and bred in South Australia – a state that has a strong Carlton connection.
Spiro barracked for Sturt, aka the 'double blues' in the SANFL. When his family moved to Canberra they began following the Blues in the VFL and have never looked back.
"Our whole family was Sturt supporters and we naturally became VFL Blues supporters, and even though we got the Crows and Port Adelaide we still remain Carlton people," Spiro said.
"In 1985 Carlton recruited Stephen Kernahan, Craig Bradley and Peter Motley, who were all South Australian.
"Motley came from the Sturt Football Club, Kernahan came from Glenelg and Bradley came from Port Adelaide – so that was a big year."
A match that sticks out in Spiro's mind as his "most memorable", was a bittersweet day for many Bluebaggers – Carlton's final game at Princes Park.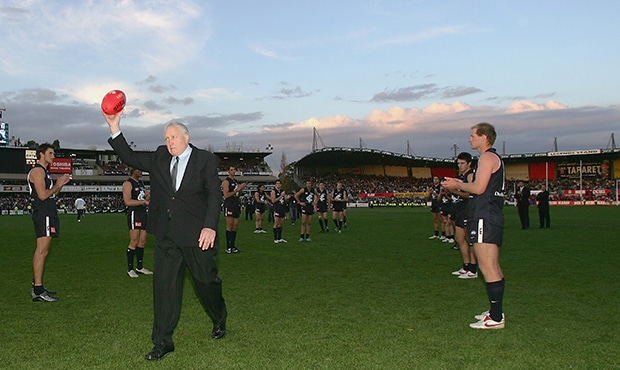 Carlton legend John Nicholls carriers the match-ball off Princes Park for the final time. (Photo: AFL Media)
"I had both my ten-year-old boys with me at the time and we were lucky enough to have dinner with the Carltonians," Spiro said.
"One of the old Carltonians took my young boys to the change rooms before the game and they got to see all the players – it was a really special day."
When Spiro heads to Melbourne to watch the footy, he has been to three games this year, he says he loves nothing more than sitting in the outer and "screaming" his guts out.
"Watching football in Melbourne is awesome and special because people get into it and people understand it," he said.
"Whereas watching football in Canberra people are very polite and don't appeal, so you don't hear the roar of the crowd for holding the ball.
"For me, sitting in the outer with the core supporters who are one-eyed and scream at everything and get emotional is the best experience. I feel very relaxed after the game because I let everything out."
Over the years the specialist orthodontist has had many favourite players, including club legends and upcoming young talent.
"Koutoufides and Stephen Silvagni were both freaks," Spiro said.
"Other guys I've admired are Craig Bradley and Kernahan, for their endurance, longevity and leadership.
"In terms of modern day, upcoming kids like Sam Docherty, Weitering and Cripps are all on the right track – they're the future and they're looking good."
Spiro says being a Carlton supporter means remembering the success and tradition of years gone by, while also embracing the Club's future.
"The tradition of the Club, what the Club stands for, the success it's had in the past, and the success it's yearning for in the future, that's what it means to be Carlton," Spiro said.
"The only way is up for us, so let's get on board and support the boys as much as possible."