Name: Nathan Price
Carlton member years: 15 years
Favourite player: Kade Simpson
Although Nathan Price is only in his 30s, fate decided which team he was going to barrack for more than 50 years ago.
In the 1960s Nathan's father watched his first game of football, with the winner to be his team.
"I think back to when my dad decided to barrack for Carlton, he was watching a game, Carlton v Geelong, and he decided the winner of that game would be his team," Nathan said.
"I just couldn't imagine being a Geelong supporter – I'm so glad Carlton won that day."
Just as Nathan didn't get a choice which team he was going to barrack for, neither did his two boys, Thomas, 9, and William, 7.
"They can sleep in the garage if they want to barrack for someone else," Nathan joked.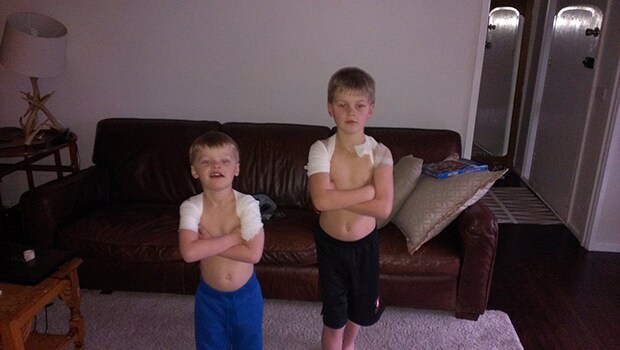 William and Thomas get their shoulders strapped just like 'Juddy'! (Photo: Supplied)
As well as converting his two sons, the 15-year member also convinced his wife's family to become Bluebaggers.
"My wife is a Kiwi, so we converted all her side of the family to support Carlton too," Nathan said.
While Nathan's favourite player is veteran defender Kade Simpson, Thomas and William look up to a wide range of players.
Between young the two of them their favourite players include Dale Thomas, Patrick Cripps, Liam Sumner, Jed Lamb, Lachie Plowman and Jacob Weitering.
The family has reserved seats and sits in the second row at Etihad Stadium, and the boys say being so close to the action definitely has its perks.
"When the coach walks by he walks straight past us and we can try and get footys if we win after the game – I got a footy once from Dale Thomas," William said.
It was also Dale Thomas that took a spectacular mark against Brisbane last year right in front of Nathan, Thomas and William. 'Daisy's' mark was so good the AFL made it into a footy card, and you'll never guess who was in the background!
"Someone in my class had footy cards and I saw the Carlton one and it had us in it," Thomas said.
"We knew we were on TV when he took the mark," Nathan said.
"Then Thomas comes home from school and says 'we're on a footy card' and I just assumed they must have made their own footy cards at school.
"Then he showed me and I was like 'no, we're actually on a footy card with Dale Thomas'," Nathan laughed.
"It was one of the few cards you see where the crowd wasn't blurred out."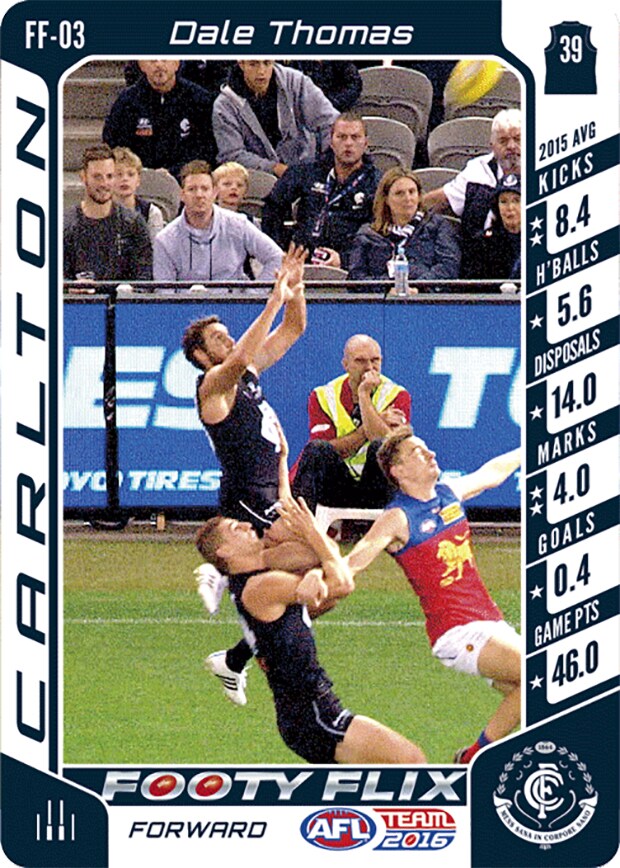 Nathan and his sons sit in the second row, as they watch 'Daisy' take a hanger. (Photo: Supplied)
Both Thomas and William not only love watching Aussie Rules, they also love playing the game too.
"The boys play down at Banyule Junior Football Club," Nathan said.
"Thomas plays up forward, but Will is still under 8s so they play with zones and they switch the zones around.
The family, including Nathan's dad, attend around nine or 10 games each season – they all love their footy.
And what does being a Carlton supporter mean to these three? "It means we're winners," William exclaimed.