Carlton marquee players Brianna Davey and Darcy Vescio have been named in the inaugural Virgin Australian AFLW All-Australian team announced at The W Awards on Tuesday evening.
In their first season in the navy blue, both Vescio and Davey lived up to expectation to perform consistently across the competition.
While Davey missed one game due to injury, fellow marquee player Vescio took to the field for all seven of Carlton's matches to emerge as the AFLW's leading goalkicker with 14.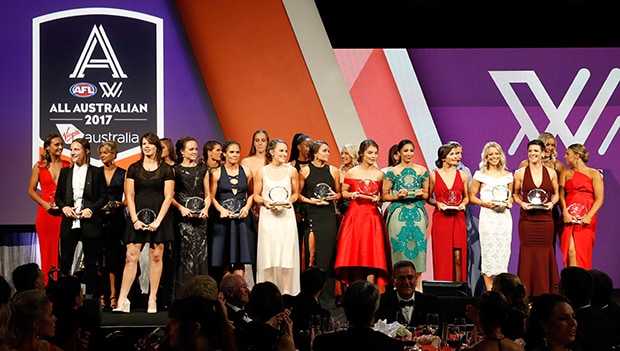 The inaugural AFLW All-Australian team takes to the stage. (Photo: AFL Media)
The accolades didn't stop there for Vescio, who took out the fan-voted AFLW Mark of the Year for her incredible pack mark in the goalsquare against the Bulldogs in Round 5.
Vescio was also the Blues' top vote-getter in the AFLW Best and Fairest - the equivalent of the Brownlow - polling seven votes to finish equal fifith overall behind winner Erin Phillips.
Carlton players Alison Downie and Danielle Hardiman, who were named in the initial 40-player AFLW All-Australian squad, missed out on selection in their final team.
GALLERY: Blues at The W Awards
AFLW BEST & FAIREST VOTING:
1. Erin Phillips (ADEL) — 14
=2. Karen Paxman (MELB) — 10
=2. Ellie Blackburn (WB) — 10
3. Lara Filocamo (FREM) — 9
4. Kaitlyn Ashmore (BRIS) — 8
5. Darcy Vescio (CARL), Jess Dal Pos (GWS), Daisy Pearce (MELB), Emma Kearney (WB) — 7
ROUND-BY-ROUND VOTING:
Round 1 - Carlton (46) def. Collingwood (11)
3 - Lauren Arnell (CARL)
2 - Darcy Vescio (CARL)
1 - Bri Davey (CARL)
Round 2 - Carlton (47) def. GWS (34)
3 - Darcy Vescio (CARL)
2 - Jess Dal Pos (GWS)
1 - Shae Audley (CARL)
Round 3 - Adelaide (17) def. Carlton (14)
3 - Chelsea Randall (ADEL)
2 - Lauren Arnell (CARL)
1 - Erin Phillips (ADEL)
Round 4 - Melbourne (42) def. Carlton (36)
3 - Karen Paxman (MELB)
2 - Elise O'Dea (MELB)
1 - Bella Ayre (CARL)
Round 5 - Carlton (54) def. Western Bulldogs (48)
3 - Ellie Blackburn (WB)
2 - Darcy Vescio (CARL)
1 - Bri Davey (CARL)
Round 6 - Fremantle (43) def. Carlton (27)
3 - Kara Donnellan (FREM)
2 - Alicia Janz (FREM)
1 - Lauren Arnell (CARL)
Round 7 - Carlton (37) drew Brisbane (37)
3 - Bri Davey (CARL)
2 - Emily Bates (BRIS)
1 - Kate Gillespie-Jones (CARL)
CARLTON LEADERBOARD:
7 - Darcy Vescio
6 - Lauren Arnell
5 - Bri Davey
1 - Kate Gillespie-Jones, Bella Ayre