On a night where the fourth member of the 2016 draft class debuted for Carlton, another young Blue shone at Etihad Stadium.
Cameron Polson once again put his best foot forward for the Northern Blues in a 75-point win over the AFL Academy.
Taking to the field before Zac Fisher joined Sam Petrevski-Seton, Harrison Macreadie and Tom Williamson in the navy blue, Polson — drafted with pick 59 — continued his exciting start to the 2017 year for Northern.
After collecting 28 disposals on his VFL debut against Port Melbourne, Polson doubled it up with another 28 possessions and a goal against the best under-18 talent in the country.
Watch Polson's under-18 highlights
His game was enough to see him acknowledged post-match as the Blues' best performer on the day.
"It was a good hit-out yesterday, played in the right spirit and we were able to go out there and get our systems right," Polson said of the game.
Following a promising first-up individual performance against the Borough, Polson provided energy and drive through midfield alongside Sam Kerridge to set up the big win.
The 19-year-old said watching his younger teammates perform for Carlton had provided enjoyment and a spur to continue elevating his game.
"It does make me hungry, watching those boys in the AFL side, but at the same time I'm beyond stoked for them and happy to watch them on the big stage," Polson said.
"I didn't start the practice games too well in my eyes, but I've been doing a lot of work with Tim Clarke, working on running patterns and that kind of thing.
"To get some good performances under my belt has been pretty pleasing and I know that I'll get my chance in due time if I keep doing the right things."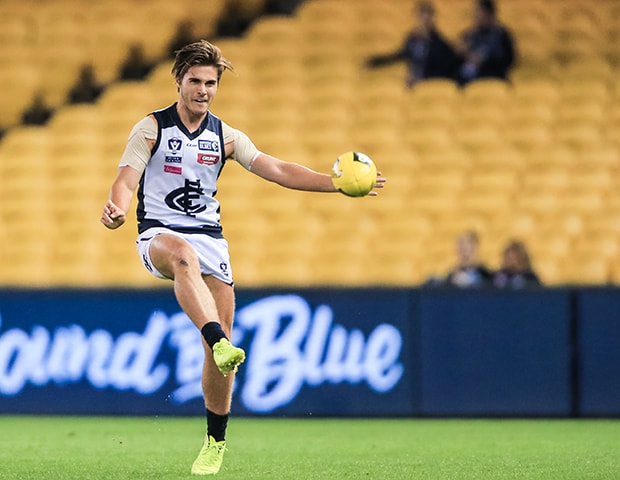 Cameron Polson gathers one of his 28 disposals against the AFL Academy. (Photo: Tim Murdoch)
The Blues recovered from a disappointing start to the VFL season, atoning for the loss to Port Melbourne with a comprehensive win over the Academy.
Polson said the game gave Northern the opportunity to iron out some deficiencies in their game ahead of Williamstown next Saturday.
"We previewed some things to work on and I think we worked them out pretty well during the game. It was a good way to move forward, refining some things which was really pleasing," Polson said.
"I think we're ready, this week was really handy to work on things to take into Williamstown."
The Northern Blues have their first home game of the season next Saturday afternoon, hosting the Seagulls at Preston City Oval from 2:40pm. The game will be broadcast live on Channel 7.