Northern Blues coach Josh Fraser rates the performances of every Carlton-listed player who featured in the Northern Blues' 37-point loss to Casey at Casey Fields on Saturday:
7. Dylan Buckley
Stats: 16 disposals, 6 handball receives, 4 inside 50s
From the coach: 'Bucks' played mostly on the wing and had some good moments in terms of breaking the lines with his run and getting on the end of handball receives. He has a strong focus on producing his form over four quarters, and he keeps working hard on aspects of his game.
59. Ciaran Byrne
Stats: 16 disposals, 5 marks, 5 rebound 50s
From the coach: I thought from a physical point of view, he got through really well, having an increased workload this week. He built into it and in the second half he broke up the game with his offensive movement. He keeps building really good habits for someone who has missed a lot of footy.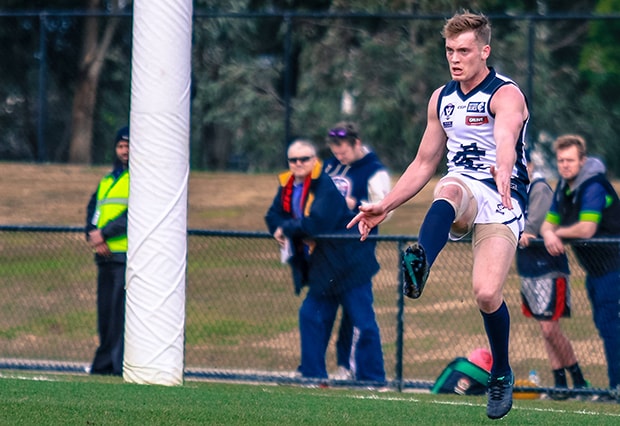 Ciaran Byrne produced another solid VFL performance. (Photo: Ashley Perez)
56. Andrew Gallucci
Stats: 13 disposals, 5 tackles, 1 goal
From the coach: He had a lot of opportunities to be involved, but he probably needs to finish work in front of goal to get true reward for effort. He continues to work hard on the detail of his defensive pressure. His output was solid on a tough day for small forwards.
34. Jesse Glass-McCasker
Stats: 8 disposals
From the coach: It's been a consistent theme for Jesse in that his good stuff is good, but the challenge for him is to stay engaged for the whole game. There were some good examples again of being strong in the contest and in his defensive efforts.
80. Matthew Korcheck
Stats: 8 disposals, 55 hitouts, 1 goal
From the coach: I thought Matty battled really well, where he gave our midfielders first use with hitouts while he also got forward and kicked a goal. It was another week where we have seen some more growth in his game.
76. Kym Lebois
Stats: 7 disposals, 3 inside 50s
From the coach: Similar to Gallucci, he had chances to impact. When Kym gets the ball, his speed in congestion is really exciting and he set up a goal for us in the second half. He had some good moments with his forward pressure. He's a young player who keeps building form and as I've said before, he's got real talent.
70. Harrison Macreadie
Stats: 10 disposals, 4 marks, 5 tackles
From the coach: From a defensive system point of view he was sound. We would like to see him more consistent overhead, because he gets himself in good positions to impact which is a great sign for a young player. His game was pleasing, but he needs to keep backing himself in.
24. Rhys Palmer
Stats: 30 disposals, 7 clearances, 6 inside 50s, 2 goals
From the coach: It was a really combative performance from Rhys, who won a lot of ball around the contest and kicked an important goal bursting out of a stoppage which gave us some momentum. He's a player who we keep working hard with and in terms of his contest on the weekend, he led from the front.
47. Ciaran Sheehan
Stats: 16 disposals, 4 marks, 5 rebound 50s
From the coach: Gussy's game was solid, which was a theme across the day - we had a lot of solid performances without being outstanding. He defended with speed and had some moments in the air where he impacted through his spoiling or intercept marking. There were some things to build on.
55. Liam Sumner
Stats: 3 disposals
From the coach: It was hard to judge his game given he went off early with concussion. He had a good front-half tackle early and had moments with ball in hand where he was creative, but he wasn't on the ground long enough.