THE spiritual home of the Carlton Football Club will continue under the title of Ikon Park, with Ikon Services Australia today signing a three-year contract extension with the Blues.
Having been the naming rights partner of the Princes Park-based venue since 2015, Ikon Services Australia will continue as Carlton's official venue partner and foundation partner of the Club's AFLW program.
Carlton CEO Steven Trigg welcomed the partnership extension with Ikon Services Australia, a locally owned business that was founded in 1999, providing cleaning and property services as well as waste management solutions.
"We are particularly grateful to George Tahan and his team at Ikon Services Australia for their enduring support of the Carlton Football Club," Trigg said.
"Ikon Services Australia has been associated with the Club for over a decade and we look forward to continuing to work alongside them over the next three years in various capacities across all facets of the Club, including our AFLW program."
Ikon Services Australia CEO George Tahan said the partnership extension with the Carlton Football Club marked another milestone for his company.
"Ikon Services Australia is thrilled to extend our long-standing relationship with Carlton. It's a privilege to have our name adorn Ikon Park, and we look forward to working with the Club to continue the positive trajectory of both Ikon and Carlton," Tahan said.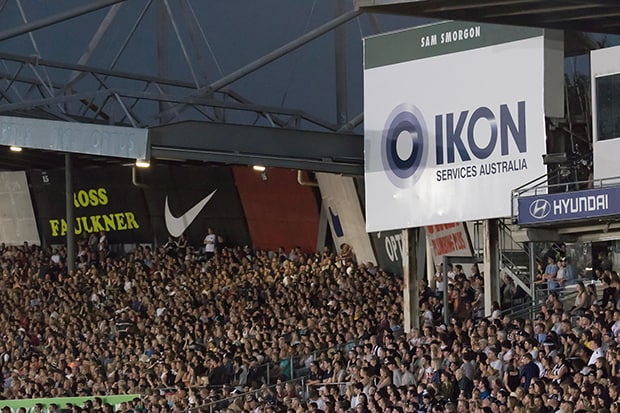 Carlton's spiritual home will continue under the name of Ikon Park for at least the next three years. (Photo: Carlton Media)
Ikon Services Australia also remains a key member of the Club's renowned Carlton IN Business program.
Ikon Services are leaders in the commercial cleaning industry. Currently providing cleaning services to a broad range of clients in both the private and public sectors, Ikon cliental includes entertainment complexes, office and multipurpose building, universities and shopping centres as well as councils and government sites.
Some of the company's high-profile contracts include Crown Casino, Federation Square, Melbourne Convention & Exhibition Centre, Melbourne Market and the National Gallery of Victoria.
In recent weeks, Carlton Football Club has significantly strengthened its partnership portfolio, proudly announcing new and renewed agreements with Hyundai Motor Corporation Australia and Virgin Australia, as well as with Carlton and United Breweries and Uber Australia.
For more information about Ikon Services Australia, please click here.