The Carlton Football Club, in conjunction with Michelin Australia, is proud to support Tread Safely Week, encouraging Australian motorists to check the tread depth and pressure of their vehicle's tyres.
An initiative of the Australian Road Safety Foundation, Tread Safely Week seeks to reduce road accidents caused by worn, unsafe tyres by educating Australian road users on the significant role tyres play in vehicle safety.
To mark the 2017 Tread Safely Week, Carlton AFLW players Darcy Vescio and Jess Hosking joined Western Bulldogs players Deanna Berry and Brooke Lochland at Michelin headquarters in Melbourne on Tuesday, to help spread the 'Tread Safely' message.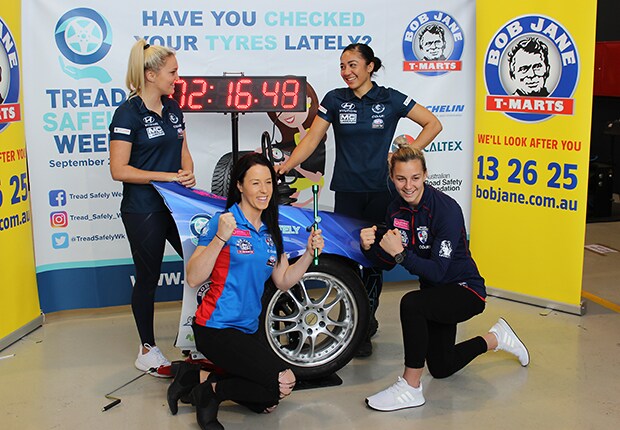 Carlton's AFLW players Jess Hosking and Darcy Vescio with Bulldogs Brooke Lochland and Deanna Berry. (Photo: Carlton Media)
In the company of the Michelin Man, the footballers were instructed on how to change a tyre before being timed on how quickly they could do it.
With new research commissioned by the Australian Road Safety Foundation revealing that one in five Australians would only ever replace a tyre if it was flat or undriveable, Michelin Australia has set its sights on educating road users on the dangers of worn tyres.
"Our support of the Australian Road Safety Foundation and its initiatives such as Tread Safely Week demonstrate not only our commitment to road safety but the proactive efforts we are going to, to actively improve road safety standards in this country," Michelin Australia Managing Director Cedric Binoit said.
"Our aim is for a longer term community change to collectively improve road safety standards on our roads, not only through education of aspects like under inflation and tyre wear, but for all road users to harness the safety benefits and technology we invest in the development of every Michelin tyre."
Carlton and Michelin are urging all Australian motorists to protect themselves and their passengers by conducting regular tyre checks to detect abnormal wear or damage such as cracks, bulges or tears.
Further information can be found at www.michelin.com.au.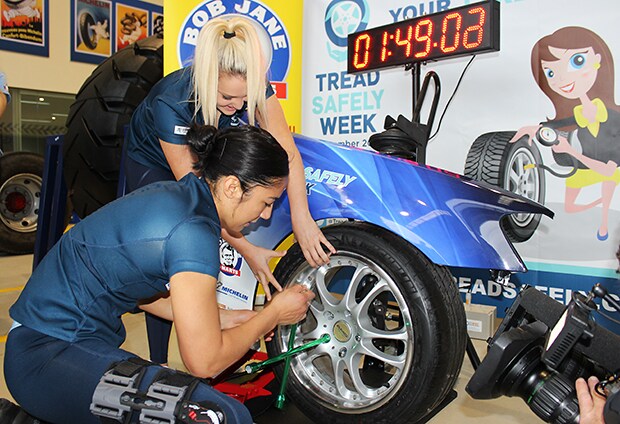 Vescio and Hosking practise changing a tyre. (Photo: Carlton Media)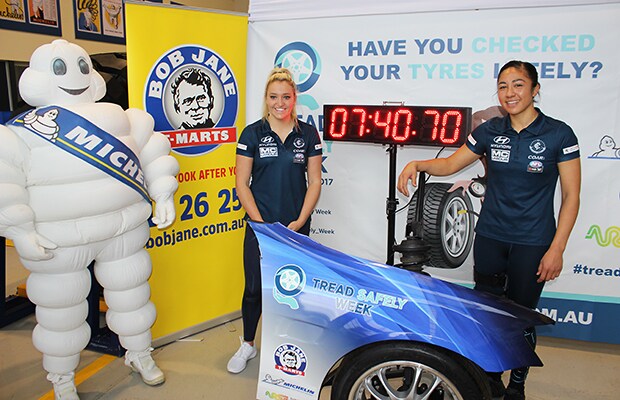 Job done. (Photo: Carlton Media)