The great Ronald Dale Barassi has this week paid a sentimental journey back to the old Carlton ground.
With the 50th anniversary of the drought-breaking 1968 Grand Final victory over Essendon looming, Barassi, the two-time Carlton Premiership coach of '68 and '70, reacquainted himself with the place to which he sensationally defected from Melbourne back in late '64.
Barassi took time out to pose by the locker carrying his name and that of the other eight men who have coached this club through a minimum 100 senior matches. He was particularly taken by the presence of Norman Clark's name - Clark having represented Carlton as a player in the premiership hat-trick years of 1906, '07 and '08, and later as coach in the back-to-back grand final triumphs of 1914 and '15.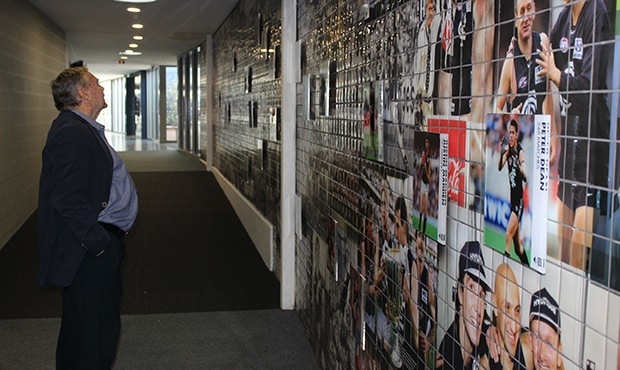 Barassi admires Carlton's 200 wall, which also features a timeline of the Club's history. (Photo: Carlton Media)
Mindful also of Ken Hands' name on the locker's door, Barassi asked that a message be passed on to the man he succeeded as coach and who turns 91 on Thursday.
"Tell 'Handsy' I owe him one," said Barassi.
Barassi was particularly taken by the Carlton timeline wall. "I think this is fantastic. It's a great idea done very well," he said.
"It's important that football history is preserved, now more than ever, because we live in a time when we (Australian Rules) are up against the world and we have to be as good as we can be."

From L-R: Kevin Hall, Athol Hodgetts, Ron Barassi, Ken Barassi and Adam Barassi in the Carlton
locker room. (Photo: Carlton Media)
Barassi identified with the images of Jesaulenko, Hands, Bentley, Nicholls and Gallagher. He also warmed to the many and varied moments in time in which he was so famously featured – dutifully replicating a glorious image of himself clenching his fist by the old blue wall upon which the words of the club's famous theme song were once emblazoned.
When asked what it meant to him to see himself up there as part of the rich Carlton narrative, the undisputed football legend's reply was typically Barassiesque.
"To myself I bow and to opponents I biff."
In completing this special visit to the home of the Blues, Barassi met briefly with Brendon Bolton – the Carlton senior coach who, like him, inherited a football club that had somehow lost its way. He also crossed paths with John Barker, who respectfully asked the great man if he wouldn't mind being photographed with him.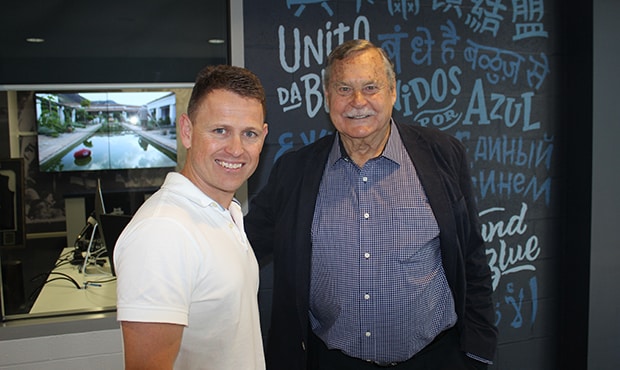 Barassi caught up with senior coach Brendon Bolton at Ikon Park. (Photo: Carlton Media)
Barassi completed the sentimental journey with his relatives Ken and Adam Barassi. Completing the quintet was the club's long-serving marketing director Athol Hodgetts and the former committeeman Kevin Hall, whose 169-game Carlton career took in three Grand Final victories - two of them under coach Barassi's watch.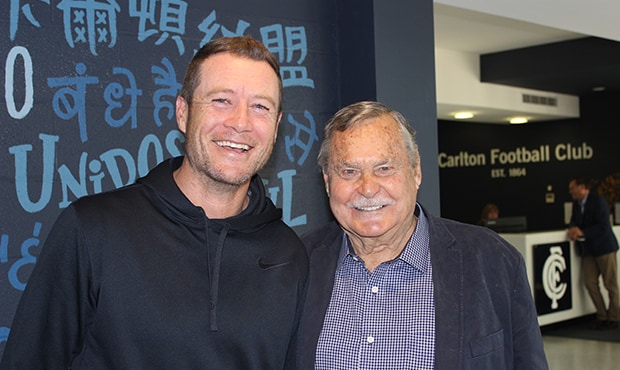 Assistant coach John Barker couldn't resist snapping a photo with the great man. (Photo: Carlton Media)