A lifelong supporter has generously gifted to the club's archive four postcard photographs of Carlton senior teams of the 1920s and 40s.
Endeavour Hills resident Wayne Gorsuch, whose earliest memories of the club can be sourced to the halcyon days of Nicholls and Jesaulenko, located the images at his grandfather's estate. Featured are the Carlton teams of 1921 and '22, 1945 and '46.
"My grandfather was a real one-eyed fan, which is why I started following the Blues," Gorsuch said.
The four photographs donated to the club are as follows;
Photograph 1. The Carlton team thought to have taken to the field at the old Prince's Oval for the seventh round match of 1921 against Geelong, in what was Gordon Green's first appearance as captain. Carlton prevailed by 20 points, 11.15 (81) to 8.13 (61) before an estimated audience of 40,000 people.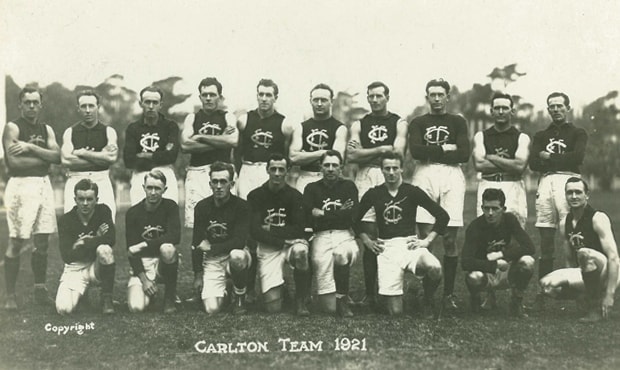 The Carlton team. Back row, left to right: Jack Greenhill, Frank Martin, Croft McKenzie, Rupe Hiskins, Alex Duncan, Paddy O'Brien, Alert Boromeo, Horrie Clover, Charlie Fisher and William Morgan
Front row: Billy Blackman, Wally Raleigh, Fred Johnson, Charlie Canet, Gordon Green (Capt.), Jack Stephenson, Stewart McLatchie and Percy Daykin


Photograph 2: The Carlton team which met Fitzroy at Princes Park in Round 2, Saturday, May 13, 1922. In a bruising encounter, the Blues narrowly took the points, 10.13 (73) to 9.9 (63) with Horrie Clover booting four.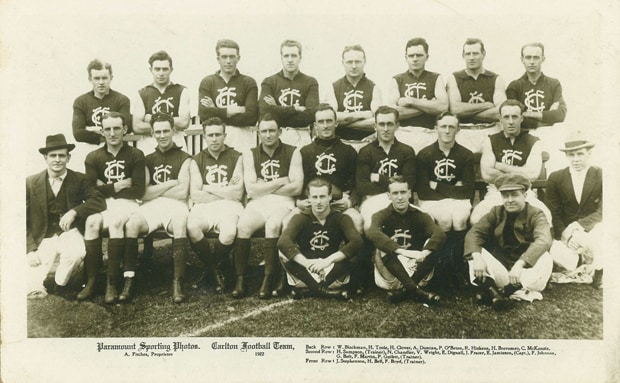 The Carlton team. Back row, left to right: Billy Blackman, Harry Toole, Horrie Clover, Alex Duncan, Paddy O'Brien, Rupe Hiskins, Albert Boromeo and Croft McKenzie
Middle row: Harry Sampson (trainer), Newton Chandler, Vern Wright, Ernie Dingwall, Jim Fraser, Ern Jamieson (Capt.), Fred Johnson, George Bolt, Frank Martin and Percy Guillett (trainer)
Front row: Jack Stephenson, Harry Bell and F. Boyd (trainer)


Photograph 3: The Carlton team which met St Kilda at Princes Park in Round 5, Saturday May 19, 1945. Jim Mooring booted three goals for the Blues in their tight, 11-point win, 12.18 (90) to the Saints' 11.13 (79).
The late Ken Hands, then 18, took to the field for the first of 211 games for the old dark Navy Blues, while vice-captain Bob Green, who would be hit and killed by a car four years later, competed in his 187th and final appearance for the club.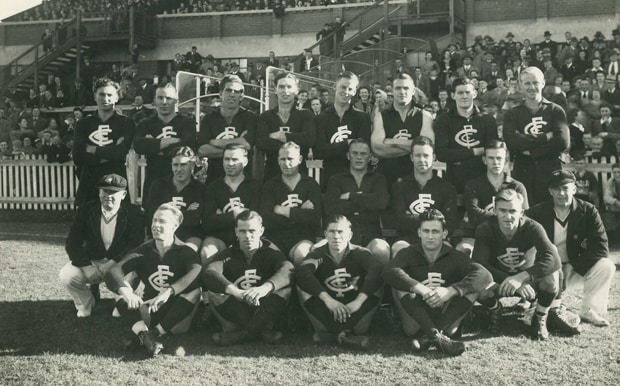 The Carlton team. Back row, left to right: Clinton Wines, Arthur Sanger, Rod McLean, Frank McGrath, Ken Hands, Jack Bennett, Ken Hopper and Ron Savage
Middle row: Vin Brown, Jim Mooring, Bob Green, Bob Chitty (Capt.), Bernie Bignell and Jim Clark
Front row: "Mick" Price, Herb Turner, Fred Fitzgibbon, Doug Williams and Ron Hines


Photograph 4: The Carlton team which confronted Essendon at Windy Hill in Round 11, Saturday, July 6, 1946. The Blues fell 21 points short at "Windy Hell", on a day in which a gentleman in a brown suit charged to the centre of the field in an attempt to strike Essendon's Jack Cassin and later shake hands with Carlton's Vin Brown, before disappearing into the grandstand. A postscript to the match was the hospitalisation of Carlton centre half-back Bert Deacon, who was administered tetanus injections.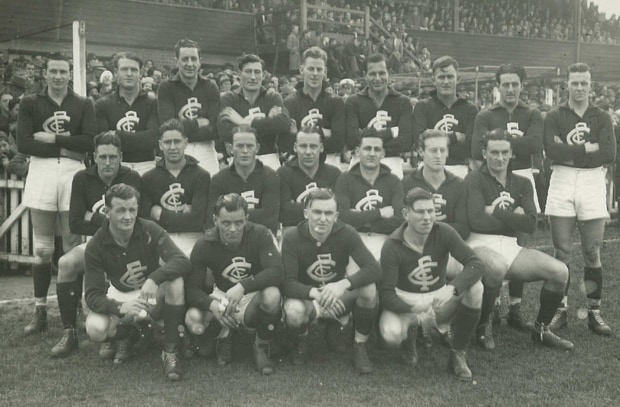 The Carlton team. Back row, left to right: Jim Baird, Jack Bennett, Jack Howell, Ollie Grieve, Ken Hands, Fred Davies, Ken Baxter, Ray Garby and Jim Clark
Middle Row: Vin Brown, Bert Deacon, Bob Chitty (Capt.), Arthur Sanger, Doug Williams, Alex Way and Clinton Wines
Front row: Jack Conley, Herb Turner, Ron Hines and Fred Fitzgibbon