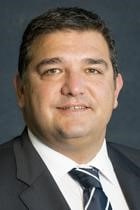 Mark LoGiudice is a lifelong Carlton supporter and a member of the Inner Blue. He is also a member of the Carltonians, (since 1995), Carlton's longest serving and original Coterie Group.
He joined the Carlton Board in February 2010. He was elected Vice President in October 2013 and later appointed President in June 2014.
Mark has been in the property industry since 1986 and is the Managing Director of Crawfords Group, a family owned investment company established in 1966.
Crawfords Group is involved in the investment and development of commercial, industrial and retail property.
Further to his property interests, Mark is a Director of LaManna Premier Group, a national farming, marketing and logistics company.
Outside of his corporate activities, Mark is a long standing member of RCH 1000, which actively raises funds for research at the Royal Children's Hospital.
Board Portfolios: Commercial Projects, Finance, Audit & Risk, AFL Compliance, Risk & Integrity