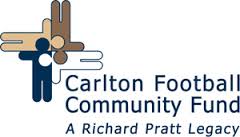 The Carlton Football Community Fund (CFCF) was established in January 2009 through the vision of then Carlton Football Club President, Richard Pratt. His vision was to further develop community outcomes and assist people from disadvantaged, newly arrived / refugee backgrounds and migrant backgrounds through a range of programs and services.

The CFCF facilitates a range of programs in partnership with the Club resulting in enormous benefit to the broader community. However there is much more to be done and sport provides a unique vehicle to address positive social change in diverse communities so the potential to do more is becoming more and more apparent.

The CFCF is a Public Benevolent Institution endorsed with Deductible Gift Recipient status.