ABOUT US:
We are the official Western Australian supporter group for The Carlton Football Club. We were established by Carlton in 1992. We regularly get together at Empire in Perth to watch live games of the mighty Blues. We as a committee also help Carlton with pre and post-match functions when Carlton travel to Perth.


WA Supporters Round 15 Function:
Come and join the WA Blues on Sunday 30th June before the boys take on Fremantle at Optus Stadium.
When: Sunday 30th June | 11:00am – 2:00pm
Where: Empire Bar | 220 Great Eastern Hwy, Lathlain WA 6100
All members free entry thanks to the Biggest Bound by Blue thank-you! Gold coin donation for all non-members.
Come along to hear from our special guest speakers, past players and there will be special signed items for auction and raffle.
There will be transport provided to take you to the stadium prior to the game.

Look forward to seeing you there. Go Baggers!

WA BLUES TEAM:
The CFC WA Member Network Committee is made up of 10 dedicated local Blues members. You will find most of us down at Empire whenever we hold a local function and doing whatever is requested by Carlton at all the pre-match or post-match functions when the Blue Men's and Women's team travel to Perth.
John Allan - Chairman
Adam Briggs - Vice Chairman
Mike Scott - Treasurer
Andy Oreb - Committee Member
David Tomazin - Committee Member
Adam Sargeant - Committee Member
Damian Lewis - Committee Member
Michael McKenzie - Committee Member


GROUP DETAILS / COMMITTEE:
Postal Address: C/- 45 Halvorson Road, Morley WA 6062
Home Supporter Base: "Empire" 220 Great Eastern Highway, Lathlain, 6100.
2019 EVENTS: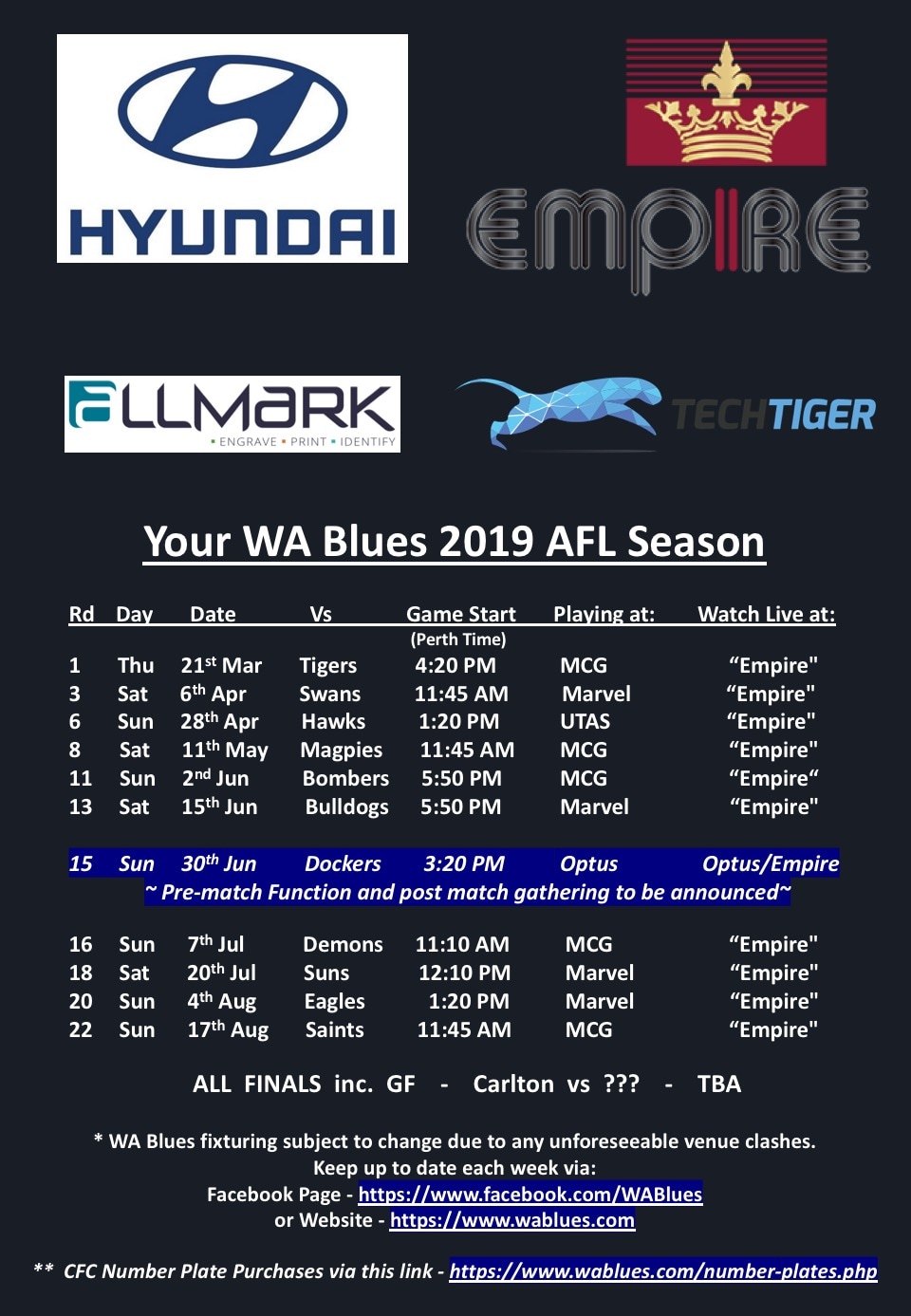 Our direct email address: supporters@wablues.com
Email address via Carlton Football Club: wasupportergroup@carltonfc.com.au


SOCIAL MEDIA:
Website: https://www.wablues.com/
Facebook: www.facebook.com/WABlues
Twitter: @WABlues


MEMBERSHIP:
There is no membership fee. The WA Blues exist as a non-for-profit organisation to provide a social and family friendly support group and home for WA based supporters to enjoy live televised games together.
CFC NUMBER PLATES:
Purchase via this link www.wablues.com/number-plates.php