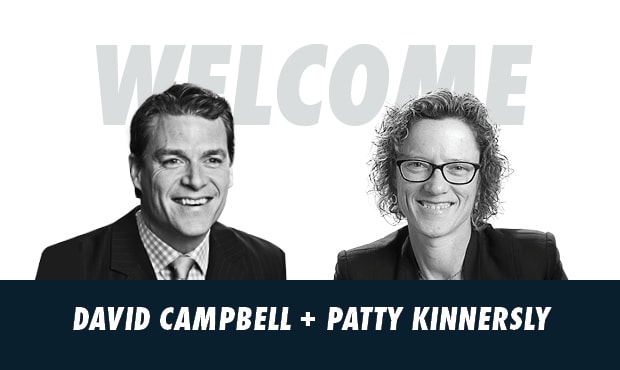 TWO of Australia's leading business professionals, Patty Kinnersly and David Campbell, will join the Carlton Football Club Board of Directors this year.
Executive Deputy Chairman of Spotlight Group Zac Fried will retire from the Board at the conclusion of the season, while Australian Sex Discrimination Commissioner Kate Jenkins has tendered her resignation and will finish in her role as Director following July's Board meeting.
The independent nominations committee has recommended to the Board that Kinnersly be appointed as a Director of the Club with Fried's impending retirement, while the Board also accepted the recommendation of the committee in the appointment of Campbell following the casual vacancy made by Jenkins' departure.
Carlton President Mark LoGiudice acknowledged Jenkins and Fried for their significant and wide-ranging contributions to the Carlton Football Club.
"We reluctantly accepted but understood Kate's decision to move on from her position as Board Member of the Club, due to her increasing commitments and travel requirements as Australian Sex Discrimination Commissioner," LoGiudice said.
"Kate was instrumental in the establishment of our AFLW program, and more recently our VFLW program, as well as her drive and guidance in establishing our Carlton Respects initiative back in 2016. Her passion for a united approach across the organisation should be widely commended, and her extensive experience in the areas of law, governance, community and diversity has been a wonderful asset for our football club.
"We wish Kate and her family every success for the future - they will always be part of the Carlton family."
Jenkins said she was indebted to the Carlton Football Club.
"I am very proud of the fact that the Carlton Football Club is now leading the Australian sporting industry in areas such as culture, diversity, inclusion and genuine community partnerships," Jenkins said.
"I am delighted to have played my part in this significant change and confident that it will assist our future success."
After 12 years of service as a Director to Carlton, Fried will retire at the end of the season. Having been instrumental in leading the brand and marketing committee, LoGiuidice said Fried had also guided the Club through a number of challenging times during his tenure.
"His commitment and the manner in which he approached driving the Carlton Football Club forward has been significant," LoGiudice said.
Fried said the time was right to retire from the Board after 12 years of service.
"The Carlton Football Club has been part of my life for as long as I can remember," Fried said.
"On field, it's been a tough year for the Club but I know we are on the right track for success in the future and I look forward to watching on closely over the coming years to see the fruition of our hard work."
Reflecting Carlton's significant investment in women's football, Kinnersly will make history by becoming the Blues' first designated Board member to manage the AFLW/VFLW programs, working closely with fellow director Chris Judd across the Club's football programs.
President Mark LoGiudice welcomed the recommendations of both Ms. Kinnersly and Mr. Campbell to the Board of the Carlton Football Club.
"These appointments reflect our continued commitment to good governance and to building a skills-based Board aligned to the needs of the Club," LoGiudice said.
"We welcome Patty who is currently Chief Executive Officer of Our Watch, a national organisation driving change in cultures, attitudes and behaviours against domestic violence. With her insight and guidance, she will continue to enhance the work of our Club's flagship community program in Carlton Respects, as well as our community and diversity programs more broadly.
"Alongside an extensive corporate career in senior roles across the health sector and over a decade of governance experience, Patty has 14 years ofplaying experience in the VWFL for the Ballarat Lions, Fairfield Falcons and Parkside Magpies, playing in five premierships and representing Victoria on 10 occasions, twice as captain.
"We believe this is an incredibly strong appointment for our Board in strengthening our commitment to AFLW and VFLW," LoGiudice said.
"The appointment of David Campbell provides the Club with the expertise to continue our pursuit to become one of Australia's sporting employers of choice by appointing quality people in the right roles and improving leadership and culture both on and off the field.
"David has already established strong relationships with the Carlton Football Club as an external contributor since 2015, playing a significant role in the appointments of both senior coach Brendon Bolton and Chief Executive Officer Cain Liddle, along with other key executives in recent years.
"In his role as Director and Partner at Egon Zehnder International, David boasts extensive knowledge and experience relating to organisational culture and leadership and will superbly lead our refreshed People and Culture portfolio to assist in the continuing cultural shift and talent development of our proud football club.
"As we continue to modernise the Carlton Football Club across all facets of the organisation, we know the impending appointments of Patty and David will be very strong additions in assisting to take this Club forward, towards our next period of success both on and off the field."
Campbell will commence his position at the end of July, while Kinnersly will officially join the Board in September.
Mark LoGiudice (President), Jeanne Pratt (Vice President), Luke Sayers, Marcus Clarke, Craig Mathieson and Chis Judd will continue in their roles as Directors of the Carlton Football Club.