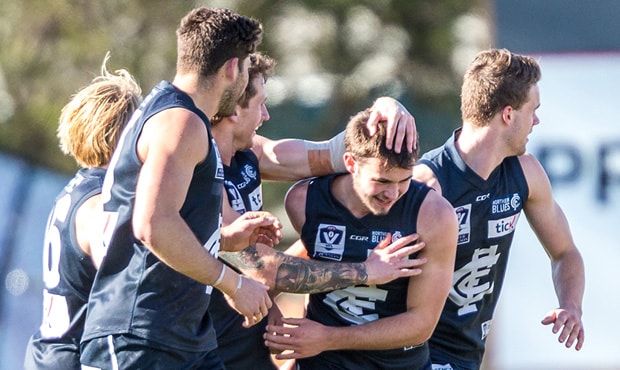 OF all the celebratory moments for the Northern Blues at the weekend, one stood out above the rest.
When Cillian McDaid intercepted, went back and kicked his first goal in football, the Irishman was swamped by all other 17 players on the field.
They were scenes not too dissimilar to the ones which would meet Tom De Koning 24 hours later.
It was a belated birthday present for McDaid, who enjoyed his 20th birthday last Tuesday.
As he makes his gradual return from injury, McDaid's second-quarter goal was undoubtedly his personal highlight in Northern's win over Sandringham.
Senior coach Josh Fraser said the celebrations were indicative of the side's spirit on the day.
"Cillian embraced that moment to go back and kick an important goal for us," Fraser said.
"To see the players run from all over the ground and celebrate that moment with him, it filled the coaches box with great joy."
Get around the Irishman! 🇮🇪

The celebrations for Cillian McDaid's maiden goal were brilliant. #Northbound #BoundByBlue pic.twitter.com/vA0sauk7t7

— Northern Blues FC (@NBluesFC) August 20, 2018
It was McDaid's second game back after an interrupted 2018: he didn't make his VFL debut until Round 11, before missing another month between Rounds 15 and 18.
Hopefully with his injury troubles behind him, the confidence from Saturday's goal and win can — as the coach put it — "springboard" a successful career in football.
"To see a young player who has come from the other side of the world have a special moment like that is what it's all about," Fraser said.
"He's someone that's been working really hard on his craft.
"I'm sure Cillian will feel really connected to not only the Northern Blues, but the Carlton Football Club as a whole."
As a collective, Fraser said there was plenty to like from Northern's 34-point victory.
Namely, he mentioned the side's togetherness and how it hasn't wavered all season.
"The benefit of having such young players and the synergy and connectedness they've developed is going to be the best thing this football club has had for a long time," Fraser said.
"People can look at the wins and losses, but those who come and watch us play see the growth from week-to-week and the spirit they play with for the jumper."
The Northern Blues will play their final game of 2018 this Saturday. They take on Essendon at Windy Hill from midday.