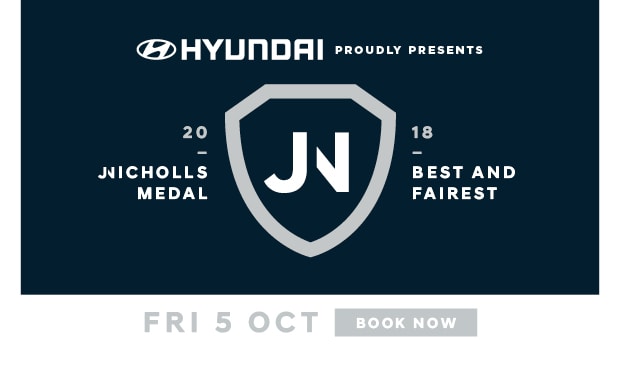 Don't miss your chance to raise your glass and witness the crowning of the 2018 John Nicholls Medallist!
Join us on Friday 5 October at the Melbourne Convention and Exhibition Centre, as Hyundai proudly presents the Blues' best and fairest.
As anticipation builds towards the unveiling of the John Nicholls Medallist, a number of additional honours will also be presented.
Surrounded by the Carlton faithful, the night will include addresses from President Mark LoGiudice and senior coach Brendon Bolton, as they reflect on the 2018 season and look ahead to next year and beyond.
Guests will enjoy a wonderful three-course dinner with premium beverages throughout the evening, as well as listening to live music by Adelaide Clarke.
Last year, skipper Marc Murphy took home the top award, with Sam Docherty named runner up and Matthew Kreuzer placing third. Who will it be this year?
For more details, or to book your tickets, visit the Club's Corporate Portal.
Details:
Date: Friday 5 October
Time: 7:00pm
Location: Plenary Room, Melbourne Convention and Exhibition Centre
Dress Code: Cocktail attire
Includes: Three-course dinner & premium beverages