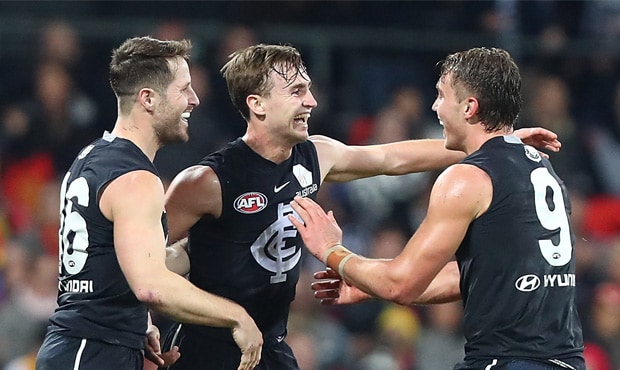 The Blues' young playing list was faced with a number of challenges in 2018, and as a result, finished the year with fewer wins than previous seasons.
However, the valuable experience gained by first and second-year players, coupled with the resilience it built within the team, will no doubt hold the Club in good stead for years to come.
With the side now on a break, we're analysing each player's year in statistics. Here's the review for Carlton's No. 4, Lochie O'Brien.
GAMES
2018: 18
Career: 18
GOALS
2018: 2
Career: 2
BY THE NUMBERS (averages in brackets)
Disposals: 251 (13.9) Kicks: 168 (9.3) Handballs: 83 (4.6) Contested possessions: 61 (3.4) Rebound 50s: 38 (2.1) Inside 50s: 35 (1.9)
2018 IN FOCUS
Taken with Carlton's second draft pick in 2017, Lochie O'Brien played an impressive 18 games in his debut year, averaging 13.9 disposals per match.
O'Brien made his first appearance in the navy blue in challenging circumstances, amassing six contested possessions and 11 disposals against North Melbourne in Round 4.
The No.10 pick showed some positive signs throughout the years, impressing in performances against Essendon (Round 8) and the Western Bulldogs (Round 22).
Amongst all eligible rising stars, O'Brien ranked sixth in total kicks, seventh in marks and uncontested possessions and eighth in rebound 50s.
The boy from Mildura offered the Carlton faithful a taste of the future this year, and having recommitted to the Blues until the end of 2021, there's plenty to be excited about.
BEST PERFORMANCE
The Geelong Grammar alumnus put in a gallant effort against Adelaide in Round 23, ending his personal year on a high despite a difficult result.
With 22 disposals, six inside 50s and four marks, he truly was a shining light in defeat for the Blues.
SEASON HIGHLIGHT
O'Brien kicked his first-ever AFL goal against Brisbane in Round 16.
After receiving a handball from skipper Marc Murphy, the youngster took the ball on the run to boot it through from 50m out. The celebration from his teammates cemented the goal as a memorable moment for O'Brien in his debut year.