PUMA'S ten-year arrangement with the Carlton Football Club as apparel sponsor is now locked in . . . and yet almost 50 years ago the company's distinctive flash featured prominently on the boots of a Blues player whose history-making goalkicking record will never be broken.
In the penultimate home and away match of the 1972 Premiership season, against Hawthorn at Princes Park, Greg Kennedy booted 12.3 from full-forward – the most gameday goals kicked by a Carlton footballer on the hallowed turf in its 119 years as a League venue.
In what was an incredible first season of League football for the Eaglehawk recruit, Kennedy goaled on 76 occasions from 22 home and away matches to finish fourth for line honours behind Geelong's Doug Wade with 90 goals, Essendon's Geoff Blethyn (107) and Collingwood's Peter McKenna (130).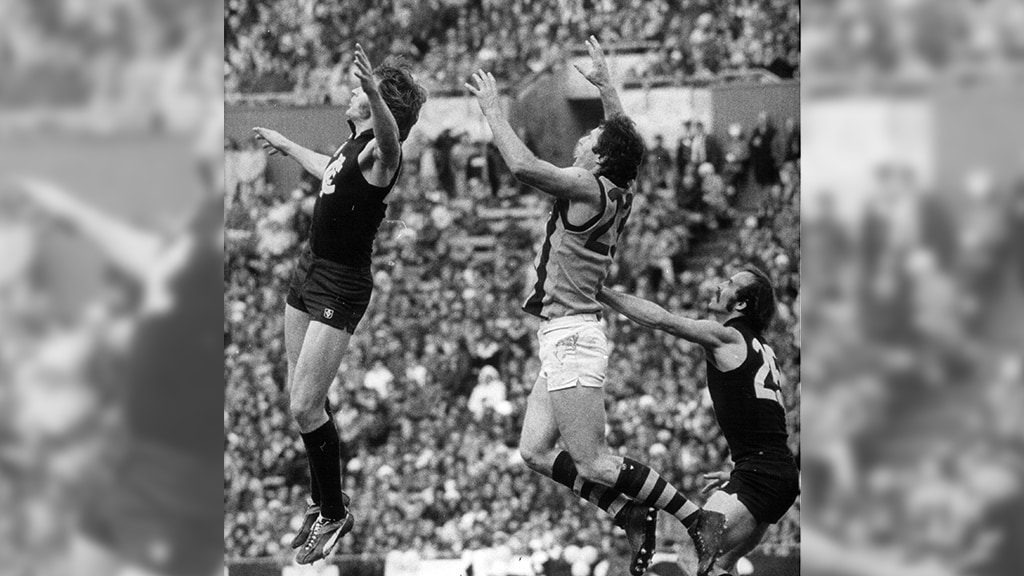 Circa 1977, the changing face of football – David McKay (PUMA), Hawthorn's Don Scott (unmarked) and Alex Jesaulenko (adidas), VFL Park.
Last week's news that PUMA had signed on with Carlton drew a hearty response from the former Eaglehawk spearhead.
"That's my old team," Kennedy said. "I wore PUMA boots in my first year. I was a new bloke who'd just come down, they were both chasing me, adidas and PUMA, and I don't recall what I got for wearing Puma . . . probably 20 cents and a free pair of boots."
Kennedy kicked with the PUMA flash through 48 matches in all four seasons of a Carlton career cruelly cut short through injury.
"The boots served me well," Kennedy recalled.
"Up the bush before I came to Carlton I wore the old Jenkins cut high up on the ankle which were also quite good."
Regrettably, Seven Network film footage of Kennedy's incredible individual feat at Princes Park is confined to just 45 seconds, which can be viewed on YouTube.
When asked if he had any more film in his keep, Kennedy replied: "I had people tell me that they tried to track down footage of all 12 goals, but I think it hit the cutting room floor".
At least the late Geelong champion Graham 'Polly' Famer, was covering the match as a correspondent for The Australian newspaper. Of Kennedy, Farmer wrote:
" . . . the boy from the bush – Greg Kennedy - is now producing his Bendigo form at the right time of the year. It has taken Greg a while to become accustomed to the high standard of VFL football. Most country and interstate players have a year of tuition before they are able to adjust their tempo but Kennedy has done it just a little more quickly. Now he is going to be the danger player to opposition sides during the finals series."
Kennedy was one of a number of Carlton players who took to the field wearing Puma through 1972, together with Paul Hurst, Trevor Keogh, Bryan Quirk and Peter 'Percy' Jones – perhaps his team's best player afield in the '72 Grand Final.
Another player to opt for the brand was the four-time Carlton Premiership player David McKay, who graciously forwarded a contractual letter, dated February 19, 1975, and signed by the company's director Ken Mitchell, outlining the contractual arrangements.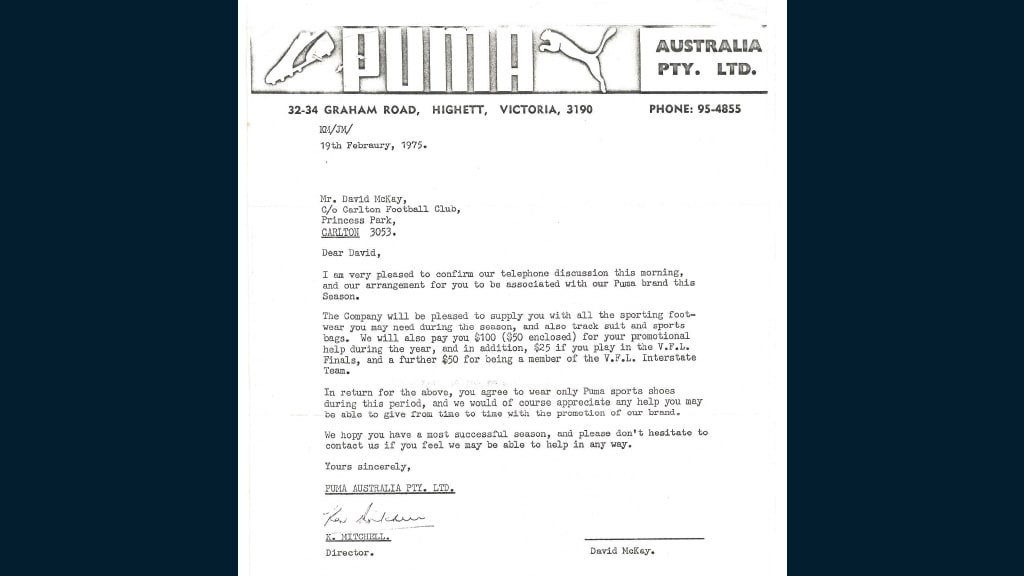 David McKay's PUMA contract, February 1975.
McKay, who completed his senior debut in the 3rd round of 1969 when he lined up on Footscray and adidas rep EJ Whitten esq., can remember wearing PUMA boots through a period where all Carlton players were required to wear adidas as a consequence of the club's exclusive arrangement with the rival apparel company.
"I wore PUMA boots regardless because the adidas ones were too narrow for my wide feet, but I blacked out the PUMA flash and added three stripes," McKay said.
"In the end I was sick of painting the stripes so I wrapped Elastoplast around both boots to cover all logos. I was a bit of a p…k back then."
Ultimately, McKay dealt with PUMA direct when boot exclusivity laws were finally relaxed, although he was never able to retire on the proceeds.
"On top of the boots I got $100 for promotional support of PUMA through the year - lucky me – plus $25 if we made finals, which we did," McKay said.
"Unfortunately I didn't get to represent the Big V that year, which cost me the princely sum of $50.
"At that time, you could only negotiate with companies like PUMA for boots, as apparel such as shorts, guernseys, jocks and socks were all made by Jonco if I recall rightly."