IT'S AMUSING to think that when you finish school, you think you know exactly what it is you want to do with your life and where you want to go. Then, you turn 25, and you're nowhere near where you thought you would end up or where you wanted to be.
Turn back the clock seven years from today. I was a young and energetic kid with aspirations of world domination as a touring DJ and music producer. Although I was satisfied with the success I had and the places I had been, I had barely even scratched the surface of what I dreamed of achieving and due to certain factors, my love and determination to succeed faltered.
For the three years I was being a DJ around Melbourne and parts of Australia, I had many different jobs to make simple ends meet.
Attend an open day at the Carlton College of Sport. Click here for all the upcoming dates.
Luckily, before the end of my DJ career, I made the to work full-time in a small law firm on the Mornington Peninsula while continuing to DJ around the country. A legal career was something I always envisaged as a studying high school student: parallel to my music was a brewing and emerging love for the law.
However, as the story goes, my school grades originally haltered me from getting into law school straight out of high school: it's commonly misconceived as a barrier to reaching your goals.
It was that small law firm that got my love back and pushed me to start my law degree at Charles Darwin University as a 21-year-old.
Turn the page to January 2019, where I was enrolled in my law subjects and ready to try again for another semester to make my career goals work. I was absolutely mentally exhausted, broke and praying for the day I could make a good living for myself.
Working in hospitality meant late nights: although it was enjoyable to work in, a massive toll was being taken out on my body and mind.
A change was so desperately needed to give myself a fresh experience. Enter stage left, the Carlton College of Sport.
When I was born, I entered into a non-negotiable agreement with my mother to be a Carlton supporter for life. As a result, I was inevitably interested when I saw the Carlton social media channels post about the Carlton College of Sport program being created for the year, in conjunction with La Trobe University.
Learning that the program was a 12-month diploma made it easy for me to sacrifice a year of full-time law study to see where this may lead me. My love for the Carlton Football Club ultimately gave me enough interest to sign up for an open day at Ikon Park to check out what I had found.
The minute I stepped to the front doors of the football club - with Bound By Blue written all over the doors and greeted by staff - I felt home. I was standing in the same area looking out onto Ikon Park's turf: roughly the same spot I had many memories in the cheer squad as a child with Mum at Princes Park.
Right outside the sliding back door, towards the top step behind the goals to be exact, my heart began to race with excitement. We were then taken into the George Harris Function Room and I sat down the very front, eager to see where this could lead. Within the first few minutes we heard from club CEO Cain Liddle, who instantly caught my attention: he's a very impressive man with an amazing vision for our football club.
Not long after that was the moment I was sold.
My favourite player of all time isn't Patrick Cripps, Brendan Fevola or any current Carlton-listed player. When Stephen Silvagni emerged from the back of the room and spoke to the group, I was like a 14-year-old girl at a Justin Bieber concert.
It was then I realised exactly what I was going to be exposed to with this course. There was access to not just my beloved Carlton Football Club, but also the amazing staff and facilities that the football club offers. It's an experience which would be impossible to forget for anyone willing to make it in the sporting world.
So I applied.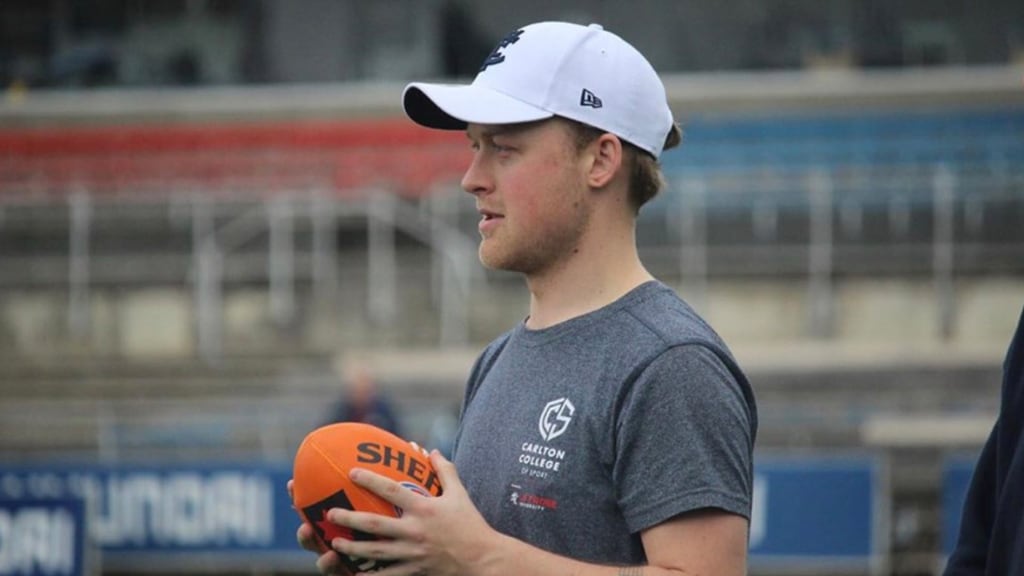 Today as I sit here, I have enjoyed every minute. I have found so much new inspiration about where I want to head in my life and what I want to achieve.
I have made many new friends and have met some amazing people. I have a goal of working for my club and I hope to achieve it. I have also realised exactly what it takes to be successful at university, which will help me reach my goals in relation to my law degree
I have been fortunate enough to have completed over 130 of the 100 required placement hours within the four walls of the Club, whether that's spending a lot of time with the Northern Blues, in media, community, fan engagement, retail and so much more.
These are all experiences which I never would have receive without the Carlton College of Sport. It's something which has allowed me to gain first-hand experience in seeing how a football club is run while also adding to your CV, without you even realising.
I have assisted with the guard of honour on the MCG. I have spoken to a group of school children about the importance and education about topics such as gender equality, stereotyping, bullying and domestic violence. I have helped with the selling of merchandise to thousands of loving Blues fans at Marvel Stadium on match day. I have sold game-day raffle tickets to raise money for the Club and its community projects.
Not once has it not been interesting or enjoyable. It's something that makes me so incredibly proud of myself, for stepping out of my comfort zone and doing something for me. It's something which I will never, ever regret — no matter what the rest of the year decides to bring.
It's been the best thing I could have done for myself, and hopefully it can be for you too.