A FAMILY connection continued.
For Abbie McKay, the 2018 NAB AFL Women's Draft was the next step in a family tradition in Navy Blue started by her father — Carlton great Andrew McKay.

As the first ever father-daughter selection in AFLW history, McKay was able to enjoy the draft knowing she would be pulling on the Navy Blue guernsey in 2019.

"I was really lucky, as I already knew that I was getting drafted going into the draft," McKay said.

"It was out in the public before draft night, which was really lucky for me. I think I was the only one in the room that wasn't nervous."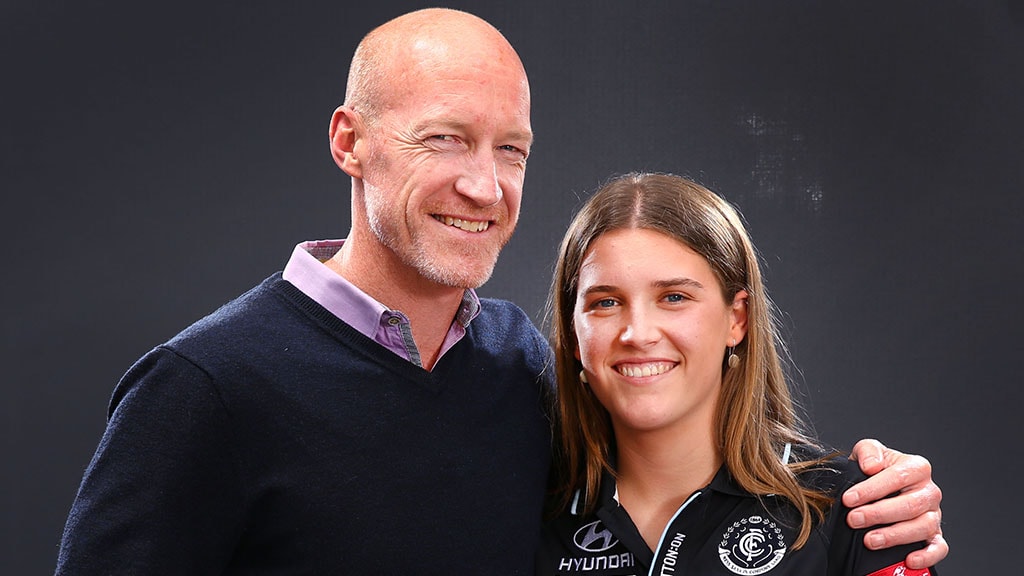 It wasn't long before McKay was welcomed into the Navy Blue fold, with current AFLW players getting around her after being drafted.
"[It was] pretty surreal. I know everyone says that word: it's true. It was very surreal," she said.
"It was nice that my family could be there and the Hosking twins were there so it was nice to get to know them a little bit better.
"I think Darcy was the first person to reach out, she gave me a call and she was really welcoming and made me feel straight at home."
It's a pretty good afternoon at school when you find out you're going to be a 'Bagger. ⁠
⁠
Hit the link in our bio to listen to Charlotte Wilson look back on her draft experience. ⁠
⁠#BoundByBlue⁠

— Carlton Womens (@carltonfc_w) October 19, 2019


With two days to go until the 2019 NAB AFL Women's Draft, McKay is eager to meet Carlton's new recruits.

With so many hopefuls vying for their dreams to be realised, McKay can impart some advice from her own experience.

"I think don't stress too much, I think people get overwhelmed and if they don't get drafted it's the end of the world," she said.

"You have another year to try, you have the rest of your life really to try and make it so just don't get too nervous really: I know it's easier said than done."