JOSH Honey was born to play sport.
What sport, though, is another question.
Honey's father, Neil, won a bronze medal for pole vaulting at the 1986 Commonwealth Games. His mother, Di, made 17 appearances for the Australian Diamonds netball team and is now an assistant coach with the Melbourne Vixens.
His twin sister, Olivia, recently represented Victoria at a national athletics carnival in the 100m sprint and the 100m relay. Meanwhile his older sister, Tayla, is a wing-attack for the Melbourne Vixens.
Then there's his uncle, Gary, who won gold medals for long jump in the 1982 and 1986 Commonwealth Games, as well as a silver medal for long jump at the 1984 Los Angeles Olympics.
What a week it was.

Every highlight in one place: get up to speed with all of our new Blues. #BoundByBlue

— Carlton FC (@CarltonFC) December 1, 2019
Honey is desperate to continue his family's rich sporting legacy. His aim, though, is to become the first of the bunch to feature in the AFL.
The clever and versatile 184cm half-forward has burst into NAB AFL Draft calculations following a strong season with the Western Jets. A move into the midfield has been the driving force behind his impressive campaign.
Not that Honey has had to look far to find encouragement and motivation when he dreams about potentially making the grade.
"I look to dad for a lot of my inspiration," Honey told AFL.com.au.
"He used to have a little river at his grandpa's house and they used to do a decathlon around it. The only event he could beat my uncle at was pole vaulting over the river and he went from there.
"There's a few tapes of him on YouTube. He doesn't like watching them, but I've had a look. He was pretty good. He had a good mullet back in the day as well, so now I'm trying to rock the same thing."
Neil Honey representing Australia in 1986 with that mullet. Picture: YouTube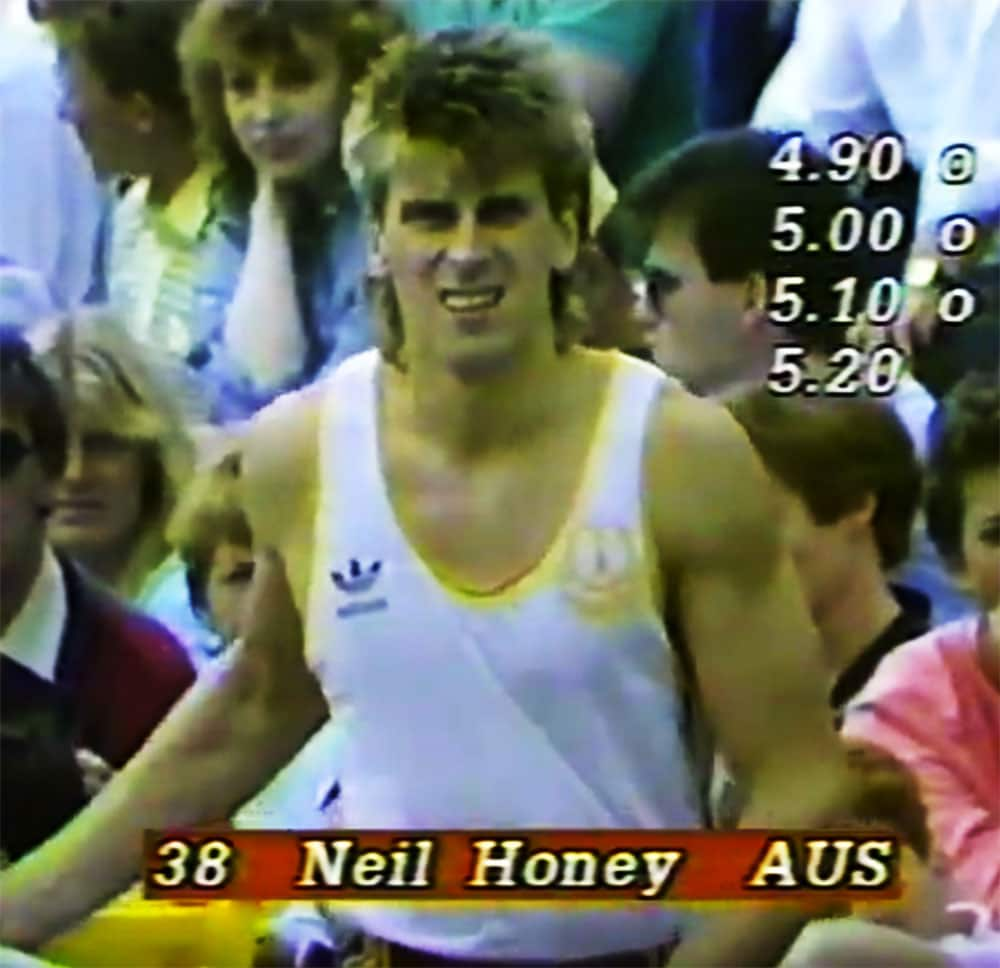 However, despite the words of wisdom from his father, pole vaulting was never on Honey's radar.
"I've never had the guts to do it," he laughed.
"I've just never done it. I've never picked up a pole in my life. I want to, but I'm too scared."
His mother, a successful netball coach at the Vixens, Geelong Grammar and with the Victorian Institute of Sport – as well as a handy player herself – also gives Honey some precious advice from time to time.
"She's always just told me to play hard," he said.
It's simple, but it's the advice that Honey has perhaps taken on board the most throughout his final year of junior footy.
He has significantly improved the physical side of his game this season and has become a far better pressure player in the forward line as a result.
Josh Honey brings the pressure for the Western Jets, against now-teammate Sam Philp. Picture: AFL Photos

Honey has averaged close to five tackles per game in the NAB League this year, adding another important element to his game after also developing as a midfielder throughout the season.
"He spent some time this year through the midfield, but he's probably played his most exciting football forward of centre where he is quite creative in the forward line," Western Jets talent manager Luke Williams told AFL.com.au.
"He can use a combination of his athletic ability and his creativity and it makes him quite dangerous in the forward 50. He kicks goals himself and he creates them for others.
"The most impressive part of his season has been his ability to impact a game defensively. He's increased his tackle numbers this year, he's quite a physically strong player and he tackles well."
Honey flirted with other sports and still plays off a handicap of 14 in golf – his best mate plays off scratch, while his girlfriend plays off five – but football, rather than the more exotic sports of his father or uncle, has his attention for the foreseeable future.
"I've never done athletics or anything else … it's always been footy."
This article was originally published on AFL.com.au on Friday 1 November.