Four never-before-seen photographs of the immediate aftermath of the 1987 Grand Final have surfaced, in the lead-up to Carlton's 30th anniversary premiership celebrations this weekend.
These magnificent images were captured moments after the siren brought finality to the last Saturday in September, when Carlton touted Hawthorn by 33 points in sweltering 31-degree conditions.
In the first photograph, triumphant Carlton captain Stephen Kernahan, straddling the shoulders of Peter Dean, wields the cup. David Rhys-Jones, wearer of the Norm Smith Medal for doing a number on Dermott Brereton, is also in the frame.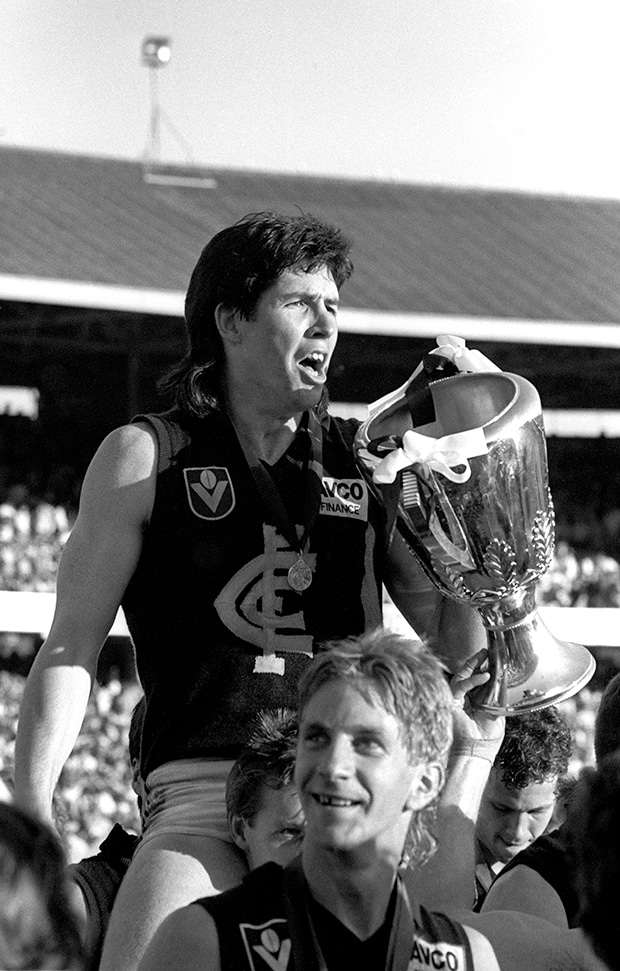 Stephen Kernahan lifts the 1987 premiership trophy.
The second and third photographs, taken near the podium, feature premiership players Warren McKenzie, Wayne Johnston (still wearing mouthguard), Fraser Murphy, Ken Hunter, Tom Alvin, Shane Robertson and Jon Dorotich moments after being presented with their premiership medallions. The players can be seen peering into the grandstands – as McKenzie suggested, to acknowledge their teammates Des English, Bernie Evans and Peter Motley, whom fate had deprived them of their places in the coveted team.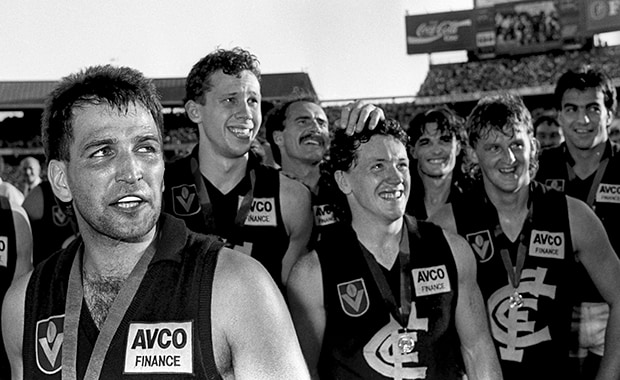 Wayne Johnston (left) and his premiership teammates peer into the grandstands to acknowledge Des English, Bernie Evans and Peter Motley.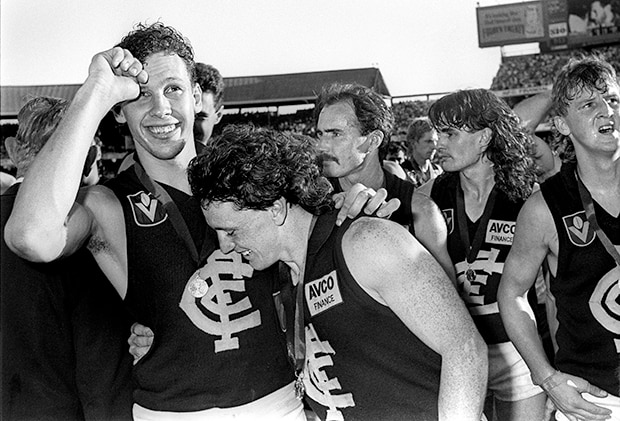 Fraser Murphy (centre) hugs Warren McKenzie.
As McKenzie recalled this week: "I reckon we were looking up to 'Dessy' (Des English) and the boys".
The final photo shows Peter Dean presumably exchanging a handshake with Brereton after Carlton had secured its 15th piece of silverware.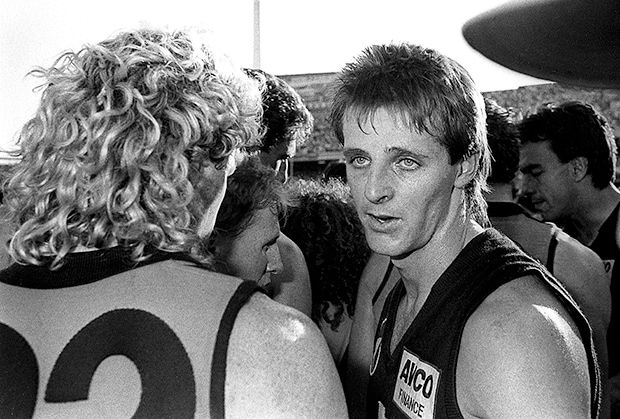 Peter Dean and Dermott Brereton meet after the siren.