It's been a tough road for seven-year-old Carlton fan Carter Savage – and he still has a long road ahead of him.

Carter is one of just 20 children in Australia who have been diagnosed with Shwachman-Diamond syndrome. His five-year-old sister Skye also carries the gene.

The extremely rare illness results in bone marrow failure and can eventually lead to the most aggressive form of childhood leukemia.

Earlier this month, Carter received news that a donor has been found and he can have a bone marrow transplant. While it was fantastic news for his family, it does mean he will spend the next four months in isolation in hospital and then up to nine months after that in isolation at home.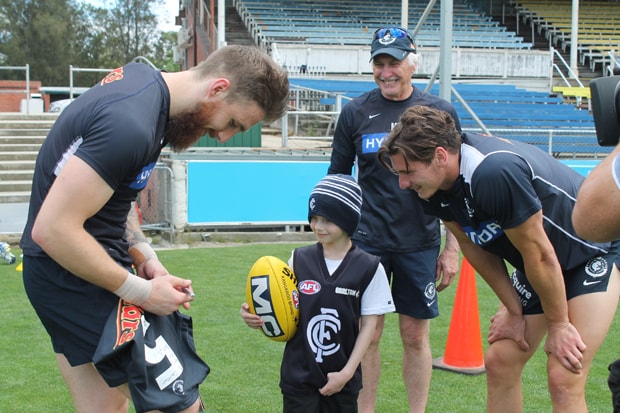 Zach Tuohy obliges Carter Savage with an autograph. (Photo: Carlton Football Club)

To help put a smile on Carter's face and create some special memories for his family, the Carlton Football Club welcomed the family to a recent training session.

Hand-in-hand with coach Mick Malthouse, Carter when onto the ground, met the players and took part in a kick-to-kick with them. Carter's heros Chris Judd and Kade Simpson took time out to introduce him to their teammates, while Andrew Walker discovered Carter's exceptional kicking accuracy during some target practice.

Carter touched the hearts of everyone at Carlton and we wish him all the very best for his recovery.