At a very young age, Nathan Dunstone had a decision to make: follow in his dad's footsteps and become a Bluebagger, or join the rest of his family in supporting Collingwood.
Luckily, Nathan chose Carlton, and though not being old enough to witness a premiership, the 18-year-old has stood by his beloved Blues through the good and tough times.
We recently caught up with the young Carlton member to find out more about his experiences as a Bluebagger.
CFC: Thanks for your time, Nathan. How many years are you up to now as a member?
ND: I became a member when I was two, and I've only missed one season since, so I'm in my 16th year now.
You chose to support Carlton despite an overwhelming majority of Collingwood fans in your family. What do you say to them when they have a crack?
I just tell them to count the premiership trophies (laughs). The Carlton-Collingwood games are always the ones I most look forward to every season.
What's the best thing about being a member?
I enjoy the interaction with the players. When I was little, I would always do the junior clinics that the Club would run.
What are your earliest memories of being a Bluebagger?
I can remember going to a game in 2001 against Geelong. I'm pretty sure we got hammered, but I enjoyed it because it was my first game at the footy.
Who was your favourite player as a kid?
I really liked Brendan Fevola, but my original favourite was Ryan Houlihan. I just liked how he kept working hard and loved watching him run with the ball.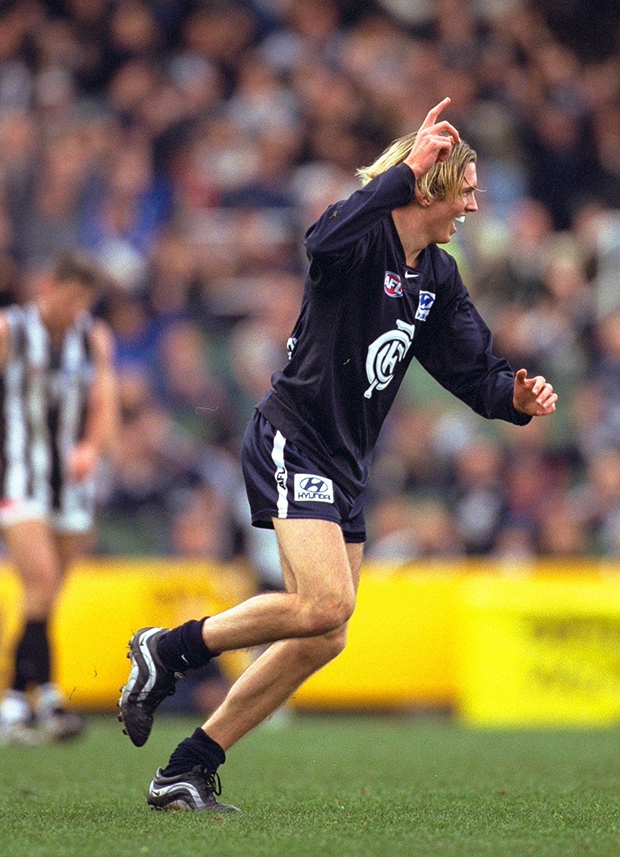 The silky-smooth Ryan Houlihan was Nathan's favourite player as a kid. (Photo: AFL Media)
And now?
My favourite player would be Sam Docherty. I like the way he goes about it. He's got leadership qualities and he's a good, honest hardworker.
Unfortunately you haven't witnessed a premiership, but is there a win you hold close to your heart?
The 2011 elimination final against Essendon was very memorable. I was at the Carlton-Collingwood game in 2009 (Round 8) which we won convincingly, and that was also nice because the rest of my family barracks for Collingwood.
What's the toughest loss you've had to endure?
The semi-final against West Coast in 2011 - that was tricky. I was disappointed, but at the time I tried to tell myself that we'd come back stronger.
If you had to choose one former Carlton player to play for the current team at his peak, who would it be?
I would probably choose Greg Williams. I've watched a lot of the old Carlton tapes and just thought he was an incredible player.
Have you watched his performance in the 1995 grand final?
Absolutely. I've got a couple of DVDs of our premierships, so I've watched a lot of them. My favourite premiership would have to be 1971 against Collingwood.
What are your thoughts about new coach Brendon Bolton?
I'm excited about what he brings. All of Alastair Clarkson's old assistant coaches have been really good so far, so I can't see any reason why he wouldn't be. He's got the right attitude.
How do you see 2016 panning out for us?
It's going to have its highs and lows, but supporting the boys is exciting because we've got a lot of young guns coming through.
Which player could be a surprise packet this season?
I think that if Dillon Viojo-Rainbow has a real crack at it, he could be a really good player.
We've noticed on your Twitter account that you've been at open training this pre-season. Which player has caught your eye?
I've loved watching Charlie Curnow. He's been really good.
Thanks for the chat, Nathan!
My pleasure. Go Blues!