Carlton defender Zach Tuohy has urged Blues supporters to strap themselves in for an exciting journey into the unknown under new coach Brendon Bolton when season 2016 kicks off against Richmond on Thursday night at the Melbourne Cricket Ground (MCG).
Embarking on his sixth season as an AFL player after leaving the GAA (Gaelic Athletic Association) in 2011, the Portlaoise born half-back believes the Blues' on-field and off-field preparation has never been better.
"I know it can be a cliché at every club but in my experience we have never had a more comprehensive pre-season at Carlton," Tuohy told the Irish Mirror.
"There has been no stone left unturned in what we've done as a playing group in the off-season. Brendon has also been big on unity so everyone who works at the Club including the administrators, support staff, and all of the other employees have come together as one big family.
"We are taking a journey into the unknown this season so I honestly don't know what a realistic target for the season is; we just need to take things match by match, focus on trying to win the four points in every game, and then see where that takes us at the end of the season."
Tuohy, 26, believes that Bolton has empowered all of the players with a unity of purpose and determination to be more consistent. Despite Carlton finishing 2015 on the bottom of the ladder, Tuohy is certain the players' improved confidence will help the Club to win more games this time around.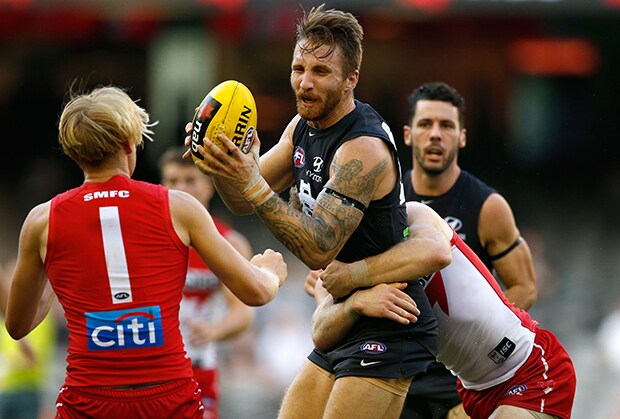 Zach Tuohy in action in the Blues' final pre-season hitout. (Photo: AFL Media)
"Brendon's approach to coaching is that of a teacher," Tuohy said.
"He's worked on the mentality of individual players as well as the whole playing list as a collective. It's hard to manufacture confidence but there is genuine excitement that we are on the right track as a club and as a playing group. We can't do anything about last season so we are all focusing on a new opportunity to show the supporters what we can this year. In football things can change very quickly."
Tuohy is expecting a fierce contest against Richmond in this week's season opener.
"We don't want any honourable losses; we want to put in consistent performances for the supporters every week starting against Richmond," he said.
"It's an exciting time for everyone at the club and anything is possible."