On the eve of the opening round of the 2017 season, some 60 years after he completed his senior League debut, Carlton's greatest player John Nicholls has welcomed the Club's reset and offered sage advice to that inexperienced core of players likely to take to the field against Richmond.
Amid speculation that the old dark Navy Blues will go in with as many as six players of tender age and limited senior game time on Thursday night, Nicholls supported the philosophy of fostering youth – and imparted a little wisdom to the likes of Marchbank, Pickett and co. in the countdown to the MCG contest.
"The players have had a lot more grounding than we ever did in our day, with club and representative games through junior levels and more professional coaching. My only advice to them would be to make every contest a good one," Nicholls said this week.
"It's a simple game and as Allan Jeans used to say: 'It's a matter of what you do when we've got the ball and how you get it off the other bastard'."
Sixty years ago next month, in the opening round of the 1957 season, Nicholls followed Ken Hands down the race, onto Princes Park and into football immortality.
It happened against Hawthorn on Easter Saturday, April 20, when he fronted up in the famous No.2 dark Navy Blue guernsey for the first of 328 senior appearances through 18 seasons.
Nicholls took his place alongside the late George Ferry in a back pocket, while his brother Don lined up in midfield. Two other Carlton first-gamers, Denis Strauch and Leo Brereton, opened at centre half-forward and forward pocket respectively, and Jim Francis called the shots from the coach's box.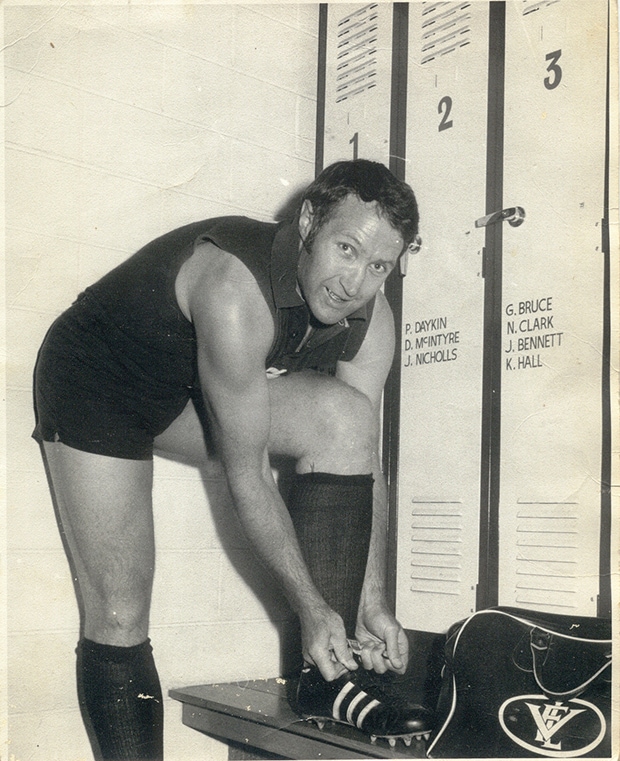 John Nicholls laces up. (Photo: Carlton Football Club)
This week, Nicholls reflected on that moment, rattling off the names of those with whom he graced the field in that maiden appearance – "Comben", "Webster", "Beasy" and "James" - the latter "the best ballgetter I've seen, but an enigma".
Were there butterflies in the lead-up? "I was never nervous. I could go to sleep before a game," came the reply.
"Back then we took part in five internal practice games through the pre-season as you didn't play against other clubs, and I was reasonably confident after those that I was going to get the call-up," Nicholls said.
"I don't remember who my first opponent was but I know John Kennedy senior was playing for Hawthorn. He wasn't all that skilful but he was a great competitor, ruthless and very tough.
"I remember starting in the back pocket . . . for memory I changed in the ruck with Kevin Clarke. I started okay and I think I played all right. Ruck technique and how you went about it then probably changed quite a bit as the years went by, but I know I got possessions and took a few marks in the back pocket, so I was happy with my game."
At 17 years and 250 days, 'Big Nick' was 'Little Nick' back then. But he would surely grow in stature. Within two years he would be a Carlton best-and-fairest winner – the first of five such awards earned through the next nine years – and by 1963 the captaincy was his.
As captain, and under Ron Barassi's watch as coach, Nicholls would set the standard - leading his players to the drought-breaking premiership of 1968 (in game No.200) and the big daddy of them all in 1970. Two years later, in a masterstroke as captain-coach, Nicholls would take the Tigers out in a shoot-out for the premiership.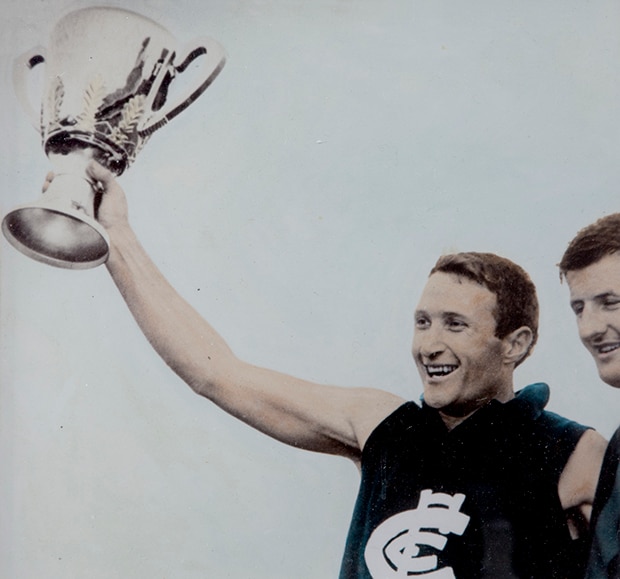 John Nicholls on the premiership podium in 1968. (Photo: Carlton Football Club)
A deep thinker of the game in which he has long commanded Legend status, Nicholls has often reflected on how far football has come since that first winter of '57.
"Things were so different then," he said. "In those days we'd train Tuesdays and Thursdays, sometimes in the dark, you'd play Saturday afternoons and there always seemed to be wet winters. You were given one pair of boots and one jumper, you had one umpire who was always miles behind. You also played the game with one ball and by the end of the game the ball was like a balloon."
On the question of age versus inexperience, the latter has never been an issue for him.
"I played my first senior game in Maryborough when I was 14 and my brother Don won the best and fairest in the Ballarat League at 16," Nicholls said. "We were 15 miles out of Maryborough and Dad was very good to us. He used to drive us in, but if he couldn't do that we'd drive in at 15 or 16. One of the blokes in the side was a detective and he'd say 'You bastards - drive around the backstreets will you?'."
That is why he'll be an interested onlooker when the fair dinkum stuff happens from 7.20pm Thursday.
"I can't wait to see blokes like Harry McKay and how (Jacob) Weitering's come on and I don't take any notice of practice match form," Nicholls said.
"When I was coaching I never wanted the team to win practice matches. I just wanted them prepared for the first game – and I'd be very surprised if we don't play well on Thursday night. Regardless of whether we win or lose, I'm sure we'll play well."