Is it 'Soapy' Street or isn't it? To any Carlton supporter old enough to remember, Harry Vallence Drive in Maddingley surely honours the memory of the legendary Carlton forward.
But while Henry (Harry) Francis 'Soapy' Vallence originally hailed from Bacchus Marsh just north of Maddingley in the Central Highlands and Goldfields region of Victoria, the street in question takes its name from another local identity, Henry (Harry) George Vallence, to whom Soapy was related.
The origins of Harry Vallence Drive have been confirmed by Henry George 'Har' Vallence's daughter Jan Farmelo and corroborated by the local Bacchus Marsh Historical Society.
"My Dad owned that land and when it was sold to the developer in 1992 or '93 the family wanted him recognised because he was a good, kind man in the community," Jan said.
"My father never played football to my knowledge, but he and Soapy were second cousins who all grew up together in The Marsh.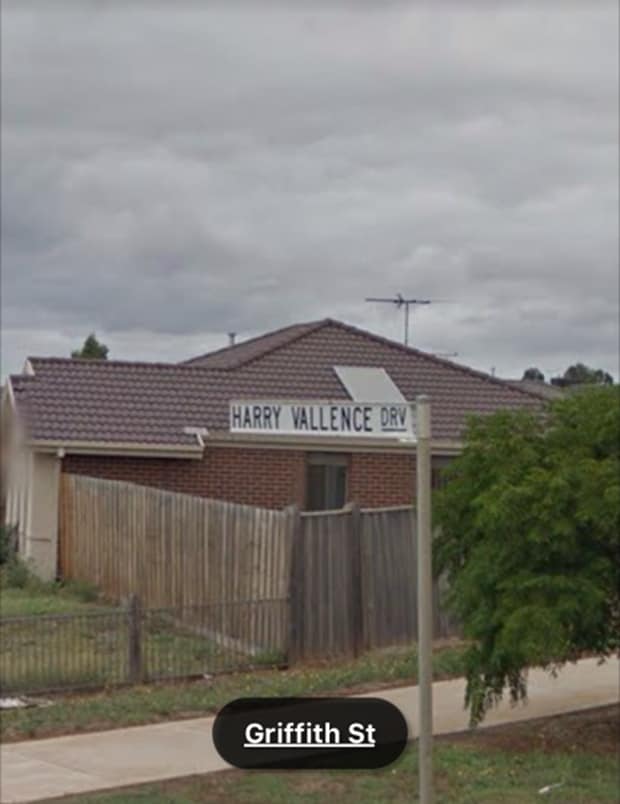 "The Vallences were a close-knit clan from Ireland. The first of them – three brothers – sailed to Australia from Ireland in 1855. A couple of them worked the farm while another ran a couple of local hotels – The Harvest Home, long-demolished and 'Stoney's' which is still going strong."
Henry George Vallence died in Maddingley on New Year's Day 1975, while Soapy met his maker on July 25, 1991.
Like most others, Soapy's family members presumed the drive's name doubled as a dedication to the late footballer, with a number of Carlton fansites also following suit – prompting Jan to correct the record.
"I can remember seeing the connection being incorrectly drawn on a website and wanting to right the wrong," Jan said. "I know that 'Soapy's' daughter Geraldine saw the street name and thought it to be named after her Dad, but at the time I didn't want to say anything for fear it would upset her."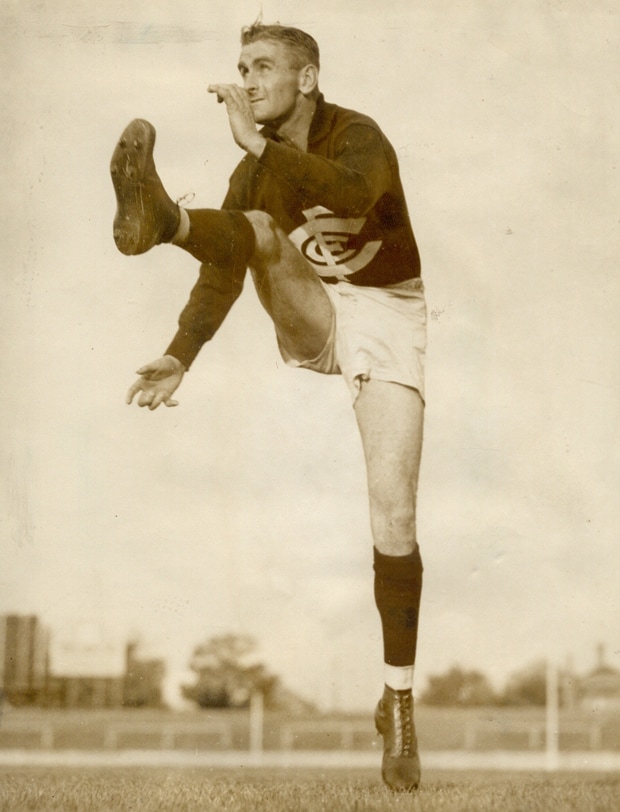 Harry "Soapy" Vallence booted 722 goals in 204 games for the Blues. (Photo: Carlton Media)

Regardless, Harry Vallence Drive still evokes happy memories of the area for Soapy's' kinfolk, amongst them his son Terry.
"Dad grew up in a house straight across the road from the Bacchus Marsh station, and the family house has now been replaced by a nursery. His Mum and Dad also tended to dairy cows and an apple orchard on about 40 acres up there, but now there's a heap of factories," Terry said.
"He used to tell me that being the oldest son he had to help his Dad milk all the cows before he went to school, then repeat the process when he got home. He was a hard worker."
Born in June 1905, Henry Francis Vallence's beautiful friendship with the Blues began with his senior debut against Hawthorn at Glenferrie Oval in the opening round of 1926 – the first of 13 seasons and 204 games, the last of them a winning Grand Final at Collingwood's expense on Grand Final day 1938.
Just the second Carlton player after Rod McGregor to hit the 200-game mark, Soapy took out his club's goalkicking honours in eight seasons (and also the League's with 86 goals in season '31). To this day, he holds the League record for most goals in a first semi-final (11 in 1931) and with his Collingwood contemporary Ron Todd shares the honours for most goals kicked in a preliminary (11 again in '32).
Vallence's career collective goalkicking tally at Carlton would end with goal number 722 – a record which stood for almost 60 years until Stephen Kernahan wobbled through his 723rd.
It should be noted here that the only Carlton identity known to be so-honoured is the club's (and later VFL's) long-serving President Sir Kenneth Luke, after whom Luke Street in the Canberra suburb of Holt is named.