By rights it should be getting easier for Marc Murphy . . . but with the absence of the three Cs – Cripps, Cuningham and Curnow – it largely falls back on the Carlton captain.
Not that 'Murph' needs any reminding of the cut throat nature of the caper. To quote the club's former No.1 male ticketholder "Life wasn't meant to be easy".
These past 11 years – in which his team has twice finished last and no higher than fifth – has not been without its challenges for Murphy, the 233-game player.
But that's fine for the boy from Beverley Hills, who at 30 and with fatherhood fast approaching, is bracing for a dramatic lifestyle change – on top of leading the way from the first bounce.
In an all-too-brief break in training and in the run home to the end of his team's home and away campaign, Murphy recently took time out to address a series of big picture issues including life at 30, concussion in the game, impending fatherhood and life after football.
ON TURNING 30
It means you're getting closer to the end than the start I guess. I don't feel any different now to how I felt in my 20s . . . but it's gone quick though.
I don't think I'm slowing down. I've had a few years where I've had issues with my shoulder and ankle, but I also think I've managed them pretty well and the body's generally feeling good. Put it this way, I don't feel like Heath Scotland, who was always complaining about turning 30! I still feel that I'm fresh after games, that I'm pulling up well after them and that I'm running them out well.
Unlike 'Simmo' (Kade Simpson), I'm not called 'fossil' – although you do get called a 'veteran' of the club in media circles these days – and it's true that when you get to 30 you've got to tick every box to make sure you're still feeling good.
MARRIAGE AND FATHERHOOD
I'm not a father yet, but I'm pretty excited about it. I know there'll be challenges with that in terms of sleep deprivation and changing nappies which I won't be accustomed to, but I am looking forward to all that. My brother has two girls and a few of my friends here at the club have got kids, so I've been exposed to them.
Marriage hasn't changed me too much, as I've lived with Jessie for two or three years, although now that she's pregnant it's a little different. She's due early in January and things are tracking along well. We picked up the first baby outfit the other day and we're in the throes of renovating the house and decking out a nursery, so it will be very different. But I'm looking forward to it all, and while I would have been happy either way I think the old man's chuffed about the arrival of his first grandson.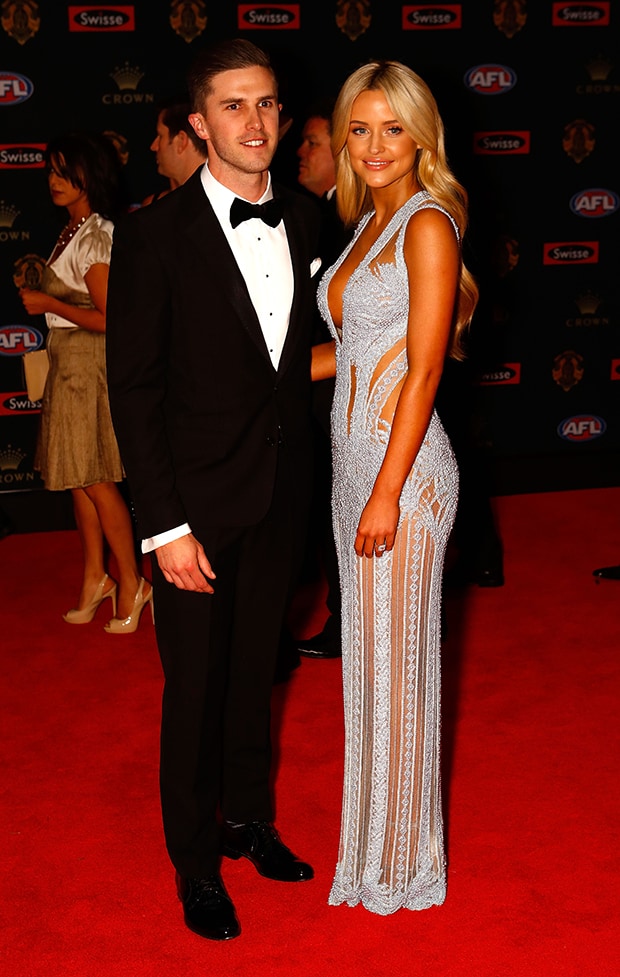 Marc and wife Jessie are expecting a baby boy in early January next year. (Photo: AFL Media)
ON CARLTON, AND HOW THE PLACE AND ITS PEOPLE HAVE CHANGED IN HIS 11 YEARS
It's a very different place. It's great that everyone is now in the same facility together. I remember my first year here I was in the dungeon over in the other forward pocket, with staff upstairs and others across the other side of the ground. I remember having to walk across the ground to catch up with people I actually worked with, which was a bit of a hike. There are still a few familiar faces about the place which is good, but it's a very different place – and over an 11-year period that's always going to happen.
The structure of training is completely different, in keeping with the game which has changed considerably since I started. The interchange was hardly used when I first ran out, then it got out of hand to a certain extent and the AFL has since pulled it back. The game itself has changed considerably. But it's still enjoyable.
CONCUSSION AND THE WEARING OF HELMETS
I wore a helmet last year, but that was more to safeguard the 12 staples in my head. I had to play for a month with that while the staples were in there.
I know I've definitely been concussed twice – one was a big one where I couldn't remember a thing for a few days and didn't play the following week. That happened against Port Adelaide at Adelaide Oval in late 2014 (Round 22) and I missed the following week when we drew with Essendon in the last game of the year, on the MCG.
I don't know that there's any science behind whether helmets help or not. But in terms of concussion itself, players are certainly more aware of the issues and the long-term effects. When I first started, if you got slightly concussed in a game you'd shrug it off and try to keep playing, whereas now I'd certainly be pretty diligent in giving it the attention it needs – especially after a full concussion and whether you play the following week.
That's why the education for young guys coming into the game is so important now. They come in thinking they've got plenty of years left and they're pretty invincible, but the reality is that when you get older and you've family to look after as well you don't want to get brain traumas. You have to treat the matter with the respect that it deserves and I do believe that's happening in the AFL, the AFLPA and at our club through the doctors.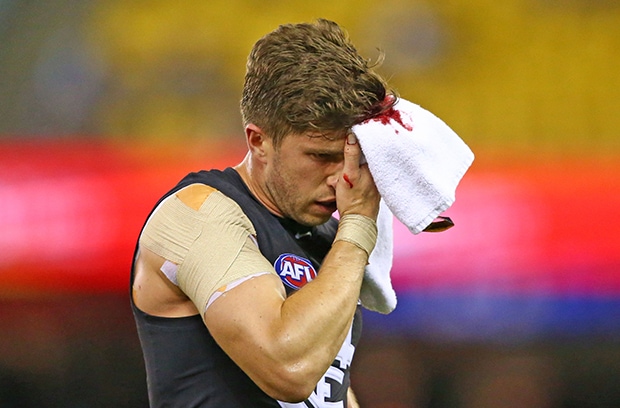 Murphy was forced to wear a helmet after this head knock in 2016. (Photo: AFL Media)
ON PLAYER PAYMENTS
I believe players today are well-remunerated. You're not in it a long time and you do put a lot of pressure on yourself body-wise and mentally. The experience can take its toll, and the incidence of depression is there and treated seriously – which is why it's really important to have strong relationships with people around you to talk about any issues rather than bottling them up. It's a tough sport, everyone understands that, but players get paid very well to participate.
ON CHRIS JUDD AS A MENTOR
I wouldn't hesitate to give him a call if I had any questions for him. I don't catch up with him a lot, but I do see him around a bit. He's a different thinker 'Juddy' and it's good to get a different opinion on things. He was really helpful when he was still playing here and I was leading. He offered some really good advice to which I still think about today. He's been great, as has my old man (John Murphy) and 'Bolts' (Brendon Bolton). With them you can include 'Barks' (stoppages coach John Barker), (midfield coach) Tim Clarke and Anthony Klarica (elite performance/leadership). There are a lot of guys around.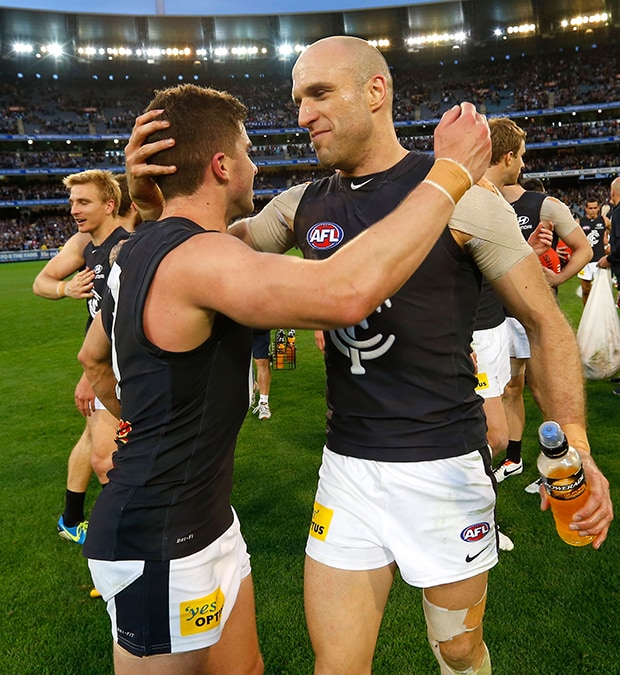 Murphy enjoys a strong relationship with his predecessor Chris Judd. (Photo: AFL Media)
THE CAPTAINCY
The secret to captaincy is to share the load and to be supported by good people. It's a big industry and there's a lot of guys at the footy club you need to be aware of. I've had great support from the leadership group over the past five years as captain, and feel that I've really started to grow in terms of building performance relationships with players. I've been trying to help get them to come along as quickly as they can, which will make us a better footy club.
It (the captaincy) has been a big learning curve for me and while I'm still learning and continue to learn I'm also enjoying the experience. Though we're not getting the wins that we want I know we're heading in the right direction.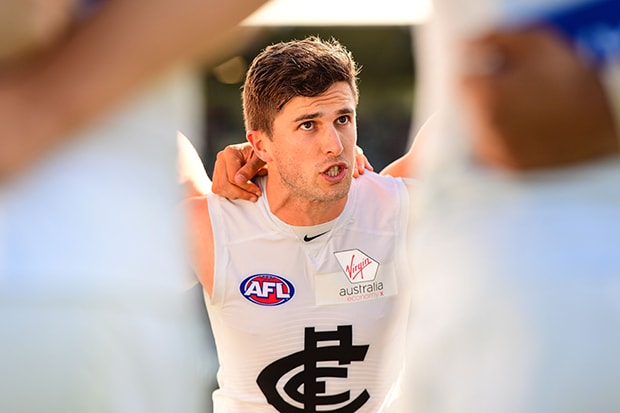 Murphy is enjoying the responsibility that comes with being a club captain. (Photo: AFL Media)
ON WHETHER FOOTY'S STILL FUN AT THIS LEVEL
You can still have fun, but footy's got its challenges and you learn how to overcome those challenges and remind yourself that you're really fortunate in what you are doing. Turning 30 makes you realise that you have to make the most of it because it is a privileged life that we as players are able to lead – and hopefully for me there's a few more years yet.
I still love the game, although I fell out of love with it a few years ago. I was having a lot of challenges with my body, I wasn't playing as well as I knew I could and I was getting a bit frustrated. I wasn't enjoying what I was doing and probably lost a bit of passion, which prompted me to talk to a few people close to me to work out what I wanted to get out of the game and what I wanted to do and reset things. I had a bit of time away from the game and came back the better for it – and now, although we're not winning games, I'm really enjoying playing. That is also because I can now see light at the end of the tunnel and hopefully be part of some really good times with this group.
ON HANGING IN UNTIL SEASON'S END
It is quite challenging when you can't play finals and there are injuries, but in terms of growth there are still a lot of areas of our game in which we as players can get better and enjoy as a group.
In these sorts of situations you can go one of two ways – you can take the easy option, lose games of footy and not grow, or stick together, work hard and savour some hard-fought wins with your teammates – which is when you're enjoying footy the most
ON THE 300-GAME MILESTONE
It doesn't really mean much to me at the moment and I don't want to look too far ahead, although I certainly want to play for a few more years yet – and I'm more interested in playing finals.
We've got some really good young talented blokes at our football club who by next year will be fitter, stronger and wiser in terms of their footy. A lot of the guys out there are still in their infancy and their heads are still spinning, but the more games you get into them the longer they're in the system and the harder they're working, the quicker they'll get better. You'll get a big jump from those guys whereas you won't from guys like myself and 'Gibbsy' (Bryce Gibbs) because you know what you're going to get with blokes like us. But there are a lot of guys with a lot of untapped talent who right now don't know how good they can be – and with the right work ethic and want they can jump and make us jump with them.
ON LIFE AFTER FOOTBALL
Right now I'd say I'd love to head off for six months and maybe travel around Europe through is summer. But I'm more of a realist, so I'd probably take six weeks off at the end of whatever season I finish and then do something, because I'm not the sort to be hanging around doing nothing. I reckon I'd get bored pretty quickly doing nothing to be honest.
While I don't think I'd be 100 per cent sure about what to do until my football was done, I am interested in staying in football, and being involved with recruiting and list management. I'm not really interested in coaching, certainly not senior coaching, I think I have a good idea of the type of players required for a strong side – from trading in certain players to identifying young talent capable of playing League footy.
I tend not to venture into the Carlton recruiting department at the moment, just in case the recruiters are talking about certain players here. It's a fine line. But I have been to a game with 'SOS' (GM List Management and Strategy Stephen Silvagni) and 'Stooka' (National Recruiting Manager Paul Brodie) and sat with them to see what they look for in players.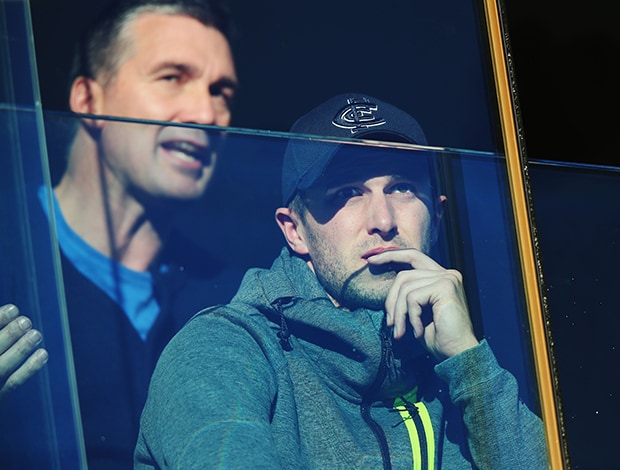 Murphy and Stephen Silvagni keep a close eye on emerging talent. (Photo: AFL Media)

That's something I have a good eye for. When guys come to the footy club I reckon I can pick it within the first few weeks as to whether they're going to make it or not. When you've been around footy for a while you can tell, and a lot of it is to do with their competitiveness and resilience.
You've got to have ability, and be able to run and all the rest of it, but the stars are the players with resilience who can back it up week in week out regardless of what is happening to them on or off the field.
It helps if you can mark and kick a ball for sure, but if you're not a competitive beast you're going to be found out.
REGRETS/ANYTHING THAT MIGHT HAVE BEEN DONE DIFFERENTLY
I've learnt a lot of lessons in terms of how to rehab my body. I used to think that if I got injured surgery would fix it, but there's much to be done after surgery to give yourself the best chance to perform. That's one area.
Another is knowing to speak when you need to speak. That's terribly important. I probably sat back and letter others do it early days, but I've certainly learnt from that and that's made me a better leader I think.