Carlton's newest AFLW recruits and their families were warmly welcomed into the Blues family on Saturday morning, with a breakfast held at Ikon Park.
After finalising the list on Friday, it was the perfect opportunity for everyone to come together and embrace the Club's newest members.
The entire squad and their families, along with coaches and staff, bonded over a cup of tea and breakfast buffet.
Carlton President Mark LoGiudice was also on hand to welcome our new recruits, as well as Blues director, Kate Jenkins.
Three new players will travel from interstate to pull on the navy blue jumper next season, including Sophie Li from Adelaide, Courtney Webb from Launceston and Katie-Jayne Grieve from Bunbury in Western Australia.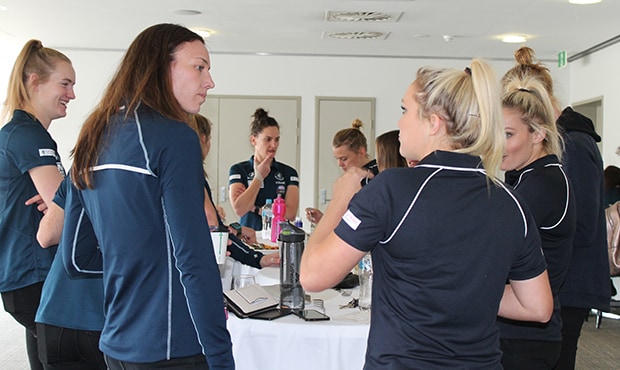 The Hosking twins catch up with ruck, Alison Downie at the breakfast (Photo: Carlton Media)
AFLW senior coach Damien Keeping addressed the group, thanking everyone for attending, and highlighting the importance of building strong relationships.
"We want all our new players and coaches to feel part of the Club, and that they belong – building that sense of belonging is really important," Keeping said.
"Getting everyone together as soon as possible was a top priority so we can start building those relationships between players, coaches and staff.
"We can't wait for pre-season to start, everyone is ready to hit the track in preparation for next year's competition."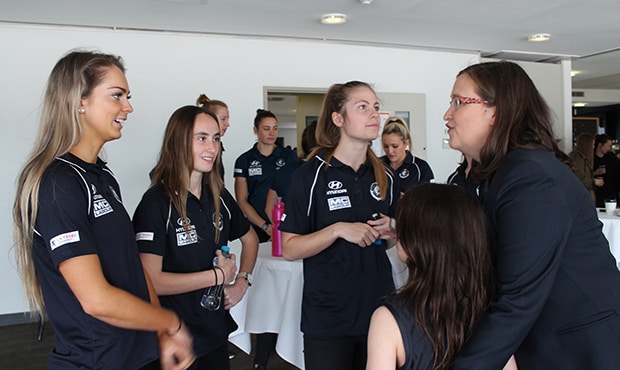 Carlton Board member Kate Jenkins welcomes new players (L-R) Bridie Kennedy, Georgia Gee
and Tiahna Cochrane. (Photo: Carlton Media)
Since the conclusion of the inaugural season, 11 new Blues have joined the Club, including:
Draftees:
Georgia Gee
Sophie Li
Reni Hicks
Bridie Kennedy
Rookies:
Tiahna Cochrane
Katie-Jayne Grieve
Courtney Webb
Rookie Upgrades:
Maddison Gay
Kerryn Harrington

Traded-in players:
Tayla Harris
Nicola Stevens
Carlton's AFLW team begins pre-season training on Tuesday 21 November.