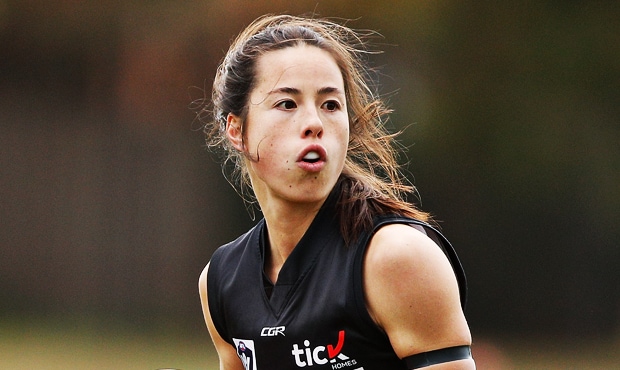 ALTHOUGH the Blues' VFLW team didn't quite manage to get the four points on Saturday against Melbourne Uni, the side is improving and playing more consistent footy.
The Round 8 clash saw ruck Alison Downie make her debut for the Blues' VFLW side, while defender Kerryn Harrington transitioned into the midfield and made an impact on the scoreboard.
VFLW senior coach Shannon McFerran assesses the performances of a number of Carlton's AFLW-listed players.
Alison Downie
Stats: 14 disposals, 1 goal
From the coach: It was Al's first game for the VFLW Blues and her impact was immediate, kicking the first goal of the match within the first minute. She continued her involvement throughout the game by pushing into the ruck and through the midfield. Overall, it was a solid return for Al and we look forward to her playing more games during the VFLW season.

Kerryn Harrington
Stats: 16 disposals, 2 goals
From the coach: Kerryn started down back and moved into the midfield. She had an immediate impact in the midfield and set up well at all stages of the game. Her ability to set up defensively and run hard offensively was important to us and she finished the game with two goals.

Sophie Li
Stats: 27 disposals, 14 handballs
From the coach: Sophie had 27 disposals and three marks, proving her ability to find plenty of the football. She was able to set up at clearances and worked hard both ways in the game. Saturday marked Sophie's last game for the Blues in the VFLW this season, and we can't wait to see her back in the navy blue come the 2019 AFLW competition.

Breann Moody
Stats: 11 disposals, 3 marks
From the coach: Breann had another great day in the ruck. Tapping to the advantage of her teammates, her 26 hitouts really helped set up our midfield throughout the day. Bre is continuing to work on her ability to maintain a good balance between her ruck work and her work up forward.

Nat Plane
Stats: 24 disposals, 6 tackles
From the coach: Nat had a fantastic game. She managed to get 24 disposals and five clearances – most of those ending up inside 50 – which is a real positive for Nat. She is finding some real consistency in her game and having an impact across four quarters.