Precious Carlton keepsakes from as far back as 100 years ago have been with Tom Henry for the better part of his 98 years – and to the man's eternal credit, Tom thought it timely to share them with fellow dark Navy Blue devotees.
Amongst his rare gems – the certificates, clippings and photographs - is an image of Jim Goonan senior (Tom's grandfather by marriage). Jim managed just two senior appearances for Carlton in the 13th and 14th rounds of the inaugural VFL season of 1897 – but Tom's pic is the first to have surfaced in 120 years since Goonan last laced a boot for the old dark Navy Blues.
Also found in this sprightly supporter's impressive array of club ephemerae is a variety of photographs of Jim Goonan junior, the local Brunswick boy who donned the Carlton guernsey through 22 senior games from 1922-'24 and again in '27.
Goonan jun. famously captained and coached Carlton's reserve grade teams to a hat-trick of Premierships in 1926, '27 and '28, and he's featured nursing the football in the official '28 Premiership team pic also in Tom's keep.

Jim Goonan senior, post his playing days of 1897. Some 120 years since his retirement, this is the first image of Goonan acquired by the Club. (Photo: Supplied)

Then there's the footy trip to the Jenolan Caves and the Isle of Wight Hotel in Cowes in the late 1920s – glorious moments in time forever captured by the lensman – and another from the period of Jim at the wheel of a Packard with old teammates sharing space on the bench seats.
"I remember as a kid piling into that car on a trip to Harry Vallence's place in Bacchus Marsh," Tom said. "I can recall that it was a Sunday, but God knows how long it took us to get there. All I know it was the furthest I'd ever been out of Melbourne."
Jim Goonan snr. died in 1950 at the age of 77, with son Jim jnr. checking out in 1988 at the age of 91 - and Tom remembered the former as "a wild man" in his callow youth.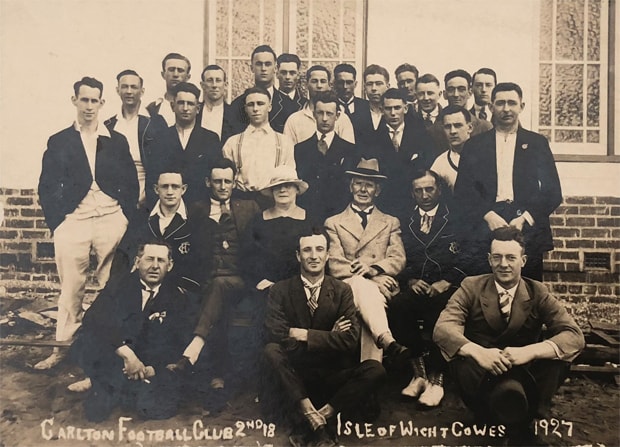 Carlton 2nd XVIII touring party to the Isle of Wight Hotel, Cowes, 1927. (Photo: Supplied)

"Jim senior would dump a copper in a horse trough without blinking," Tom declared. "Whenever a fight started up at Carlton they'd always call on him to break it up, and as soon as he got there he was into it."
Born a year after the end of The Great War and a student at the old Lee Street Primary School within close proximity of Princes Park, Tom, it could be said, has blue blood beating through his veins – and perhaps that's the secret to his longevity.
Asked to cite the secret, Tom, whose father Tom Henry senior also served the club as 2nd XVIII secretary, declared that while he was employed by the British Australian Tobacco Company for years "I never smoked in my life".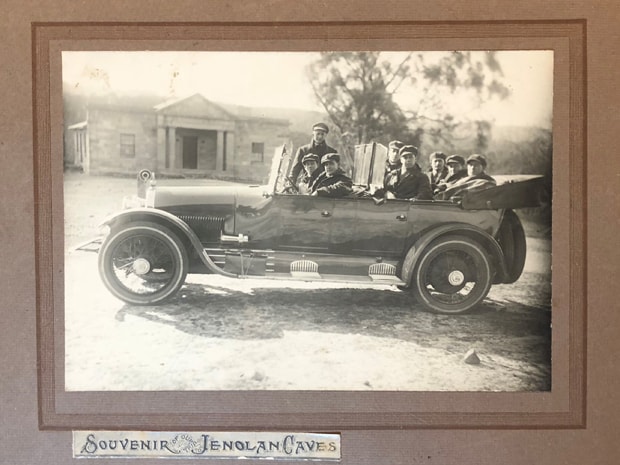 Jim Goonan junior behind the wheel of a Packard on a footy trip to the Jenolan Caves. The great Alex Duncan is seated immediately behind Jim. (Photo: Supplied)

"And you've also got to keep active," Tom insisted. "My social calendar's full."
Little wonder then that Tom, together with his boys Gary, Denis and Ian, fully intends to celebrate his 100th birthday with a Carlton Premiership, which he predicts is but two Septembers away.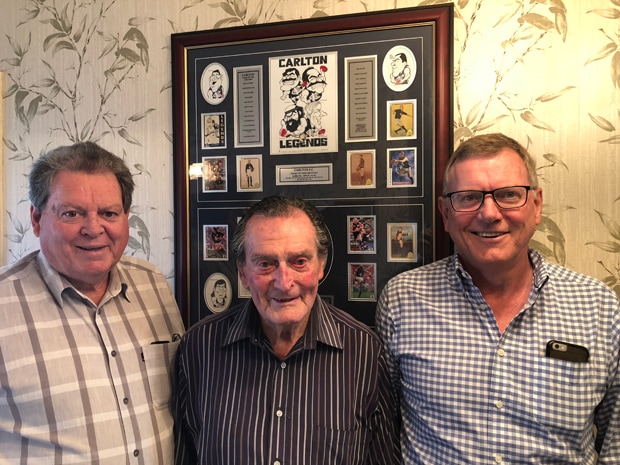 Tom Henry, flanked by his sons Denis (left) and Ian. (Photo: Carlton Media)