FORMER Carlton Premiership coach David Parkin has paid heartfelt tribute to the club's property steward of 30 years, the late Ken Kleiman.
Parkin acknowledged Kleiman's lifelong love for the club, following a magnificent eulogy delivered by Ken's son Mark and deeply personal reflections from grandsons Samantha and Joel, at a funeral service at Tobin Brothers Reflections of Life Chapel in Doncaster on Monday (August 12).
Amongst those in attendance to bid farewell to Ken were former players Rod Austin, Craig Bradley, Jim Buckley, Ian Collins, Des English, Kevin Heath, Ken Hunter, Phil Pinnell, David Rhys-Jones, Warren Jones (who jetted in from Sydney), Ken Sheldon, Sergio Silvagni, Stephen Silvagni and Geoff Southby.
The boys will be wearing black armbands in memory of Ken Kleiman, the long-serving and much-loved former property steward. #BoundByBlue pic.twitter.com/Y1YdVfPj3z

— Carlton FC (@CarltonFC) August 11, 2019
Also present were members of the club's board, administration and coteries past and present, including Paul Brody, Alan Espie, Wayne 'Bulldog' Gilbert, Laurie Hayden, Col Kinnear, Bob Lowrie, Dick Merton, Bob Moore, Shane O'Sullivan, George Varlamos and Lionel Watts.
Neil Balme and David Buttifant, who formed associations with Ken's son Mark when he was football operations manager at rival club Collingwood, were also there to pay their respects. Balme and Geoff Southby were on-field adversaries through those heady days of the early 1970s, but they too came together for Ken.
The Carlton players wore black armbands into last Sunday's match with Richmond, in tribute to Kleiman, who died at the age of 93 after a short illness.
Less than 24 hours later, 'Parko' delivered the following tribute.
I'd like to thank the family, Mark in particular, for giving me the opportunity to speak on behalf of so many people obviously part of the Carlton family. I'm very honoured to speak on behalf of so many people here today who are so intimately associated with the life of Kenny Kleiman and the Carlton Football Club.
I've been around VFL/AFL clubs for the past 60 years and I can't think of another man more loved than Kenny Kleiman. In my mind's eye now and whenever I was in his company, even of late in the clubrooms at our regular morning teas, his amazing and genuine smile was unforgettable.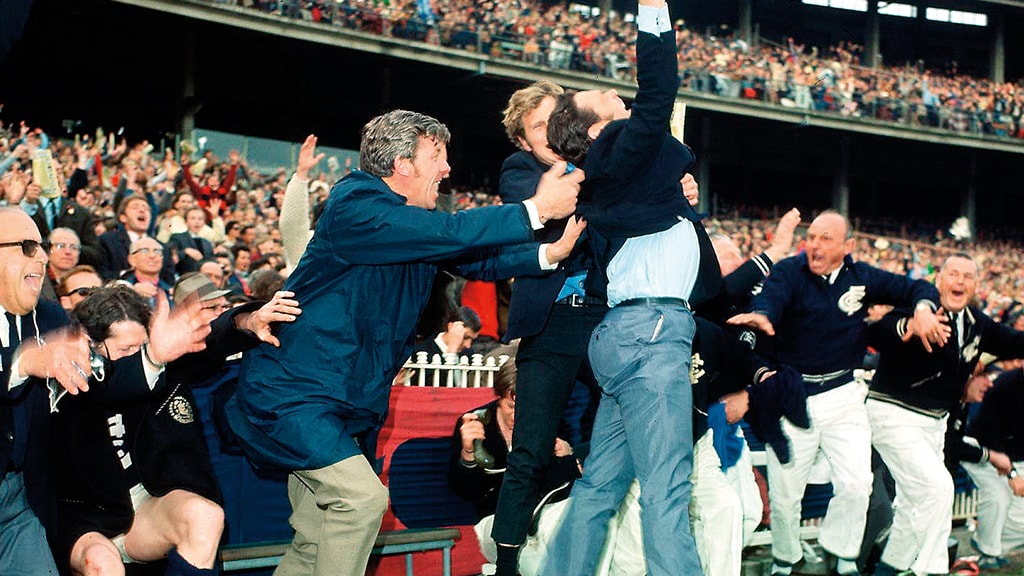 Ken had time for everyone. In conjunction with Ken Monk, he formed a special partnership as the club's property stewards for just on 30 years. That's an unbelievable record when you think it through. It was 'Hard Monky' and 'Soft Climax' – a duo that seemed to work beautifully. When you add Wayne Gilbert, Peter Newbold and Frank Finn in later years, it was a very special team within the team. As Col Kinnear reminded me, when it was a training session or matchday they were always there first . . . and certainly always last to leave well after we'd gone.
Together they were genuine contributors to the most successful period in Carlton's great history, with the Premierships of 1968, 1970, 1972, 1979, 1981, 1982, 1987 and 1995.
The players worked Ken over unmercifully with their unreasonable demands and practical jokes. But his demeanour never ever varied – it was all just in good fun.
Ken's ongoing support for the Navy Blues never diminished. He and Pam attended the staff functions religiously over the past 30-plus years. The newspaper eulogy summed Kenny up perfectly. "It was a privilege to be his friend. One of the more endearing and enduring characters. A magnificent man who was Carlton to the core" . . . rest in peace dear friend.