The Carlton players who took to the paddock through those four seasons of 1979-1982 were amongst the finest ever to don the Dark Navy – and yet they'll be the first to tell you it's about the friendships that endure long after the games are run and won.
So it was in this spirit of amity that the likes of Buckley, Johnston, Maclure, Perovic and Southby - men of stature one and all - gathered at the North Fitzroy Arms for the launch of Larrikins & Legends – The untold story of Carlton's greatest era.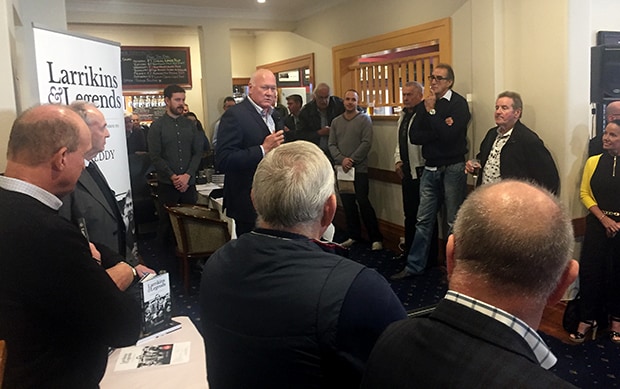 MC Mark Maclure at the launch. (Photo: Supplied)
A quick flick to the book's contents page, and the chapter headings offer salient insight into a period in which the aforementioned played – from "Jezza's Way", "Scared to Lose" and "The Bluebirds", through to "Going to the Lodge" and "Naked, Brutal Greatness".
Author Dan Eddy's entertaining tome, which chronicles this period of spectacular on-field success juxtaposed with off-field mirth and mayhem, not surprisingly attracted a healthy collection of football lovers who fondly remembered how it was.
Seasoned guests – amongst them the famed Channel 7 commentator Mike Williamson – were in the house as tales tall and true were told by Bartlett, Marcou, McKay and Sheldon et al.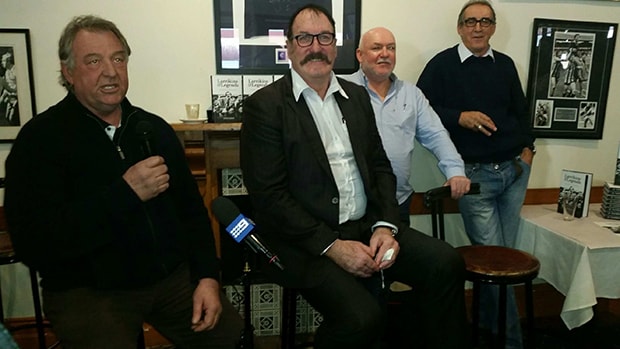 Carlton premiership players Mario Bortolotto, Warren Jones, Jim Buckley and Val Perovic. (Photo: Supplied)
Restoring order was the then Carlton coach David Parkin, who to this day rates those teams under his watch - "the forgotten Champions" as they've been dubbed – on a par with the Brisbane, Geelong and Hawthorn juggernauts that followed.
To quote 'Parko' - "they played hard on the day and played hard in between".
In endorsing Eddy's much-researched digest, Parkin humbly noted that 'Legends & Larrikins' might have been the more apt title, given his reckoning that 27 legends and eight larrikins contributed to three grand final successes in those four years.
Maclure, a most capable multi-media performer who led from the front in 243 games through 13 seasons at Carlton, talked of what the culture calibrated in the days of Ron Barassi meant to him and his comrades from Bruce Doull down.
"The culture was set in a very simple way. It was all about continual improvement. That's what it was for me," Maclure said.
"This is not written in the book, it's not featured on a wall in the room or anywhere else – it's what we players remember of what was said to us by the players before us – players like David McKay, 'Percy' Jones, Alex Jesaulenko, Bryan Quirk and Gary Crane. All those guys who played under Barassi, who were taught, learned and carried on."
Larrikins & Legends – The untold story of Carlton's greatest era is published by Slattery Media Group and is available for $39.95 through all good bookstores including the Carlton Shop.