HARRY McKay doesn't waste many chances.
This week, Champion Data's Glenn Luff revealed the Blues' young forward – who has played four successive game this season - leads the AFL with the highest goalkicking percentage for players who have 10 or more shots.
A healthy rivalry with his twin brother, a consistent flow of feedback from his father, or his dedication to learn from every opportunity might be among the factors contributing to McKay's accuracy. Whatever the reason, his arrival in the Blues' senior side has sparked excitement among the Carlton faithful.
But it hasn't been an easy journey solidifying himself in the Blues' forward line this season. After being picked No.10 in the 2015 national draft, McKay had a promising first pre-season at Carlton before succumbing to injury.
"It was frustrating, especially that first year. I had just gotten through pre-season. It was the first couple of pre-season games and I wasn't going too badly," McKay said.
"I think I had a good pre-season and was told I would probably play some games early. Then I hurt my back and I was out for five months or so. A lot of guys from that draft did play early and I was sitting on the sidelines injured, so that was tough.
"I guess when I did finally make my debut (Round 18, 2017) it made it more special because it had been a couple of years and a bit of hard work to get there.
"But you try not to think about what could have been if you were right from day one. I might have had a few more games under my belt, but you try not to look into the past."
Asked when McKay would make his return to the senior list following the Blues' Round 3 loss to Collingwood, senior coach Brendon Bolton told media he was waiting to see consistency.
McKay acknowledged that while playing VFL, consistency across four quarters was an area he needed to build on.
"I was having patches where I was playing well for one quarter and then I would go missing for a little while," he said.
"[The coaches] were probably looking for a bit of consistency, and that's probably the main area I need to work in the AFL as well – consistency throughout the game."
In the weeks prior to his first game of 2018 and third overall, supporters and media alike had expressed their keenness to see 'Big H' don the navy blue again.
Determined to block out any distractions, McKay remained focused on what he needed to do to return to the senior line-up.
"It was alright. You try not to read into it much. People came up to me, like family and friends, and were always asking, 'When are you going to play'?" he said.
"I think I always gave them the generic answer – 'Hopefully soon'.
"It's good to get a bit of support and to know people want you in the team, but you try not to listen much to outside noise. You just try and listen to what's inside the four walls."
The 200cm forward showed fans he meant business in his AFL return against West Coast in Round 5, kicking a match-high four goals on his way to an average of 2.3 per game this season.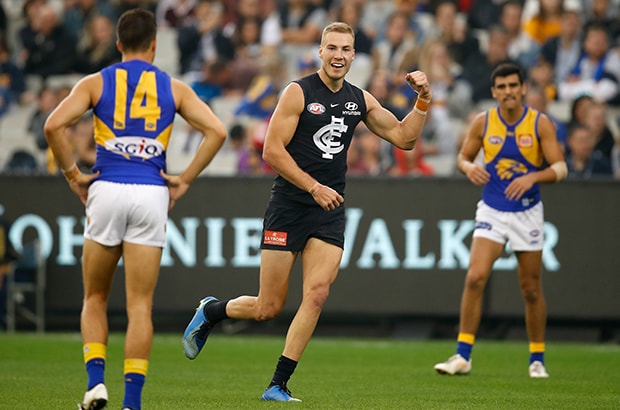 Harry McKay celebrates one of his four goals against West Coast. (Photo: AFL Media)
The 20-year-old last week experienced his first win as an AFL footballer, with the Blues toppling old foe Essendon.
As one of seven Carlton players in the customary 'Gatorade Shower', McKay said it was an experience he won't soon forget.
"It (first win) had taken a little while, but it was really special," he said.
"I went around to fans after the siren and it was a really good feeling. Hopefully there's a few more wins to come."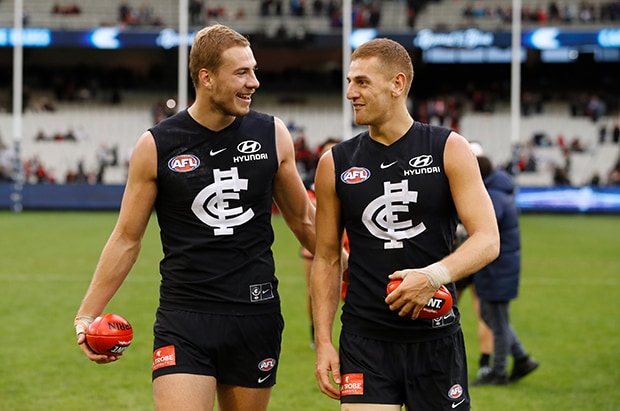 Harry McKay celebrates his first win alongside Liam Jones. (Photo: AFL Media)
McKay credits forwards coach David Teague, who arrived at Carlton from Adelaide at the end of 2017, for his growth in 2018.
"I can't speak highly enough of 'Teaguey.' He's been fantastic. The way he thinks about the game and his knowledge of the game is very in depth," McKay said.
"He's a really strong relationship builder as well. I get along really well with him. Every time I speak to him I learn something new."
McKay names his father as another figure who has helped his football development, and with his twin brother Ben a forward at North Melbourne, it's little wonder footy played a big part in Harry's childhood in Warrigal.
"Dad was really good. We would play footy on the Saturday morning and he would kick the footy with us for a couple of hours on a Saturday afternoon. Whenever he came home from work he would always take us to training," McKay said.
"He was probably our harshest critic when we were growing up, which was good, but he was the first to pat us on the back when we did something well.
"He still thinks he knows more than the coaches do and I still listen to his opinion, so he was probably our main influence.
"I've also got a twin brother, an older sister and a younger brother, so it was always busy around the household. It was good fun. We had a fair bit of space to grow up and we played lots of sports, so we were pretty lucky.
"It's nice to get back home. It's a bit quieter down there (Warrigal) – there's not as much traffic. I loved my childhood and growing up where I was, so I wouldn't change it."
Harry and Ben are identical, mirror twins, with Harry being left-handed and Ben right-handed.
Beyond their similar features and aptitude for football, they share a mutual competitiveness.
"Growing up we were very competitive, and still are, although there's not as many fights at the moment," McKay said.
"Always having someone to kick the footy with, tackling, just mucking around with, I guess that would have helped our sporting journey.
"We're still pretty competitive, but I think that's a good thing," he said.
"We wanted to play AFL. It was always our dream, but like any kid there was always ups and down as to whether we would make it or not. It didn't really become clear that we could make it until we were 17."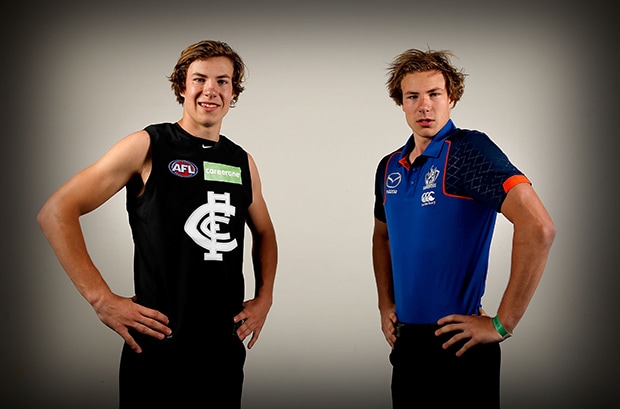 Twin brothers Harry and Ben McKay, pictured on draft night in 2015, share a close bond. (Photo: AFL Media)

McKay and his teammates' attentions now turn to an in-form Melbourne at the MCG tomorrow.

With injured key forward Levi Casboult to miss a second successive game and Charlie Curnow also pulling out with a tight quad, McKay will lead the Blues' forward line alongside first-gamer Pat Kerr.
"I reckon we're a good chance. I think we've traditionally played well against Melbourne the last few years," McKay said.
"If we can bring four-quarter footy, I think we'll be right in it. I'm looking forward to it.
"I think the last month we've played some good footy. It was a bit of a slow start, but over the last three or four weeks our pressure has been better.
"We had some close losses, and we got the win against Bombers. One quarter here or there that we haven't played well in has really hurt us, where we've had five or six goals against us and we played catch up after that.
"But everyone is starting to get a bit of confidence in the group and there'll be some more wins to come. We're all sticking pretty tight, and it's a good vibe around the club."
While his journey throughout his first couple of years at Carlton has been challenging, McKay has taken the opportunity to learn from every experience.
Since arriving at the club in 2015, what has stuck most is the need to back yourself as a player.
"I think the main thing is, you got drafted for a reason, you have got your own strengths, and you can't forget about that," he said.
"It doesn't matter what level you're playing at, if you back yourself in and bring your own strengths, that's going to be good enough.
"Everyone will have their strengths, but if you can stick to yours and work hard on the things you're not so good at, you'll be in good stead.
"I try and learn something every time I train and every time I play. I try and get better every day."
McKay's desire to learn is reflected beyond football. Like his former housemate Jed Lamb, McKay considers himself a pupil of guitar – although perhaps one less committed than he is towards his footy.
"He (Lamb) tried to play. I'm trying to learn at the moment. I'm terrible. I haven't picked it up in ages though," he said.
"I'll be really keen for a week and then won't touch it for a month.
"I need to get some lessons, but I can't really be bothered."
Lucky for Carlton, McKay's attitude to football is much more invested than his approach to learning guitar.
Having now sung the club song following the win over Essendon, perhaps McKay is looking elsewhere to appease musical interest, as there's no doubt he's eager to sing it again soon.
Carlton will host Melbourne from 1:10pm AEST at the MCG on Sunday.