IN 121 years of VFL/AFL competition, 1196 senior players from Jimmy Aitken to Patrick Kerr can lay claim to having worn the valued dark Navy Blue guernsey.
And yet in that time, only Craig Bradley, Bruce Doull, John Nicholls and Stephen Silvagni have done so in 300 games or more – and all are Carlton and football royalty.
This week, the big four came together for a famous photograph with Kade Simpson, whose 300th senior appearance falls this Saturday, against Port Adelaide on the mighty MCG.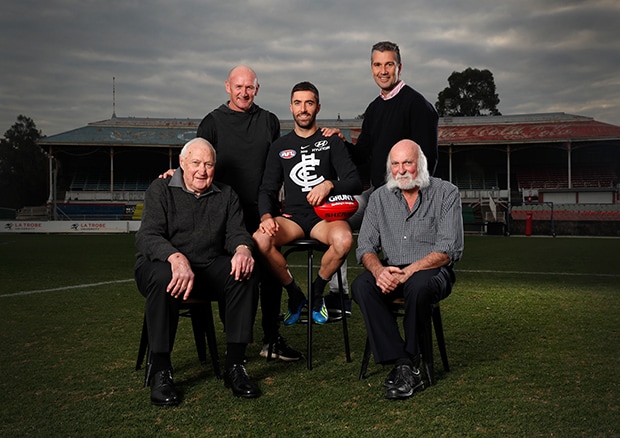 Carlton's 300-gamers come together. (Photo: Michael Willson/AFL Media)
In the shadows of the Ald. Gardiner Stand, in the middle of the ground each one of them owned, Bradley, Doull, Nicholls and Silvagni joined Simpson for an historic photograph - five men together who have collectively contributed 1314 games and 86 seasons to the Carlton cause.
In doing so, each paid fitting tribute to the little bloke with the big heart and the No.6 on his back.
Craig Bradley, 375 games (club record holder), 1986-2002
"It's brilliant that 'Simmo's' got to 300. It's fantastic for him. He's a ripping fellow, he's been magnificent for Carlton, given the club everything he's got and it's wonderful that we can all celebrate this milestone with him."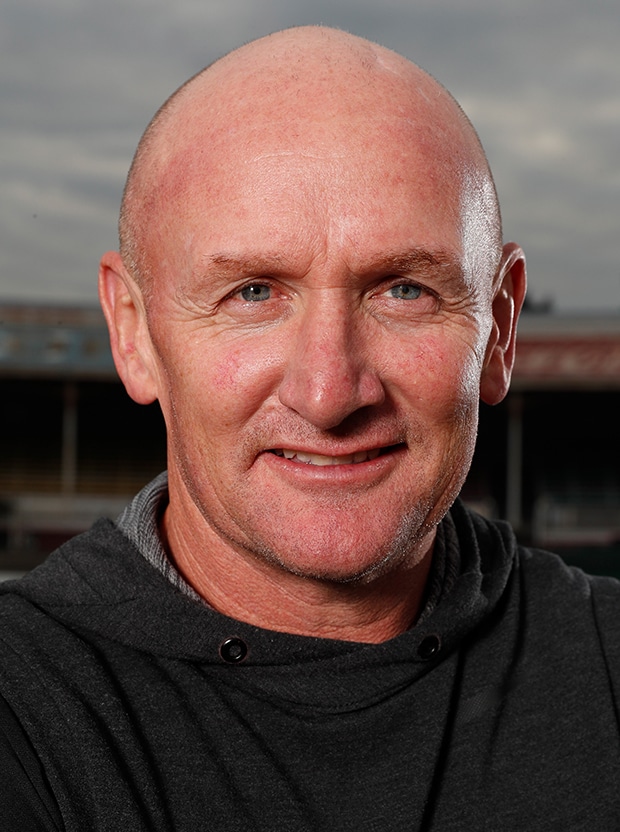 Craig Bradley. (Photo: Michael Willson/AFL Media)
Bruce Doull, 356 games, 1969-1986
"I would just say that Kade Simpson has been so reliable. He's been a true Carlton person and we (Carlton people) are always happy when the ball is in his hands."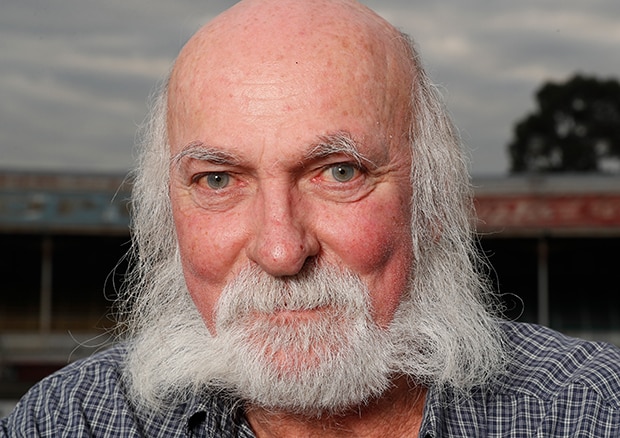 Bruce Doull. (Photo: Michael Willson/AFL Media)
John Nicholls, 328 games, 1957-1974
"I think it's a magical story really - to be so durable and play so many games through those years, to be such a great clubman and so loyal.
Unfortunately 'Simmo' hasn't had the success team-wise that he deserves, but I admire him immensely. (To play) with a frame like that . . . and to play 300 games is wonderful - a wonderful reward for him to be a Life Member of the AFL forever.
He has been one of our icons in the past 15 or 16 years. Overall, he's a player you'd love to recruit and have on your list because he's such a good role model.
To play 300 games is a bloody hard, long road and you need a lot of luck with injuries . . . to play year after year takes a lot from your body and your mind and he's respected. He loves the club and the club loves him.
The game has changed . . . and in this particular era he's adapted - and good players adapt where others who probably aren't good enough fall by the wayside."
He's the fifth player to play 300 games and you look at the ones who have gone before him apart from myself – I don't think anyone will beat 'Braddles'' record of 375 . . . and Bruce Doull . . . 'Sos' - what magnificent players they were - (but) he (Simpson) will be up there, regarded as a great 300 game player . . . he's right up there."

John Nicholls. (Photo: Michael Willson/AFL Media)
Stephen Silvagni, 312 games, 1985-2001
"It hasn't come easy for Kade at all. He has had to build his body, probably still has too now, but he looks after himself, puts his body on the line every week and it just goes to show what can be done if you have the sheer determination and desire to succeed."

Stephen Silvagni. (Photo: Michael Willson/AFL Media)