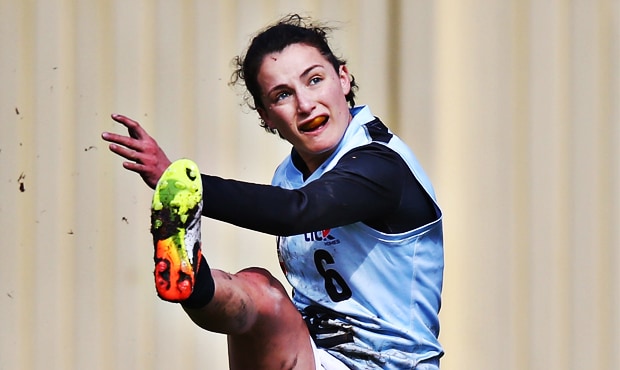 CARLTON'S in-form VFLW team will blow into Windy Hill on Saturday afternoon to take on bottom-placed Essendon.
Fresh off a stunning upset triumph over fifth-placed Darebin, the Blues will be looking to complete their season on a high.
The Bombers will be searching for their second win of the season, with their only win coming via an eight-point victory over Richmond back in Round 9.
While both teams are out of finals contention, there's still plenty to play for, with the AFL using the game to trial proposed rule changes.
With the hopes of negating congestion at the elite level, there will be mandatory 6, 6, 6 starting positions at centre bounces and an extended 18-metre goal square.
Additionally, boundary throw-ins will be brought in 10m and legal kicking distance will be reduced from 15m to 10m.
Speaking to Carlton Media, Carlton coach Shannon McFerran said her team would be seeking to capitalise on the provisional changes.
"We will add the changes into our match simulation at training and change our structures in order to suit the rules," McFerran said.
"Hopefully the changes will have a positive impact on the game," she added.
A fierce rivalry in the AFL, Carlton and Essendon are yet to face off in a VFLW match, so bragging rights will be on the line.
The Blues will have some inside intel on the Bombers. Earlier in the season, defender Danica Pedersen made the switch to Ikon Park after spending the early part of the season at Windy Hill.
The game will be won in the middle, with a tantalising midfield battle looming. The Blues boast ball-magnet Gab Pound, tackling-machine Chloe Dalton, the crafty Georgia Gee and young ruck Celine Moody, while all eyes will be on the Blues' potential inaugural father-daughter prospect Abbie McKay, who will make her VFLW debut.
For the Dons, AFLW-listed pair Maddy Collier and Rebecca Neaves have proven to be a force and will be backed up by Hayley Bullas and dominant ruck Simone Nalder.
Carlton will be expecting to control the midfield against the Bombers to ensure it takes the points. McFerran said the win over Darebin had instilled confidence in her team's ability.
"The win over Darebin is a good sign, it shows that we're building with each game we play," she said.
"We'll use this weekend's match to consolidate on everything we've learnt this season and continue that development."
The Blues take on the Bombers at Windy Hill in Essendon on Saturday 25 August, beginning at 3pm.
Forecast for Saturday afternoon at Essendon: Mostly sunny with a top of 18 degrees.