A UNIQUE English-crafted bone china loving cup awarded to Ollie Grieve as the Carlton Football Club's best and fairest player, has come home after almost 70 years.
In pristine condition, the decorative item upon which the words Carlton Football Club, Ollie Grieve, Best and Fairest 1952 Season are inscribed in gold, now finds a home in the Carlton collection.
The cup, awarded to Grieve in his ninth and final season at Princes Park, had for many years been in the possession of Holly Fletcher, who happily declared: "I'm so glad the club was interested in bringing the cup back".
Recruited to Carlton from Bacchus Marsh in 1942, Oliver Kelvin Grieve forged a handsome reputation as the pre-eminent full-back of his generation, in an era when Essendon full-forward John Coleman was king.
Though wartime curtailed Grieve's playing career (he spent three years from mid-1942 in military uniform), his second cousin Jeff Grieve was not so lucky. An 11-game South Melbourne player during 1941, Jeff later served with the RAAF as a Flight Sergeant through the wartime years. Tragically, he was killed in action when his aircraft broke up mid-air and crashed in Glenshee, Scotland during a wartime exercise on Remembrance Day 1944.
Ollie Grieve returned from the theatre of battle to forge his indelible mark on the game with his acrobatic high-marking and glorious drop-kicking.
A member of the Blues' feted 1947 Grand Final team that emerged victorious by the barest of margins courtesy Freddy Stafford's trusty boot, Grieve followed up with an outstanding 1948 campaign which saw him finish three votes adrift of the Richmond ruckman Bill Morris in the '48 Brownlow Medal count.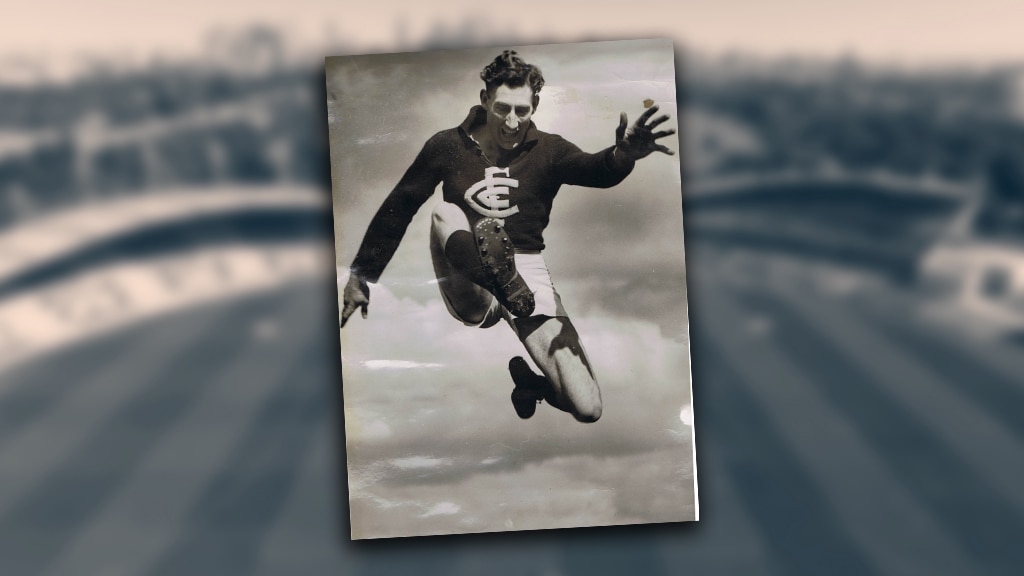 Ollie Grieve who played 147 senior games for Carlton.
Grieve represented Carlton in 147 senior appearances through 1942, '44 and 1946-'52. He earned the club's Robert Reynolds Trophy (since renamed the John Nicholls Medal) after finishing clear of Fred Davies and Vin English who tied for second.
In acknowledging Grieve's victory, the Carlton secretary Wally Floyd reported the following:
"Few will quarrel with the verdict of the Match Committee members because Ollie Grieve gave your club a magnificent season. He will be the recipient of other trophies and will have his name inscribed on the 'Mickey Powell' Cup which is retained at the clubrooms to perpetuate the list of 'Best and Fairest' players. In addition, details have been sent to England so that the 'Loving Cup' presented annually by the management of Foley Chinaware, at Fenton-Stoke on Trent, can be prepared."
It is worth noting here that Holly's item carries the Foley maker's mark on its base, which is in keeping with the mark used by the company between 1948 and 1963.
A dragon appears above the year 1850 (when 'Foley China Works' first operated under the watch of a Mr Robinson) together with the initials "EB" – a reference to Elijah Brain and partners who took control of the company in 1885.
In 1963, E. Brain & Co Ltd acquired the classic name of Coalport and continued under that name until being bought out by the Wedgwood Group in 1967.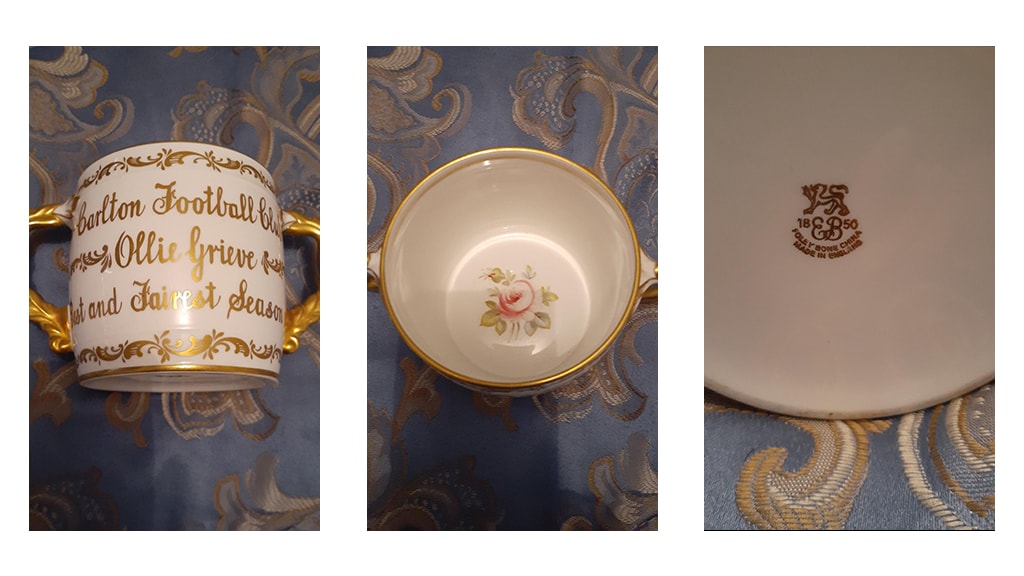 The unique cup presented to Ollie Grieve in 1952.
On the conclusion of his playing career at Princes Park, Ollie Grieve accepted the role of playing coach of Bendigo League club Eaglehawk, and later rounded off his playing days with Sunraysia club Irymple. Some years later he relocated to Perth, where he died at the age of 57 on February 2, 1978.
In 1994, Grieve was posthumously honoured with induction into the Carlton Football Club Hall of Fame.
It is anticipated that the Loving Cup awarded to Ollie Grieve as Carlton Best and Fairest will be displayed at the old ground where he played with such distinction.