THREE-TIME Carlton Premiership wingman Garry Crane has discovered that his long-gone grandfather also represented the Club as a senior player, way back in the foundation year of the VFL.
Now 74, Garry, the 148-game club best and fairest and Team of the Century member, recently learned that Henry Crane turned out in eight senior matches for Carlton in 1897, including the first-ever match at Princes Park.
"My grandfather's been dead for almost 100 years and beyond his name I didn't really know much about him. I didn't find out that he had also played for Carlton until a cousin notified me last week. It's unreal," Garry said.
"To think that he (Henry) played in the first year of senior competition and was the 31st player to represent the club . . . crikey, I wore 31 before I gave the number up to (Ron) Barassi . . . what are the chances?"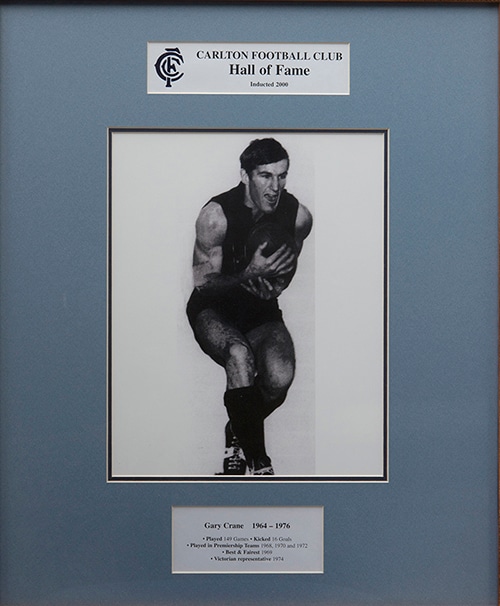 Garry Crane
Born in East Ballarat, Henry Alfred John Crane first chased the leather for both the Ballarat and Malvern Juniors Football Clubs. Later joining Carlton, Henry completed his senior debut for the club against Melbourne on the MCG in Round 5, 1897, some 122 years ago.
Named in the centre for the team led by Charles Brooking ('Brook') Hannah as acting captain, Henry and his contemporaries were on the wrong end of an 81-point hiding inflicted by the Melbourne team.
The following weekend, Henry savoured Carlton's first League win over St Kilda and its first at the Junction Oval, which broke a nine-game losing streak carrying over from the final four consecutive losses of the 1896 season.
He was also there for Carlton's historic seventh round match – the first match ever staged at Princes Park, and the first-ever League contest involving Collingwood.
Take a walk down 'Memorabilia Lane' with these pictures of former Blues dating back to 1907!#BoundByBlue https://t.co/sFZ0ITXNMn

— Carlton FC (@CarltonFC) January 17, 2019
It was the afternoon of Tuesday, June 22, 1897 when Henry and his teammates lined-up pre-match. Together they watched on as Carlton President AH Shaw led three cheers for the Queen (Victoria) and called on Alderman Moloney to execute the first kick - an old-fashioned Irish punt – to christen the new ground.
Henry's last hurrah came in the rematch in the 14th and final round of '97 when the visitors fell 32 points adrift of the black and whites in the hostile environs of Victoria Park.
Beyond Princes Park, Henry is known to have chased the leather for Western Australian club North Albany through 1898 before returning to Victoria and saddling up for Prahran in 1900.
Henry Crane
Henry died suddenly at his residence, 34 Rooding Street, North Brighton, on 12 May, 1921 aged 52, and was buried at Brighton Cemetery. A death notice placed in The Argus the following day acknowledged Henry as the dearly loved husband of Elsie, and devoted father of Keith, Claude, Jack, Howard and Kenneth – Garry's father.
Garry conceded that while he knew nothing of his grandfather's life story, he fondly remembered Henry's wife Elsie Crane (nee Brittingham) who lived to a robust age and died in the East Gippsland city of Bairnsdale.
Garry's sporting pedigree isn't confined to Henry alone. Kim Crane, the wife of Garry's cousin John and a keeper of the family history, has determined Crane kindred links on Elsie's side with the three-time Essendon Premiership full-forward Bill Brittingham and the former Australian Test captain William Maldon ('Bill') Woodfull OBE.
The photograph featured here of Henry Crane, kindly supplied by the Crane family, is in fact the first photograph acquired by the club of its former Carlton footballer of that historic 1897 season.