IT'S more than three quarters of a century since Ernie Pilkington's cherished Carlton guernsey went down with the naval destroyer HMAS Vampire off the east coast of Ceylon (now Sri Lanka).
It was April 9, 1942, and the Vampire on which Ernie was aboard, together with the British light aircraft carrier HMAS Hermes, were each hit with the full force of Japanese air bombardment.
The Hermes sank in 20 minutes, the Vampire in 30, and more than 300 Australians went with it. Somehow, Ernie survived the shocking ordeal - incredibly by clinging to an inflated footy until pulled from the unrelenting waters.
But he could never really come to terms with the lost guernsey he had earned the year before.
Last Saturday, some 77 years after the event, the late Ernie Pilkington's replacement guernsey was handed to his son Leigh by Carlton's very own Kade Simpson.
It happened at Launceston's York Park, at a team meeting on the eve of the match with Hawthorn. For Leigh, this was an incredibly poignant moment given that his father died at the age of 86 in 2004 - and as he said of the gifted guernsey, "I'll be making sure this one doesn't end up in the Bay of Bengal!".
Ernie Pilkington's empathy for Carlton and the dark Navy Blue was first forged in February 1941, at a time when he was stationed at Flinders naval base on Victoria's Mornington Peninsula. Seizing a moment's downtime, Pilkington followed his football dream to Princes Park, completing what was a 180 kilometre road trip to and from training on a motorbike.
At Carlton he was handed the No. 36 guernsey and excelled in a practice match against Fitzroy hopefuls. The former New Town wingman duly got a run with the seconds, but was unable to break through for a senior game.
Ernie Pilkington's story was recently revisited by AFL's Media Ben Collins in the lead-up to ANZAC Day. On Saturday, Brendon Bolton picked up on it in the presence of Leigh, who on the club's invitation completed the road trip from Hobart to Launceston for the guernsey presentation.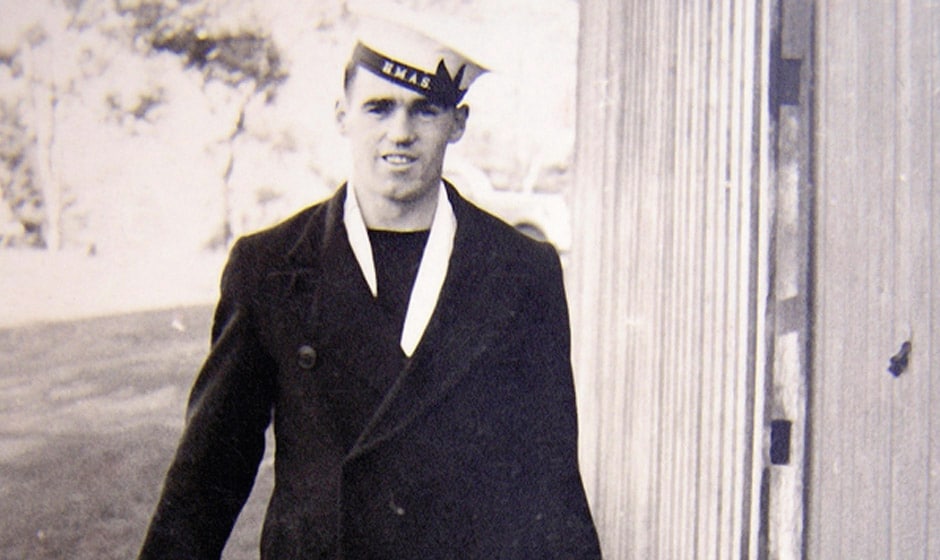 In addressing the players at that meeting, Bolton expressed the importance of reflecting on the lives of the Carlton players lost in global conflict – 12 in World War I, a further five in World War II – and the many more (Ernie amongst them) who somehow made it back.
"It's important that we reflect because our best show of respect in what we do is so far from war – it's just 'Give your heart and soul', that's the best we can do, because our lives are so far distant," he told them.
Bolton then introduced the players to Leigh and shared with them the Pilkington story:
I'm going to tell you a little story about Leigh's Dad, who served in World War II. His name was Ernest . . . Ernie . . . Pilkington and his service number was H1030.
Born and raised in Hobart, he was 13 days short of his 21st birthday, when on September 2, 1939 he first reported for duty with the Navy.
He was a Tassie lad on temporary leave when he fronted for training at Carlton (but) he never got the call-up that he actually wanted, to play for Carlton (and) he craved it. In any event, at that time there was a war to win . . . and he was assigned to a ship called the Vampire.
"The Vampire had managed to shoot one aircraft out of the sky and then it was struck by a bomb. It broke in half and sunk, and Leigh's Dad Ernie was on it.
Ernie survived.
Nobody knew it at the time, but when he was going to serve and he was still craving to play for Carlton he took his guernsey on the ship with him.
I was talking to 'Gov' (Mitch McGovern) when I was trying to recruit him about this(Carlton) emblem we have all heard about (and Ernie) took it with him. I suppose some of you have a photograph of your kids in your wallet or someone precious in your family. Ernie took the guernsey and it kept him going on the ship.
But guess what? When the ship sunk in 30 minutes the guernsey went with it, and Ernie lost the thing that kept him going, this want to play for Carlton and wear the guernsey.
"After surviving the sinking, Ernie returned to Tassie - and penned a letter to the secretary of Carlton (Harry Bell). That letter was found (at that club) and I'm not going to read this one because I get a little bit emotional when I read it . . . so who is gutsy enough to read two sentences for me?
(It is here that Ed Curnow volunteers).
Dear Harry,
I suppose by now you have forgotten the budding wingman who was striving for a game in the first Eighteen last season. I'm just back in Australia again after a very hectic 12 months. I was one of the survivors of the destroyer Vampire and I consider myself very lucky to be back home at all.
The reason for my writing is that my much treasured Carlton guernsey went down with the ship, and so if there is another one to spare, no matter how old, I'd very much appreciate it. At present I'm on leave, but I hope to be left in Hobart for a while when my leave finishes.
I hope this finds you quite fit and well and I'm looking forward to hearing from you soon.
Yours sincerely,
Ernie Pilkington.
(Signalman. R.A.N.)
(Bolton continues)
So Ernie requested another jumper to keep him going. He never played that game, but he just wanted that jumper to take to war.
Somewhere in the abyss that letter got lost and nothing happened. So Leigh, stand up for me mate. Right now our veteran here (Kade Simpson) is going to present you with that guernsey your Dad never got back – and you can take that guernsey and put it up on the wall. Well done.
In response to the presentation of his father's memorial guernsey and the hearty applause of the Carlton players, Leigh responded with real emotion:
Dad would be very pleased with that. He only had to wait 77 years for it (laughter), but he'd be most appreciative. It's a great gesture.
Dad certainly never ever begrudged his time in the services. I'm sure he would have much rathered running around in one of these (Carlton guernseys). If he was here now he'd probably say to you guys 'Embrace every moment you've got and make every moment count'.