In the lead-up to the 40th anniversary reunion of members of Carlton's 1979 Grand Final victory (yet again over Collingwood), thoughts invariably turn to Wayne Harmes and the dramatic lunge and thump that's long been part of League football lore.
And yet Grand Final day '79 proved to be the defining football moment in the life and times of Heathcote's own Peter Francis – the 47-game Carlton wingman often considered best afield on that last Saturday in September and therefore the Norm Smith Medallist who wasn't.
Few would realise the enormous responsibility that was entrusted with Francis by his great mentor Alex Jesaulenko – League football's last Grand Final-winning captain-coach – in the lead-up to that dramatic contest in sodden conditions in September '79.
But as Francis explains, Jesaulenko had steeled him for such tasks in a pivotal discussion just prior to the commencement of the pre-season training period some 10 months before.
We take a look back at a from the past.

The Dominator had a day out against the Pies in this week's classic performance. #BoundByBlue

— Carlton FC (@CarltonFC) May 9, 2019
The following is Peter Francis' story, in his own words.
It's hard to believe 40 years have lapsed since Grand Final day 1979. As I often tell my kids here (as Talent Manager with Gippsland Power) – "Your footy career goes really quickly – don't take it for granted, make the most of it".
I'd played reserves at Carlton through the 1977 and '78 seasons. In '78 I played in a night game and kicked four, but I didn't get the nod for the next week. As the year went on I feared I wouldn't make it, and in the last reserves match of '78 when I was named on the bench I thought "Gee, I'm in real strife here". I honestly thought I'd get delisted.
But looking back on it now, the '77 and '78 years were really part of my football apprenticeship, and 'Jezza' (Alex Jesaulenko) played a massive part in that.
Jezza had a good eye for talent. I remember that he used to always sit upstairs, even before he coached, to watch the reserves play. Obviously he got a handle on guys coming through, and he recognised players like myself and Alex Marcou who was in the same boat as me, having played a couple of seasons in the reserves before he made it.
Jezza came to me at the end of '78, just before pre-season started in November, to raise a couple of points. The first of them related to the positives, that I had the skill and good speed, but then he told me about the areas in which I needed to improve. "You need to get tougher, you need to get stronger and you need to get harder", he said. In other words, he was telling me to get bigger and become more aggressive in my attack on the footy . . . and he was right.
Jezza said to me: "I've booked you in to do some boxing with a fellow named Des Duguid (a former Amateur boxer) at the Police Academy and I've also booked you in to do weights at the Melbourne Weightlifting Centre . . . on top of the other training that we'll do". He also said to me: "If you don't do that, I'll know that you don't want to play".
So I went and did it, I put on a stone in weight, and whereas I thought I'd hate the boxing, I absolutely loved it: while I still couldn't fight, it gave me real confidence. After that pre-season I knew that no-one could hurt me, in the end I got the nod for Round 1 in 1979 and away I went.
I loved Jezza as a coach. He was brilliant for me. He gave me my opportunity and he taught me how to play my part for the team. Every week he'd say to me, "Peter, you play your role, you do what I tell you and you'll stay in the side. You go outside that and you'll be out". Every week he'd say "You're on the wing this week Peter, you're on (for example) Michael Turner. I only want him to get seven kicks and I don't care if you only get six." So I knew that day that I had to be a defensive wingman and that I had to keep my opposing wingman quiet – whereas on another day he'd tell me to go for it.
In terms of my relationship with Jezza I knew my role, I knew what I had to do each week and I knew that I had Jezza at my back – and I think that's the real art of coaching.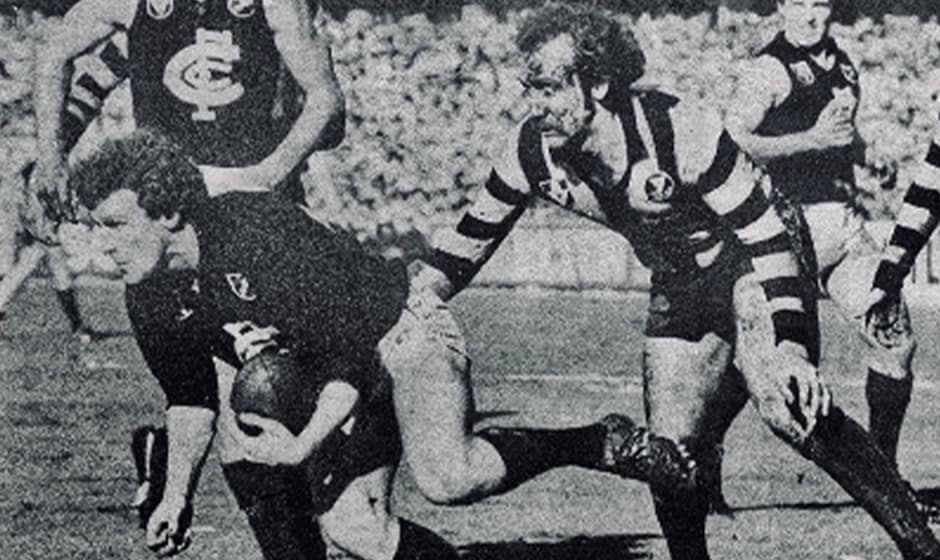 Peter Francis played a starring role on Graeme Anderson in the 1979 Grand Final. (Photo: Supplied)
The MCG was a heavy deck on Grand Final day, but I knew that my body could stand up to it and again I knew my role. Michael Young was told he had Ricky Barham and I was told I had Graeme Anderson. Now Graeme had kicked three goals on Keith Greig in the Preliminary Final and five the week before in the first semi against Fitzroy. As such, my role was to keep Graeme quiet and not allow him to kick a goal (Anderson managed just one behind), and as much as I got a little bit of the ball that day, my real role was to prevent Anderson from playing well.
It's funny - when I think back to the '79 Grand Final, what sticks in my mind is that I slept really well the night before. I was always a nervous player, I always got terribly anxious before games, and while I had a little bit of trouble getting into the ground on Grand Final day I wasn't nervous, which was a bit bizarre.
I don't remember a lot of what happened in the rooms or what Alex said before the game, but the biggest thing I remember is that when we ran out to the roar and to all the balloons flying, I felt like I was walking on air. It was the most amazing feeling I've ever had and the hardest thing to describe. But I knew that I felt good that day, I was confident I was going to play well and so too the team.
People remember you for playing in Grand Finals, but certainly for playing in Premierships – and I'll tell you now I played better in a lot more games before and since.
In saying that, the 1979 Grand Final defined me as a player for sure. A lot of people remember me for that game, not realising I played at four clubs. They think I only played at Carlton and they remember me for the 1979 Grand Final. All I can say is that I was lucky enough to play well in what was a star-studded side - Southby, McKay, Doull, Keogh, Ashman, Buckley. I was just a "good ordinary player" as Jack Dyer would say, with a lot of champions around me.
In fact, that game defined my life. For the past 27 years, I've been working full-time in it and I put it all down to that day, no doubt.
I played more games at Richmond, but I was at Carlton for five years, Carlton was my first club and Carlton gave me the opportunity. My obvious preference would have been to stay at Carlton, but it didn't work out that way and that doesn't matter – that's how football goes, I've never been bitter and I'll always be indebted to Carlton for what it did for me.
Life's really busy and with the passing of time you do tend to go your separate ways. But I remain good friends with Kenny Sheldon and Wayne Harmes and I'm really looking forward to seeing Jezza again at the reunion for all those reasons I have outlined. As with Carlton, I'm indebted to Alex Jesaulenko too. Without Alex, I would never have got my opportunity. I really believe that.