WITH the notable exceptions of 'Cocky Marr' and 'The Peanut Man', he's quite probably the most iconic Carlton figure ever to grace the terraces of Princes Park.
He's the famed 'Whistler of One-Eyed Hill', whose outrageously prolonged toots with every Blues goal were not only heard by the hundreds within earshot on match days, but also by the tens of thousands of armchair critics who viewed (and heard) Carlton games replayed by Channel 7 on Saturday nights throughout the 1970s and '80s.
For four decades, the identity of the whistler was not known. Then in May, in response to a tweet seeking the elusive figure's whereabouts, a tip-off led this correspondent to long-serving Carlton member John Asdagi - whose son Adrian just happens to be the club's Community Engagement Manager.
Recently, Asdagi returned to the place that was his glorious weekend domain, to reflect on happy times when he dutifully whistled home a million Carlton majors.
Now 56 and consigned to football club immortality, Asdagi first followed his older brother Robert and his father Joe to Princes Park from Reservoir on match days back in '69.
"We were one massive family — the Carlton Football Club and us," Asdagi said.
"These were the days of Johnny O'Connell, Geoff Southby and Vin Waite and they were magical days. Every Carlton player was a favourite and I couldn't walk away saying I didn't like anyone.
Revealed after 40 years - the identity of Carlton's famous Whistler of One-Eyed Hill!

Story to come, but for the moment hear the characteristic whistle, recorded at the old ground this morning.

Fair to say the great man's still got it. #boundbybluehttps://t.co/vzY3iqNSyU pic.twitter.com/ThXgIbatho

— Tony De Bolfo (@tony_debolfo) June 20, 2019
"I could turn around from where I stood and say hello to 60 or 70 people standing behind me. They were the same people I saw every fortnight. It was fantastic.
"I can remember standing there one Saturday when it was belting down with rain, and turning to my brother saying 'Shouldn't we get out of the rain?'. 'What's your problem?', he said. "We're winning, aren't we?'.
"When you walked away from the Club late on a Saturday afternoon, the Carlton players had made you proud . . . and on a Saturday night, you'd watch the show and there they were again."
As the years rolled on, Asdagi shared standing room with the likes of Andrew Maher, Maher's mate 'Gecko' and Paul Barbazza. As Asdagi recalled with affection: "They'd be behind me calling the game as it was playing out, and the crowd loved it".
As for Asdagi, he was but a teenager when he first belted out the famous whistle.
"In the old days we'd stand on the concourse between the Gardiner Stand and the old press box, just in front of the scaffolding that propped up the Seven commentary box," Asdagi recalled.
"If memory serves, Mike Williamson and Lou Richards were calling the games back then and the Seven microphones picked up the nearby noises - the whistle included - whenever a Carlton player kicked a goal.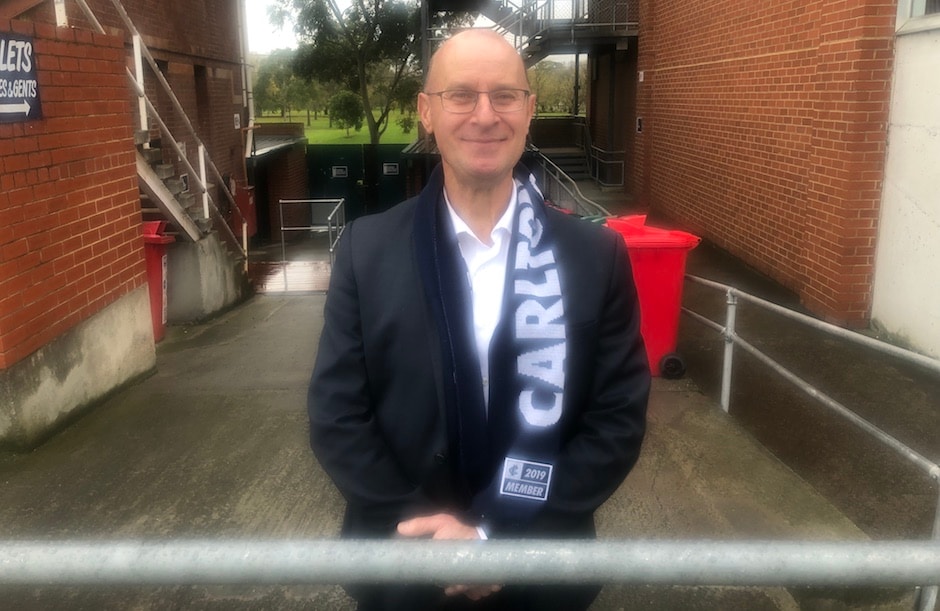 John Asdagi - the Whistler of One-Eyed Hill. (Photo: Supplied)
"A cousin later tipped me into the fact that he heard my whistle on the replay. It was continuous and high-pitched, and I could do it then because I was a young bloke with energy to burn.
"To be truthful I lost count of the number of times I whistled because they (the Blues) were booting so many bloody goals."
But what prompted the whistle in the first place?
"I was just engrossed in the game," came the reply. "Whenever the ball made its way into the Carlton forward line, something would come over me and I'd just whistle.
"It was almost predictable. You knew Bruce Doull was going to emerge with the ball out of the backline and put it on the chest of someone in a Carlton jumper, whether it was Ashman, Hunter or Johnston. Johnston, to me, was the pure finals player, and whenever he got the ball at Carlton all the people would be up.
"In those days, if we were down at half-time or three-quarter time I could always remember thinking 'We'll come back and win this – it's going to happen'. That was the expectation, that there would always be 'the Premiership quarter'.
"If there were non-Carlton people around me they wouldn't have enjoyed the whistle, and I was always surprised no-one told me to shut the hell up. But the majority of people around me were Carlton people, so I knew I was amongst friends."
You can't be a 'Bagger and turn 100 without a bit of celebration!

Happy birthday, Alma! We hope you had a great day.#BoundByBlue pic.twitter.com/qJ6oI3CMCf

— Carlton FC (@CarltonFC) June 20, 2019
According to Wikipedia, a whistle is an instrument which produces sound from a stream of gas, most commonly air that may be mouth-operated, or powered by steam or other means. In Asdagi's case it's very much the former, as he proved when he puckered his lips for old time's sake from his idyllic vantage point in the shadows of the Ald. Gardiner Stand.
Does he still let fly with the trademark whistle at Carlton games?
"Not as much," Asdagi conceded. "Mate, I'm many, many years older after all."
And yet, the Whistler of One-Eyed Hill truly knows his place in the pantheon of Ikon Park history.
"Me and my family just loved being here at Ikon Park. We wouldn't have had it any other way," Asdagi said.
"I'm happy my whistling might have made other people happy, but as far as I was concerned it was just part and parcel of my Saturday afternoon.
"What makes me so proud is that I have been a member of Carlton through thick and thin since 1979, and while Premierships are getting harder and harder to win the ones I've seen I'll never forget."