CARLTON defender Caleb Marchbank says leadership quality is one of his main focuses coming into the 2018 season, following the estimated season-long loss of Sam Docherty to an ACL injury during pre-season.
Marchbank had an impressive impact in his first season with the Blues, earning a NAB Rising Star nomination and playing 14 consecutive games before being struck down with injury.
"Coming in last year I was a bit quiet and more reserved, but this year, especially with the loss of Docherty, us as a backline group all need to step up," Marchbank told Carlton Media following training on Wednesday.
"That's one of my main focuses – leadership quality. Being able to voice out in the field and also help the boys off field is the main thing for me."
Marchbank said he also looks to certain players for leadership.
"The two that have stood out to me and I've looked to for help from are Sam Docherty and Kade Simpson," he said.
"Obviously Simmo is into his 16th pre-season this year, so he's got a lot of experience under him – he knows all the tricks. And then Doch, who's young and up and coming but is already one of the best and fairest and is an All Australian.
"So those two guys have been really great for me."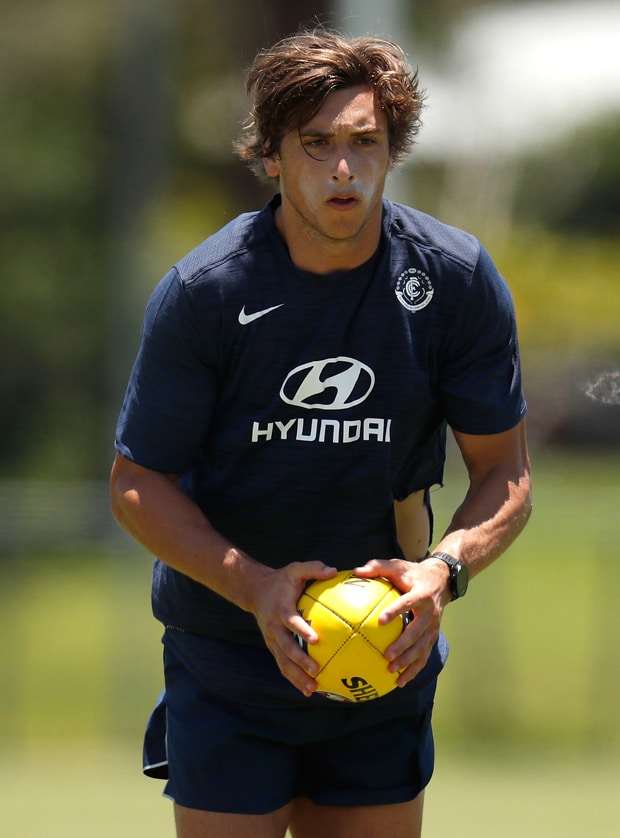 Caleb Marchbank has enjoyed an injury-free pre-season. (Photo: AFL Photos)

With the loss of Docherty from the Blues' defence, Marchbank is confident the backline can handle the challenge.
"Obviously Doch's a pretty big loss but we've got people in the wings to really step up and take that opportunity," he said.
Marchbank praises senior assistant coach Cameron Bruce as helping solidify the defence.
"Brucey's been excellent. He's obviously spent a few years in Hawthorn's coaching group, so he's got a wealth of experience. He's been terrific for us defenders," he said.
"He's adjusted really well. He's the sort of bloke that you can have a joke with, but when it's time to train and train hard, he's all about that. So it's been a good balance."
Marchbank is eager to play in the Blues' AFLX side.
"It's a massive honour to play in the AFLX. It's something we've been training for for a couple of weeks now," he said.
"Its always pretty nerve-racking going into your first game after a full pre-season. It's probably the first opportunity for us as a group to show what we've been training for over the pre-season. I think all the boys are going to be a little bit nervous but they're going to be excited as well.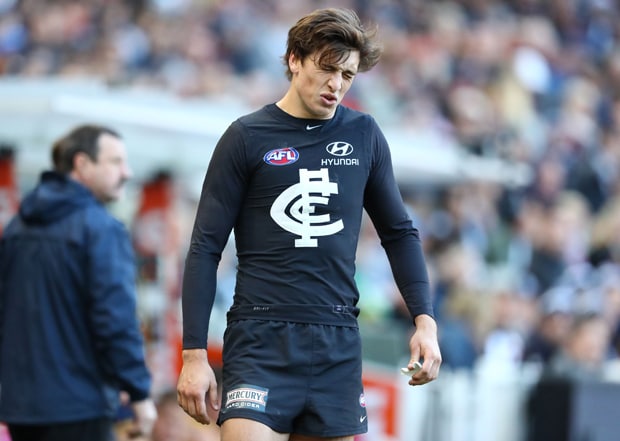 Caleb Marchbank after injuring his shoulder in Carlton's Round 15 clash against the Crows. (Photo: AFL Photos)

"It's an exciting group. There's lot of speed, and a lot of talent. It's going to be great for fans to see us going about it, so I'm looking forward to it.
"It's (AFLX) just obviously a lot more fast-paced, it's a lot more flowing, there's not too many ball-ups or anything like that. The big thing is just adjusting to the pace of the game."
As Round 1 of the AFL season nears, Marchbank is confident in his fitness, after a hairline fracture in his shoulder and a pinched nerve in his arm hindered his 2017 season.
"The body's going really well. It's the first pre-season I've got through fully fit, so I'm really excited about this year. I'm really excited about what the team can bring, and what I can do also," he said.
The pre-season has seen an emphasis on attacking and scoring more, Marchbank said.
"Letting players play with their flair and an attacking brand are things we've been training really hard for. That's a big focus for the team."
The Blues will initially face Melbourne in Friday night's AFLX tournament at 6.40pm, before taking on North Melbourne at 7:36pm.
10 QUICK FACTS ABOUT AFLX
1. Played on a rectangular field (approx. 70m width x 110m length) with four posts at each end (as per a normal AFL field). Ground markings will showcase X as the centre square and 40m arcs.
2. Two field umpires, two boundary umpires and one goal umpire at each end of the ground.
3. Ten players per team, seven on field at all times and three on the interchange bench. No restrictions on player rotations.
4. 10-minute quarters or halves depending on the tournament format.
5. Free kick against for last touch out of bounds.
6. Kick-ins from behind the goal line after all scores.
7. No marks paid for backwards kicks (except in forward 40m area).
8. Quarters commence with a 'ball up' in the centre and at least two players from each team starting inside the 40m arc.
9. Free shot from forward 40m arc – directly in front for deliberate rushed behinds.
10. 10-point super goals when goals kicked on the full from outside the 40m arc.
THE 2018 AFLX TOURNAMENT TICKETING INFORMATION
Adult - $15
Concession - $10
Family - $30
Kids 12 and Under – Free

Click here to purchase tickets.