COMPRISING of five competitive children, growing up in the Curnow household would have had its challenges, but one thing was very clear – everyone was equal.
For Cassie and David Curnow, the parents of Carlton players Ed and Charlie (as well as Charlotte, Eliza and George), raising their children to believe they could achieve anything – no matter what their gender – was of utmost importance.
"When the kids were babies we had pretty traditional roles, I stayed at home with the babies and David went to work," Cassie told Carlton Media.
"However, when I went back to work, around the time Ed was in prep, Dave and I took on a balanced teamwork role in sharing all the responsibility in raising the children.
"As we have two daughters and three sons, it was crucial to me that the girls had every opportunity as the boys did. I don't think the boys would remember any distinguishing differences between the opportunities our daughters had as opposed to our sons."
Midfielder Ed Curnow reiterated his mother's point, and as new father himself, he is determined to instil his son William with the same values.
"Growing up being one of five and with two sisters and two brothers we all had equal opportunity, so there were never any differences when we did day-to-day activities," Ed said.
"At the moment, I've got young Will who is 13 weeks old, and I just want to provide the same environment that I was lucky enough to have growing up."
Charlie Curnow, the youngest of all the siblings and doting uncle to William, said he never believed there were any limitations placed on his brothers or sisters.
"We never really thought about it, it was just normal. I'd never think 'oh my sister is doing that, I can't do that, or I'm doing this, my sister can't do this' – it was just normal that we all did the same stuff," Charlie said.
Sharing their story for the Carlton Respects program – to raise awareness for gender equality for the prevention of violence against women – the Curnows' values reflect the heart of the initiative, with early education known to play a pivotal role in preventing violence before it occurs.
This year's campaign, which took place in Round 9 against Melbourne asked, 'what are we teaching our children?' and highlighted the important work carried out by the Carlton Respects Education Program.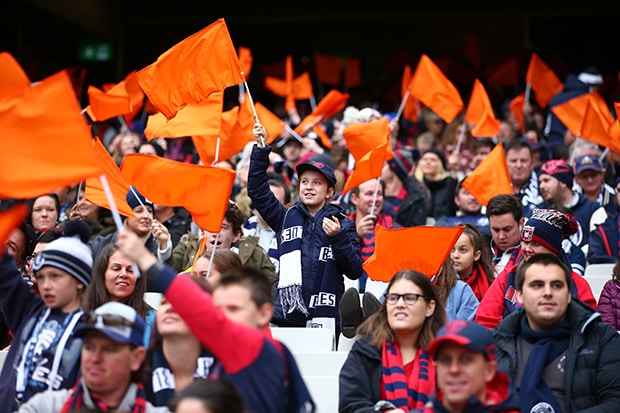 Carlton and Melbourne supporters flew the orange flag for gender equality before the bounce in Round 9. (Photo: AFL Media)
The program addresses underlying determinants and risk factors to prevent gender-based violence and disrespect against women. Since its inception in 2016, trained facilitators have delivered the program to schools in Melbourne's northern corridor, promoting respectful and equal relationships to year seven and eight students.
Kirk, a teacher at Epping Secondary College, said the program was extremely beneficial for young students.
"The big benefit of having a club like Carlton come into the school is the fact they're identifiable outside of the school," he said.
"Having them come in, go through this program and speak about respectful relationships, stereotypes and genders across the board allows the kids to see it's not just important in the classroom, their school and the community, but in the wider community also."
For more information about the Carlton Respects program, click here.