ON Saturday night, when the Carlton and Geelong players take to the field at the place formerly known as Kardinia Park, 7588 days will have lapsed since both teams last challenged there for premiership points.
Not since the Round 20 of 1997 – Saturday, August 16 to be precise – have the League's two foundation clubs met at South Geelong's own.
Carlton and Geelong actually faced off for the first time in a VFL match in Round 4 of 1897, but that was at Corio Oval. The home team emerged 22-point victors as the record books attest, but three members of the Geelong team who took to the field that day – the brothers Joe and Henry McShane and Jim Flynn – would all one day captain Carlton, including, in Flynn's case, the premiership teams of 1906 and '07.
When in 1940, Geelong was forced to relocate from Corio Oval (after the League venue became the first utilised by the Army as a Military Training Camp), Kardinia Park was adopted for the 1941 season. However, Carlton and Geelong met but once in '41, and that was at Princes Park in Round 10 when Paul Schmidt got the old dark Navy Blues home with five goals from full-forward.
With wartime restrictions prohibiting travel through 1942 and '43 even for the purposes of playing football, Geelong fell foul of the tyranny of distance and went into recess.
So it was in Round 6 – Saturday, June 10, 1944 - that Carlton and Geelong met for the first time at Kardinia Park – and so it is this Saturday evening that the two teams meet there again for the first time in 21 years.
Former Carlton captain and three-time premiership centre half-forward Mark Maclure is eminently qualified to reflect on his experiences at 'The Cattery'.
"I loved playing down there," said the 243-game great this week. "The ground was good to play on, no drama, the players caught the bus from the club together and we'd have a drink on the way back . . . and so you should.
"I tell you what, the ground's changed. They've done a good job and we as taxpayers have paid for it because the government gives them plenty."
When Maclure adds "we've won a lot of games down there," he's on the money. For history records that Kardinia Park is the only current venue at which the old dark Navy Blues command a positive winning record (54.8 per cent, with 23 victories from 42 matches).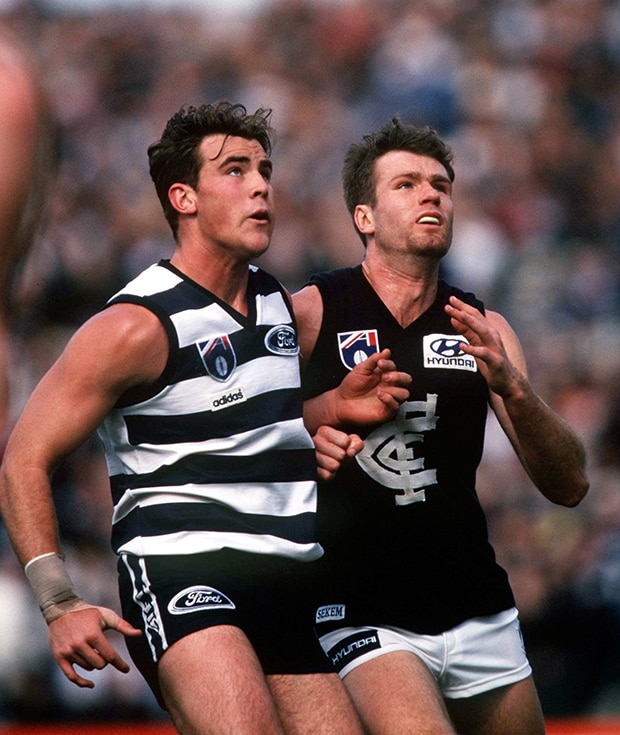 Carlton's Matthew Allan goes head-to-head with Steven King in Round 20, 1997 - the Blues' last game at Kardinia Park. (Photo: AFL Media)
With Carlton often touted as a club capable of generating matchday audiences in excess of 40,000 people – and thus considered to have outgrown its own home as a matchday venue - it's perhaps surprising that Saturday evening's game is fixtured for the 34,000-capacity venue now known as GMHBA Stadium.
That's an argument for another day. For the moment though, let's revisit the 42-game story so far...
CARLTON v GEELONG
Kardinia Park
1944-1997
Round 6, Saturday, June 10, 1944, Carlton 13.25 (103) defeats Geelong 5.10 (40)
Rover Jim Mooring boots six goals in the 63-point rout, which elevates Carlton to top of the ladder. Bob 'Bomber' Atkinson leads the team in the absence of Jim Francis, who fails to appear in a senior match due to injury through the '44 season.
Round 8, Saturday, June 9, 1945 – Carlton 14.21 (105) defeats Geelong 10.9 69
Jeparit's Dan Beauvais, named 19th man, boots two goals on debut in what is ultimately a Carlton premiership year.
Round 19, Saturday, August 30, 1947 – Carlton 16.11 (107) loses to Geelong 17.7 (109)
Dynamic Geelong full-forward Lindsay White, having already booted nine goals for the day, splits the posts with a thumping 60-metre dropkick from a seemingly impossible angle to pinch the match from the visitors. Old-timers down Corio way still declare it the greatest goal ever kicked at the ground, which was always of little solace to Herb Turner who booted six for the Blues at the other end.
Round 3, Saturday, May 1, 1948 – Carlton 13.11 (89) defeats Geelong 12.15 (87)
Cohuna's Ray Garby slots a career-best seven goals from full-forward. Garby later features in the old dark Navy Blues' nail-biting Grand Final victory over Essendon.
Round 17, Saturday, August 13, 1949 – Carlton 12.18 (90) defeats Geelong 6.11 (47)
Ken Baxter, the only Carlton player of his generation to turn out for the Grand Final victories of 1938, '45 and '47, boots eight goals from full-forward. According to The Herald correspondent of the day, senior coach Perc Bentley didn't finalise the team until 2.10pm. With 13 changes the line-up is turned upside down and the players hit the field 10 minutes late.
Round 9, Saturday, June 17, 1950 – Carlton 15.9 (99) defeats Geelong 13.20 (98)
Errant kicking costs Geelong its first victory over Carlton at the Park, with Jack 'Chooka' Howell as acting captain and No.1 ruckman leading the way for the visitors with a five-goal haul.
Round 4, Saturday, May 12, 1951 – Carlton 9.13 (67) loses to Geelong 14.7 (91)
Fred Davies plays a lone hand for Carlton in the ruck, and his four goals keeps his team in the contest for three quarters until it's overrun in the final 15 minutes. Remarkably, forward-pocket Adam Inglis turns out for his second and last game for the Blues, having kicked five goals on debut the previous week.
Round 19, Saturday, August 30, 1952 – Carlton 3.14 (32) loses to Geelong 10.17 (77)
A record attendance of 49,107 bears witness to Geelong's demolition of the visitors, in what doubles as 1947 premiership player Richie Green's final on-field appearance.
Round 18, Saturday, August 28, 1954 – Carlton 6.13 (49) loses to Geelong 13.12 (90)
In the final round of the home and aways, Carlton captain the late Ken Hands is adjudged his club's best player afield, but 'The Geelong Flyer' Bob Davis is best on ground. Carlton full-forward Noel O'Brien kicks a goal to end the season with 45 – three more than the fourth-placed Essendonian John Coleman.
Round 7, Saturday, May 28, 1955 - Carlton 10.9 (69) loses to Geelong 12.12 (84)
The hosts hold sway in the ruck despite Bill Milroy's best efforts, and Laurie Kerr's slashing display on a wing. Ruck-rover Bob Bosustow, father of Peter, is also considered amongst Carlton's best.
Round 15, Saturday, August 3, 1957 – Carlton 6.7 (43) loses to Geelong 11.19 (85)
Jack Mills bids Carlton and League football farewell after this match, having managed only one finals appearance in 124 matches through eight seasons for the old dark Navy Blues. Back pocket John Nicholls, in his maiden season at senior level, is finding his way.
Round 14, Saturday, July 26, 1958 – Carlton 8.21 (69) defeats Geelong 7.11 (53)
In what is effectively a battle of the also-rans, 10th-placed Carlton accounts for the wooden spoon fancies, having finished strongly in the second half.
Round 8, Monday, June 15, 1959 - Carlton 12.16 (88) defeats Geelong 11.13 (79)
On a day in which Carlton ruckman Kevin Clarke and centre half-back Bob Crowe notch their 50th senior games for the club, Gerald Burke with four goals up front gets the visitors over the line.
Round 6, Saturday, May 28, 1960 – Carlton 10.14 (74) loses to Geelong 17.17 (119)
Geelong tallies its highest score against Carlton in more than 30 years. Wesley Victor Lofts completes his senior debut and the largely forgotten Barry Smith boots five of his seven career goals alongside Sergio Silvagni in a forward pocket. The match attracts an audience of 16,221 with receipts totalling £1739.
Round 12, Saturday, July 14, 1962 – Carlton 11.7 (73) defeats Geelong 8.9 (57)
In John Nicholls' absence, Carlton captain Graham Donaldson holds sway in the ruck and Gordon Collis also fares well at centre half-forward. This is the second of four meetings of the two teams, who would later meet in the contentious '62 drawn preliminary final and the replay.
Round 17, Saturday, August 31, 1963 – Carlton 5.4 (34) loses to Geelong 13.17 (95)
In a horrid post-script to an underwhelming team performance, Carlton full-back Dave Rogers, reported for kicking Geelong full-forward Doug Wade, is duly found guilty by the VFL Tribunal and suspended for eight matches.
Round 13, Saturday, July 24, 1965 - Carlton 9.12 (66) defeats Geelong 5.9 (39)
The crowd savours yet another enthralling man-on-man contest involving the game's two greatest ruckmen John Nicholls and Graham 'Polly' Farmer (and 'Big Nick' also has to contend with Farmer's back-up John 'Sam' Newman). In a bruising affair, Carlton forward Ian Nankervis suffers a torn shoulder, and back pocket Brian Buckley a suspected broken jaw.
Round 7, Saturday, June 4, 1966 – Carlton 8.8 (56) loses to Geelong 8.9 (57)
Scores are level with seconds to go when Carlton half-back John Gill accidentally soccers the ball through for a match-winning behind . . . to Geelong! Ian Collins is the Blues' best player afield with three goals out of the centre.
Round 12, Saturday, July 1968 – Carlton 9.9 (63) defeats Geelong 8.7 (55)
In this the battle of the '68 premiership contenders, Carlton takes the points in Noel Bishop's second and final appearance.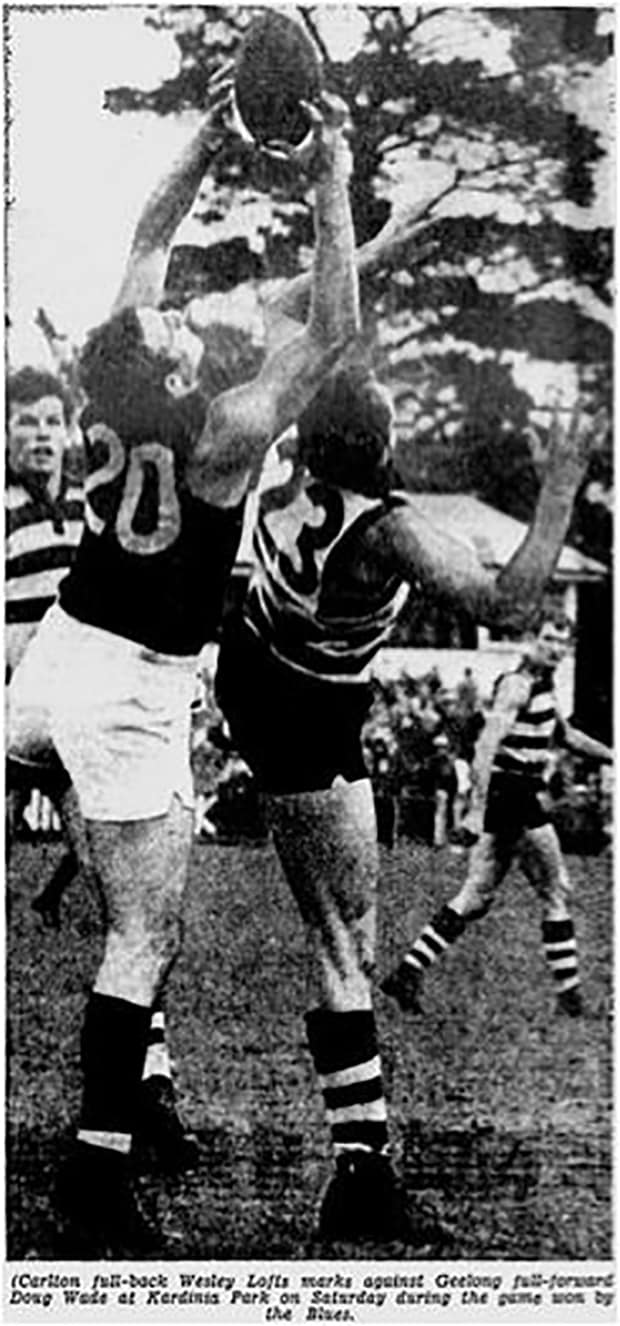 Wes Lofts outmarks Doug Wade in the Blues' win over Geelong in 1968. (Photo by The Age, sourced from blueseum.org)
Round 6, Saturday, May 10, 1969 – Carlton 13.7 (85) loses to Geelong 18.16 (124)
Alex Jesaulenko slots five goals from full-forward but it matters little to the outcome. According to a report in Football Life, Carlton coach Ron Barassi "was ordered to appear before the VFL executive to answer a complaint made by field umpire Don Jolley that Barassi had spoken to him on the field during the three-quarter time break of the Geelong - Carlton game. But no action was taken when Barassi said he would not offend again".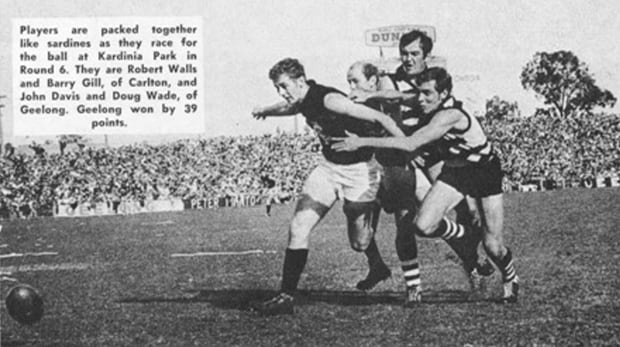 An action shot from the Blues' loss to Geelong in 1969. (Sourced from blueseum.org)
Round 2, Saturday, April 11, 1970 – Carlton 16.7 103) defeats Geelong 12.9 (81)
'Jezza' boots a match-winning six goals, having kicked nine against Essendon in the season opener. Six teenagers – Barry Armstrong, Brent Crosswell, Bruce Doull, Phil Pinnell, Robert Walls and Brian Walsh – are all part of Ronald Dale's winning 20.
Round 4, Saturday, April 24, 1971 – Carlton 13.21 (99) defeats Geelong 13.8 (86)
Carlton's No.1 ruckman John Nicholls savours game No.250 with a hard-fought win, with Robert Walls adjudged best afield.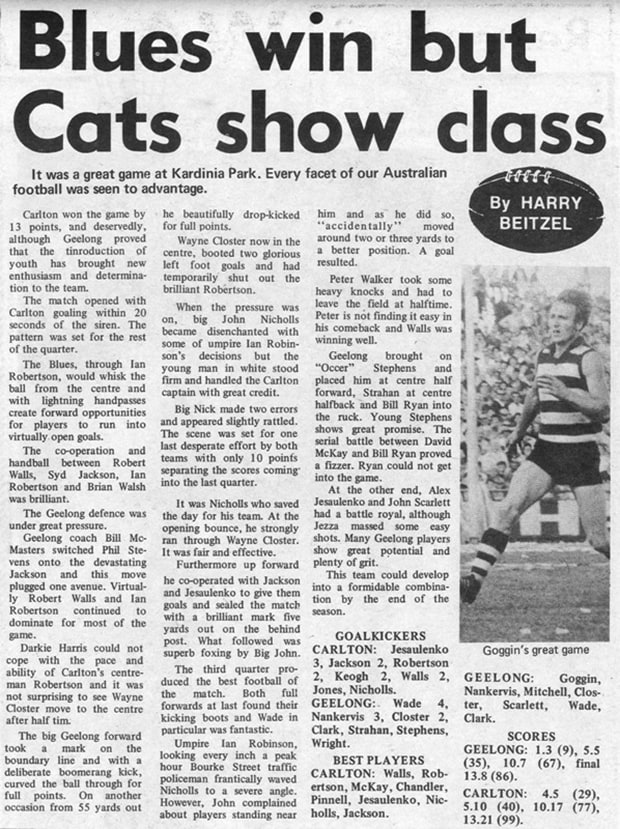 The late Harry Beitzel's match report from the 13-point win over Geelong in 1971. (Sourced from blueseum.org)
Round 17, Saturday, July 29, 1972 – Carlton 17.17 (119) defeats Geelong 9.13 (67)
After earning a recall to the senior team, Carlton full-forward Greg Kennedy contributes four goals to his team's final scoreline, as does Robert Walls. 'Polly' Farmer, in a match review for The Australian, writes: "There is no doubt Carlton is packed with talent and when nearly half the team can each gain 20 kicks it means the Blues are not relying on any individual to fire them".
Round 1, Saturday, April 7, 1973 – Carlton 18.16 (124) defeats Geelong 10.8 (68)
In the season opener, Carlton half-forward Ian Robertson, after completing a mark, suffers what proves to be a season-ending ankle injury - but not before booting a goal with his subsequent kick off one step. Captain-coach John Nicholls is reported for striking Geelong's David Barclay and, in the subsequent Tribunal hearing cops a suspension of one match - the same match in which the '72 premiership pennant is unfurled. However, the League grants 'Big Nick' special dispensation to allow him to enter the ground for the ceremony.
Round 2, Saturday, April 13, 1974 – Carlton 12.16 (88) loses to Geelong 15.7 (97)
The late Carlton premiership back pocket John O'Connell completes his 50th senior appearance for the club in this match. Syd Jackson boots five goals off a flank, but regrettably it's not enough, and Ben Cousins' father Bryan boots the sealer for the hosts.
Round 1, Saturday, April 25, 1975 – Carlton 13.16 (94) defeats Geelong 8.14 (62)
A comfortable away win in what is Brent Crosswell's final appearance and Mike Fitzpatrick's first. 'Fitzy' is ko'ed by Geelong's John Scarlett early, but somehow manages to play out the game.
Round 9, Saturday, May 29, 1976 – Carlton 12.10 (82) loses to Geelong 14.18 (102)
The Blues, at the time competition leaders, suffer their second successive loss under coach Ian Thorogood's watch.
Round 1, Saturday, April 2, 1977 – Carlton 17.21 (123) defeats Geelong 6.9 (45)
John Trezise and Tony Southcombe each complete their senior debuts and fellow Bendigonian Rod Ashman is adjudged BOG in a whitewash. The Football Record reports the '77 season opener as follows; "After a disappointing first quarter, Carlton took control of the match at Kardinia Park and inflicted the biggest hiding ever in 153 games played against the Cats on any ground. (The Blues) won by 78 points, bettering their 1933 record of 73 points. Geelong had few good players on the day, whereas Carlton literally won in every position".
Round 13, Saturday, July 1, 1978 – Carlton 9.13 (67) defeat Geelong 8.9 (57)
Peter 'Percy' Jones turns in a match-winning performance at 'Sleepy Hollow', with the late Denis Collins a key contributor off a wing, in Kevin Heath's 50th senior game for the club.
Round 12, Saturday, June 23, 1979 – Carlton 14.17 (101) loses to Geelong 15.17 (107)
Geelong half-forward David Clarke, who would round out his decorated League career at Carlton in the 1982 premiership season, boots four in a match-winning performance for the Cats in what is captain-coach Alex Jesaulenko's 250th senior match and Denis Collins' last hurrah as a Blueboy.
Round 13, Saturday, June 30, 1980 - Carlton 12.6 (78) loses to Geelong 12.11 (83)
Geelong's Mario Bortolotto , a two-time premiership player in another life at Princes Park, blankets Carlton centre half-forward Mark Maclure in a tight contest. The defining moment comes when officiating field umpire Neville Nash fails to award a free kick to Carlton full-back Geoff Southby, who is illegally held by Glen Middlemiss and therefore thwarted from stopping a bouncing goal, which decides the contest.
Round 8, Saturday, May 16, 1981 – Carlton 12.13 (85) defeated Geelong 12.8 (80)
Peter McConville kicks five goals from up front and Rod Ashman is adjudged best player afield in a tight contest won by the visitors on the occasion of David McKay's 250th senior game.
Round 17, Saturday, July 24, 1982 – Carlton 11.9 (75) loses to Geelong 16.19 (115)
Mark Maclure boots five including his 200th career goal for Carlton in this one, but is nabbed by Glenn James for striking the largely forgotten Craig Cleave and duly suspended for two matches.
Round 17, Saturday, July 23, 1983 – Carlton 15.18 (108) defeats Geelong 11.7 (73)
Val Perovic earns three votes at centre half-back and Alex Marcou and Wayne Johnston each kick three in a comfortable win for the visitors.
Round 13, Saturday, June 23, 1984 - Carlton 10.18 (78) defeats Geelong 4.17 (41)
Dual premiership rover Rod Ashman plays a blinder in what is the 1700th League match involving a Carlton team, but the win is not without cost. Back pocket Ricky Nixon cops a broken jaw and Alex Marcou a fractured cheekbone.
Round 15, Saturday, July 6,1985 - Carlton 19.16 (130) defeats Geelong 16.8 (104)
Wayne Blackwell, Mark Maclure and Warren McKenzie each feature in the goalkickers with three each, with Paul Meldrum best afield.
Round 20, Saturday, August 16, 1986 - Carlton 10.19 (79) loses to Geelong 16.12 (108)
The two Waynes - Blackwell and Harmes - are amongst the Blues' best, but the road trip isn't worth the petrol money this time around.
Round 20, Saturday, August 15, 1987 - Carlton 24.12 (156) defeats Geelong 13.10 (88)
With premiership No. 15 just six weeks away, Carlton captain Stephen Kernahan leads from the front with an eight-goal haul from centre half-forward and Peter Sartori contributes a lazy seven of his own. An unduly rough play charge levelled against Ken Hunter for throwing Darren Flanagan to the ground is itself thrown out.
Round 3, Sunday, April 16, 1989 – Carlton 9.10 (64) loses to Geelong 16.21 (117)
The former Melbourne footballer Paul Payne makes his senior debut for the visitors. Wayne Johnston is savagely collected by Gary Ablett sen. late in the match, copping broken ribs as a consequence.
Round 5, Sunday, April 21, 1991 – Carlton 8.10 (58) loses to Geelong 13.17 (95)
Mark Arceri completes his Carlton senior debut and David Rhys-Jones breaks the banner in game No.100 for the club in an otherwise forgettable affair.
Round 22, Saturday, August 31, 1996 – Carlton 16.11 (107) defeats Geelong 9.11 (65)
In a comfortable 42-point win for Carlton, Justin Murphy boots five from the forward pocket and premiership centre half-back Michael Sexton is adjudged best afield. Stephen Silvagni does another number on Gary Ablett sen, restricting the Geelong great to just one lousy goal.
Round 20, Saturday, August 16, 1997 – Carlton 9.13 (67) loses to Geelong 13.17 (95)
In the last time the two teams meet at Kardinia Park, Adrian Whitehead suffers a stress fracture of the foot, which effectively ends his career and leads to legal jousting between player and club.