For as long as the old brick bridge on Royal Parade stands, so too does the legacy of 'Jack' Worrall endure, with a bronze plaque dedicated to the memory of the legendary Australian sporting icon now affixed to the structure.
The plaque commissioned by the club in Worrall's honour, was this morning placed on the brickwork – the club having successfully gained permission from the City of Melbourne, City of Yarra and Vic Roads to do so some 80 years after his passing.
Martin Fraunholz, owner/director of All in One Signs in Croydon, personally fixed the engraved plaque, which he had cut from a bronze sheet imported from Germany.
"It's lovely that Mr. Worrall is commemorated in this way. It is permanent," Fraunholz said.
Former Carlton Premiership player, Chief Executive Officer and President Ian Collins was also present when the plaque was affixed.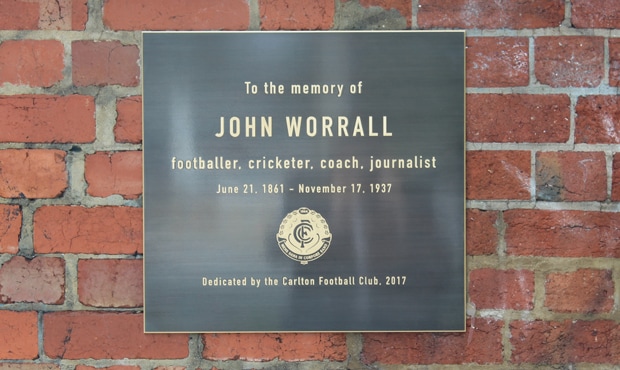 The newly-installed dedication to former Carlton coach John Worrall. (Photo: Carlton Media)

"It's fantastic that this has happened. Carlton's history ought to be preserved," Collins said.
"It's quite remarkable that Worrall hasn't been so honoured previously, because he was the first fully professional person involved in the game, not only as coach in the Premiership years of 1906, '7 and '8, but also as secretary.
"When you look at what he achieved in football with Fitzroy, Carlton and Essendon, on top of what he achieved as a cricketer at state and Test level, he was probably unique – a professional in an amateur environment."
The Royal Parade bridge to which the plaque is now affixed stands over what once was the old Inner Circle railway line, which served commuters in Fitzroy North, Fitzroy, Carlton North and Parkville.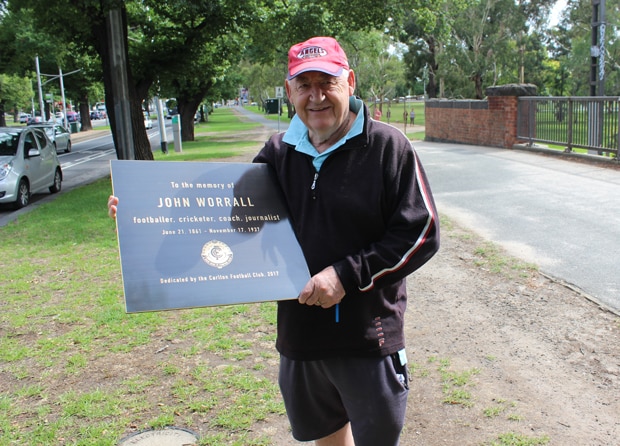 Former Carlton president Ian Collins with the plaque. (Photo: Carlton Media)

The bridge, located just a short walk north from the old Carlton ground, was deemed an appropriate place for the placement of the tribute given that so many of Worrall's sporting achievements came at the Fitzroy and Carlton football and cricket clubs.
In district cricket, Worrall represented both Fitzroy and Carlton (for which he scored a record 417 not out in a match in 1896) with distinction. He is also one of the few to have represented Victoria in both the summer and winter codes, and he wore the baggy green for Australia in 11 Tests.
Worrall captained the Fitzroy Football Club from 1886-1892 and coached Carlton to its first three Premierships in the VFL - the hat trick premierships of 1906, '07 and '08 – before later taking Essendon to Grand Final victories in 1911 and '12.
In covering the 1932-33 Ashes Series in his later life as a newspaper cricket correspondent, Worrall famously coined the phrase "Bodyline".

John "Jack" Worrall coached the Blues to 100 wins in 144 games. (Image: Carlton Media)

It's more than 150 years since Worrall was born in the Victorian goldfields town of Chinaman's Flat; and 80 years since his death in Fairfield. Since then, he has been inducted into the Australian Football Hall of Fame, and has had a medal bearing his name annually presented to a local sportsperson by the Goldfields Region Sports Association.
But there are no known landmarks in existence (until now) to signify the unparalleled sporting triumphs of the man once described by The Australasian's editor RWE Wilmot as "a sportsman to his fingertips".
Professor Lionel Frost, Carlton devotee and author of the comprehensive tome The Old Dark Navy Blues, considered Worrall a leviathan of the club through the team's first golden era in League competition.
"After Worrall was appointed club secretary - the equivalent of a CEO today - he took charge of training, recruitment, team selection, and matchday tactics. He was not the game's first coach, but he introduced teamwork and discipline to a competition that at the time was largely an amateur one," Professor Frost said.

The plaque was mounted on the morning of Thursday, December 14 2017. (Photo: Carlton Media)

"Under Worrall, Carlton won three premierships in 1906-07-08, and surely would have won more had he not left the club after falling out with the players in 1909."
Though Worrall was one of 11 siblings, he and his wife Agnes did not have children, so there are no direct descendants.
But at Carlton, he is remembered.