AFTER 120 years, the Carlton Football Club, with the assistance of Melbourne Grammar School, has sourced its first image of the ruck-rover William 'Brickie' Woodhouse, a member of this club's inaugural senior League team of 1897.
Of the 20 Carlton players who took to the field to herald the commencement of the fledgling VFL season, Woodhouse is the seventh whose photograph now finds a home in the archive.
Woodhouse followed the then Carlton captain Jimmy Aitken down the race and onto Brunswick Street Oval for the opening round match with Fitzroy on the afternoon of Saturday, May 8, 1897.
Regrettably, this story also carries a tragic post-script, but more of that later.
William Theodore Woodhouse was born in East St Kilda on September 14, 1873. He made an early impression as a student at Melbourne Grammar, where it was said his sporting achievements overshadowed his academic pursuits.
Nicknamed 'Brickie' for reasons unknown, Woodhouse joined the Grammarians in 1888 and completed his matriculation in 1891. In that final year, Woodhouse represented both their 1st XVIII and 1st XI outfits, and cuts an imposing figure in both team photographs.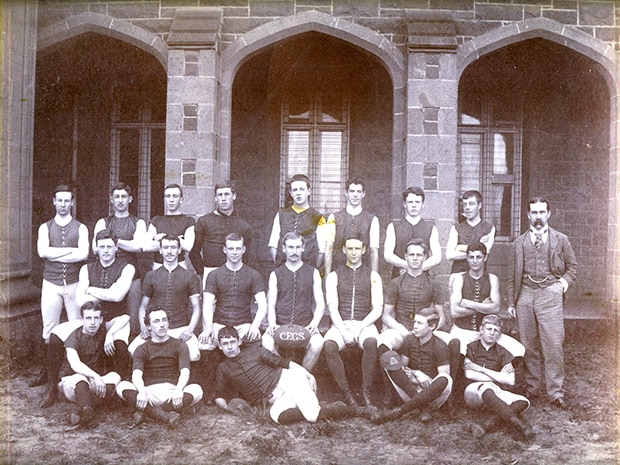 Melbourne Grammar School 1st XVIII 1891, William Woodhouse second from left at rear. (Image courtesy of Melbourne Grammar)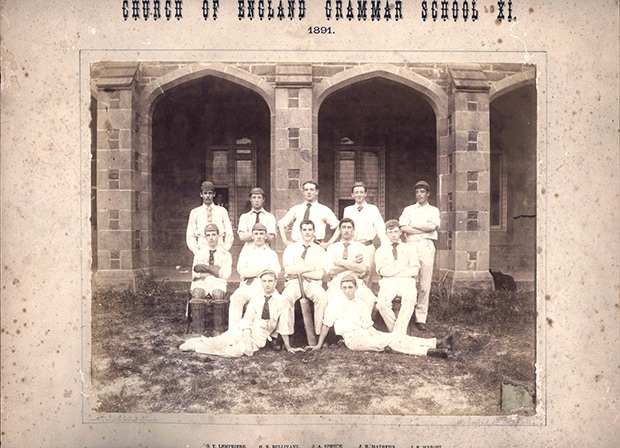 Melbourne Grammar 1st XI 1891, Woodhouse middle row, second from right. (Image courtesy of Melbourne Grammar)
In 1892, Woodhouse founded the Melbourne Hare and Hounds, a precursor to the Old Melburnians Athletic Club, which convened various runs and competitions.
A founding member of the Hare and Hounds was Edwin Flack, this nation's first Olympic Gold Medallist.
It was around this time that Woodhouse first chased the leather for VFA club St Kilda. He then ventured to Broken Hill, briefly combining work with football, before returning to Melbourne and aligning with Carlton.
Woodhouse is said to have first represented the old dark Navy Blues in 28 matches through the VFA seasons of 1894, '5 and '6, during which time he also contributed at committee level. He would add 10 League games to that tally – the last of them, at age 23, in the 14th and final round match of 1897 against Collingwood at Victoria Park - and at the 1898 Annual General Meeting was presented with a Long Service certificate.
A week after Woodhouse's passing in Launceston on November 24, 1934, The Argus reported the following;
The funeral took place at Brighton Cemetery yesterday of William T. Woodhouse, formerly of Park Street St. Kilda, who had for many years conducted a chemist's business that was established by his father more than 60 years ago at St. Kilda.
In his youth Mr. William T. Woodhouse was a well known athlete. He was a founder of the Melbourne Hare and Hounds, and he played League football for many years with the Carlton and St. Kilda clubs.
He was also a leading member of the Royal St. Kilda Yacht Club.
While he was recuperating in Tasmania from an attack of influenza he died suddenly from heart trouble.
He was born in St Kilda, and passed away November 24 1934 in Launceston aged 61.
Woodhouse was married with three daughters and a son.
However, the Launceston Examiner of November 28, 1934 carried a different report;
TOOK POISON.
Man Found Dead in Hotel
LAUNCESTON, Tuesday. – A verdict that William Theodore Woodhouse, whose body was found at the Enfield Hotel on Sunday, died by his own act from taking poison was returned by the Coroner (Mr. E. L. Hall) at an inquest at Launceston to-day.
John Woodhouse, a chemist, of Melbourne, son of the dead man, said he had identified a body at the morgue at the Launceston Public Hospital that morning as that of his father, who was a chemist, and lived at 56 Park Street, St. Kilda. He was 61 years of age. Witness last saw him alive at 2 p.m. on Friday last, when he left Melbourne on the Nairana to spend a holiday in Tasmania. His father had an attack of influenza about a fortnight ago, but seemed to have recovered. Witness could not account for his taking his life, and said he had no worries. He identified the writing produced as that of his father.
Verdict of suicide at inquest into death of William Theodore Woodhouse at Enfield Hotel, Launceston, on November 25.
The sad demise of Woodhouse is but one of a number of former player suicides, while others have died in unusual circumstances.
One is James Francis Caffery, who managed 12 senior appearances for the Club in that maiden season of '97.
While club records confirm that Caffery died in 1918 at the age of 46, Robert has provided more detail, in sourcing a newspaper account, dated June 10 of that year, beneath the headline A Sudden Death, which offers a small glimpse into the man's life beyond the football field.
On the arrival of the 4.45p.m. Oakleigh train at Flinders-street station on Saturday, the body of James Francis Caffery, 46 years, was found by a porter on the seat if a first class carriage. The body was taken in a St. John's ambulance to Melbourne Hospital, where Dr. Leckie pronounced life extinct. It appears that Caffery, who lived in a confectioner's shop at 189 Exhibition-street, city, went to Sandown Park races on Saturday with his son. About 3.30 p.m. according to the son's statement, he complained of a pain in the chest, and left the course with the intention of going home. Prior to Saturday, Caffery had been in good health. It is thought that he collapsed in the train as the result of heart trouble.
Another unfortunate is Walter McKenzie, the one-game Carlton player of 1902 recruited to the club from the nearby Carlton Imperials. McKenzie died in Morwell on February 9, 1931, in a road accident.
McKenzie was riding a pushbike when it was struck by an Overland motor car driven by Norman McDonald on the Morwell-Yinnar road, about four miles from Morwell. His body was identified at St. Hilary's private hospital by his step brother Charles James McKenzie, a bacon curer residing at Sale.
In a local newspaper dated February 20, 1931, the following was reported;
A verdict was returned that the deceased Alexander McKenzie died at Morwell on the ninth day of February, 1931, from fracture of skull and other injuries caused by collision with motor car at Hazelwood, such injuries received by the said Alexander McKenzie accidentally and by misfortune.
Then there is the 11-game Carlton player of 1897, Henry Huston ('Harry') Morgan, whose sad life was matched by a wretched demise.
Born in Melbourne on February 17, 1871, Morgan was 22 when he exchanged vows with Emma Maria. Sadly, the marriage would not last as the following newspaper account of 1916 revealed;
. . . Henry Huston Morgan, labourer, 44 years, sought divorce from Emma Maria Morgan, 39 years on the ground of desertion. The marriage took place on 6th April, 1893, and there were three children. After living in various districts in South Australia petitioner and the children came to Melbourne in 1902, and respondent said she could come later. She, however, wrote from South Australia stating that she had parted for ever.
A decree nisi was granted.
On November 11, 1924, The Argus reported that the body of Henry Morgan, 54, an inmate of the Victorian Home for the Aged and Infirm at Royal Park, was found in a channel which runs through the grounds on 6th inst. Michael George Hickey, an inmate of the home, said deceased was in the habit of wandering down the banks of the channel. On the night of the 5th inst. heavy rain had fallen, and the channel rose as a result to a height of 6 feet. The next morning, at 6 o'clock, he discovered the body lying in the channel, which, however, then had only about a foot of running water.
A verdict of death by accidental drowning was recorded, the coroner Mr Berriman ruling there was insufficient evidence to show how Morgan came to be in the creek.
But a family notice subsequently placed by the Morgans revealed that the late Carlton footballer was not untouched by wartime scourge.
MORGAN. – On the 5th November, Henry Huston Morgan, formerly of Palmerston street, Carlton, and loving father of Henry (deceased, late of A.I.F.), Violet (Mrs. A. Robertson), and Daisy (Mrs. J. Boyce), aged 52 years (sic). (Privately interred on 7th November.)