Rex Job turned out just once for the Carlton seniors. It came in the opening round of the 1931 season, against Richmond at Princes Park.
Named 19th man, Job (pronounced "Jobe") wore the lucky No.13 on his back when coach Dan Minogue gave him a run on that Autumn Saturday in May.
Strutting his stuff on the famed field of dreams, Job just happened to be photographed by a snapper from The Argus - apparently marking strongly in advance of the marauding Gordon Strang, with the Blues' resident ruckman Charlie Davey awaiting the outcome.
During the week, some 85 years after that moment was frozen in time, Job's grandson Stephen Frost paid Ikon Park a welcome visit armed with the precious image and other sepia offerings of a long gone era.
"This photograph of Rex was taken in the one senior game that he played," Frost confirmed.
"He told me he didn't actually take that mark and that the guy behind (Strang) got to punch the ball away.
"It was a match against Richmond, and Carlton got done."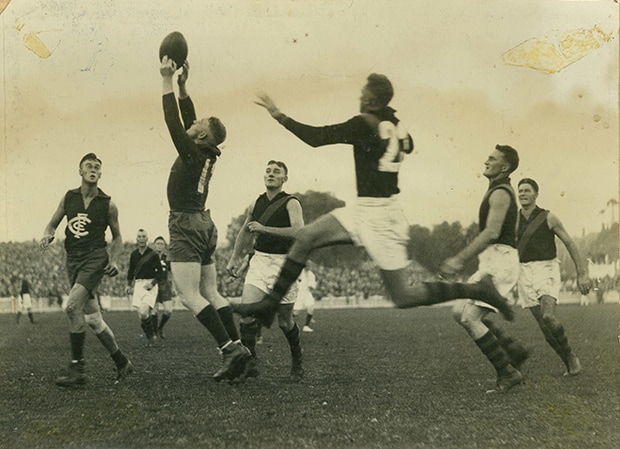 Round 1, 1931 v Richmond, Princes Oval: Rex Job "marks" as Carlton's Charlie Davey awaits the outcome. Gordon Strang, also on debut, charges in. (Photo: The Argus)

How Job came to acquire this original image is in itself a story according to Frost, himself a passionate Blues supporter.
"He said he was walking past the old Argus building on the corner of Elizabeth and La Trobe Streets and saw the photo on display," Frost said.
"Lucky for the family he went in and bought the original".
Frost's grandfather was born Frederick Rexford Job on August 9, 1910. He first turned out for the local football club at Ararat, the place from which Carlton's latest draftee Tom Williamson hails, but on moving to Melbourne set up home digs in Brunswick, not far from the old Carlton ground.
"My grandfather knew 'Squizzy' Taylor, but he (Job) wasn't a 'colourful character' as you might have thought," Frost said.
"He was a mild drinker who used to have a few at the pub on a Friday night when Squizzy and his cohorts fronted up for a beer or two. He said they used to throw their nickel-plated pistols on the table, have a drink and lay a bet.
"As my grandfather was one of the few to carry a pen and paper, 'Squizzy' and his cohorts would often ask him for a loan of the implements – and naturally he'd oblige."
Through harsh economic times brought on by what one scribe declared was "that stalking monster, 'Depression'", Job tried his luck at Carlton.
It appears he was about the place at least as early as 1930, for amongst Frost's photographic gems is one of the 37-man Carlton touring team - amongst them 'Soapy' Vallence, Alex Duncan, Horrie Clover and our Rex - which travelled north in July of that year.
The 17-day tour, also involving players of the Richmond persuasion, took in games in Brisbane in Sydney. The Brisbane game before an audience of 16,000 was drawn, while the Sydney contest resulted in a 15-point triumph of the yellow and black – and for good reason too.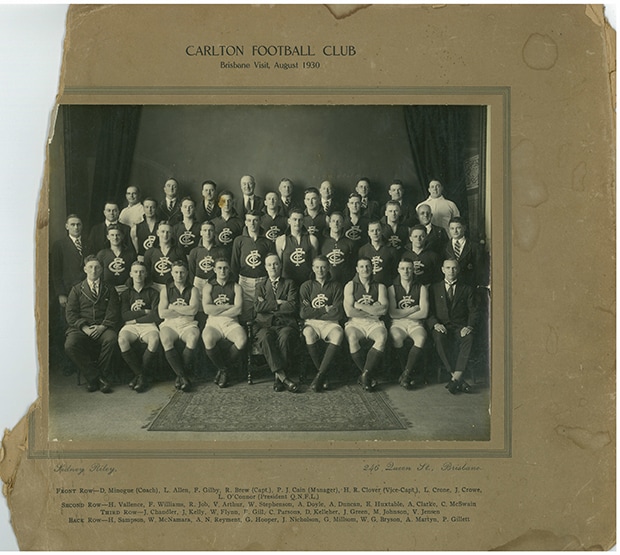 Carlton's team for the Brisbane tour. (Photo supplied by Stephen Frost)
The Carlton secretary Pat Cain, in the 1930 annual report, noted: "In Sydney, the match, although a good one, did not compare with the Brisbane game, due either to the excessive travelling of the players, or the over-indulgence in the eating of the beautiful tropical fruits of Queensland".
Job's solitary appearance for the Carlton senior XVIII can, according to Frost, be put down to the intervention of the then President and former player Dave Crone.
"As the story goes, my grandfather, who worked for the SEC, was sitting around the mess room when a fellow employee approached him and said: "Rex, I've got two letters of offer – one to play at Essendon, the other at Carlton – what should I do," said Frost.
"My grandfather said 'You're a rover, if I were you I'd go to Essendon because there's probably more of a chance of you getting a game there'. He was just being honest.
"Now down the end of the table was another guy listening in on the conversation. He wrote a letter that made its way to the President, who promptly approached the Carlton coach and said: 'Rex is never to play in the ones again'. That was it."
Though his papers were swiftly stamped, Job loyally remained in the fold at Carlton, turning out with the seconds for four more years.
Later, after the Japanese bombed Darwin, Job did his bit for King and Country by manning the searchlights in Darwin.
For years, Job worked for the SEC as a meter reader - venturing from street to street on his trusty pushbike and collecting payments from household occupants which he'd return to the depot. Job later completed the same task on an industrial level, doorknocking the various factories and warehouses, and in later life was elevated to the role of manager to oversee those same operations.
Frost remembered his grandfather, who died at the age of 88 in May 1999, as an extremely private person. As he said: "I probably learned more about him in the 18 months after his wife's passing than I ever did in all the years before that I visited him".
But what of his grandfather's time at Carlton? Frost conceded that while Job never conveyed his views on the matter, he did remain a true Blue competitor, albeit at reserve grade level, despite the obvious career setback.
"To me that means that my grandfather either enjoyed his time at Carlton, or was trying to ride the President out so that he could get another game – it's one or the other," Frost said.