KEN HUNTER considers his career as one split in two halves.
There was the half that featured 99 games, two All Australian guernseys and 12 state appearances with WAFL side Claremont, and there was the half that featured 147 games, three premierships and a best and fairest with VFL powerhouse Carlton.
Each half was as celebrated and respected as the other.
Hunter, who has been inducted into the Australian Football Hall of Fame, was skilful, feared and fearless.
The Tigers turn down a future champ
When he first investigated the possibility of moving across the Nullarbor to Victoria as a teenager, VFL clubs shied away from the scrawny West Australian.
Richmond infamously dismissed the chance to recruit him with the words: "we don't chase half-back flankers".
Other clubs were wary of Hunter's reckless on-field nature.
He was just 19, yet he had already broken his jaw three times.
- Carlton Hall of Fame ✅
- Carlton Team of the Century ✅
- Australian Football Hall of Fame ✅

Ken Hunter. What a player - what a man.#BoundByBlue #HallOfFame

— Carlton FC (@CarltonFC) June 4, 2019
Having been drawn to the prospect of competing in the VFL via weekly viewing sessions of Drew Morphett's program The Winners at his local pub, where Hunter kept a keen eye on his fellow Sandgropers, he was determined to make his dream a reality.
However, having been told 'no' by a number of clubs, Hunter had the choice: curb his ferocity in attacking each and every contest, or continue doing the only thing he knew.
The answer was simple.
"I wasn't about to change the way I played," Hunter says.
"Even after people said I was too reckless and that I should give the game away, it was all about trying to win the footy and not worrying about the consequences."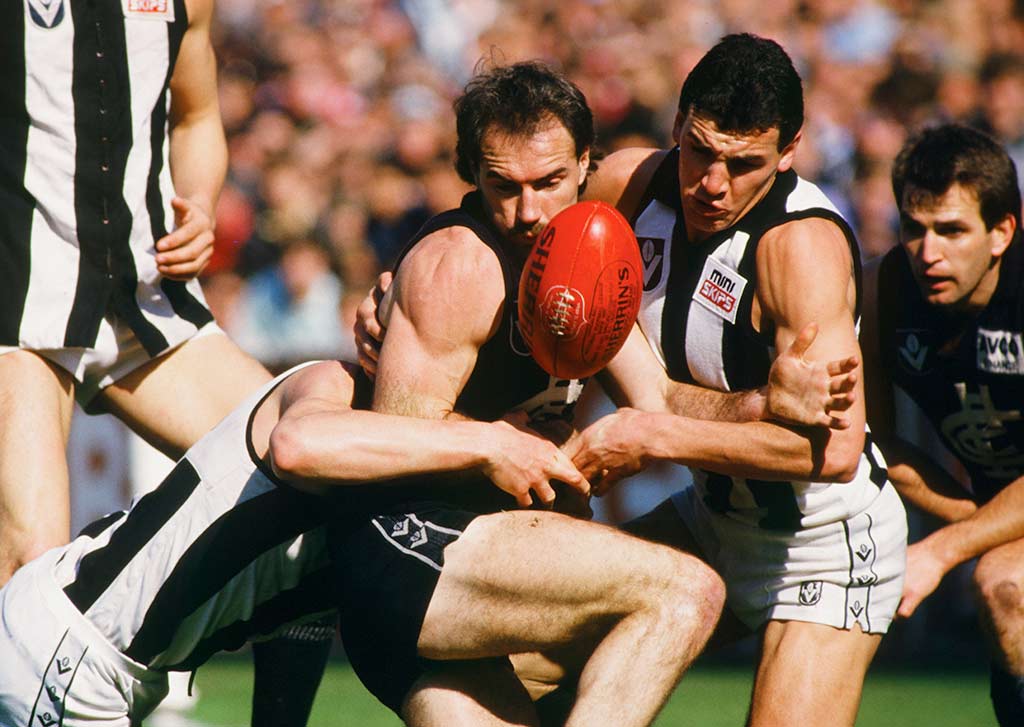 Carlton's gamble pays dividends
Ultimately, Hunter's ability and his incredible aerial prowess won Carlton over.
The Blues' decision proved a masterstroke. The hardened defender was named the club's best and fairest in his maiden season at Princes Park and helped the Blues to three flags in nine years.
"They were all pretty special," Hunter says.
"But for me, 1982 was very special. I thought David Parkin's coaching was brilliant.
"We had a lot of injuries and a lot of suspensions and at one point we were struggling in terms of actually making the finals. But he got us up.
"Richmond beat us by 10 goals in the second semi-final. But he matched us up really well against them in the Grand Final, learning from how they beat us earlier."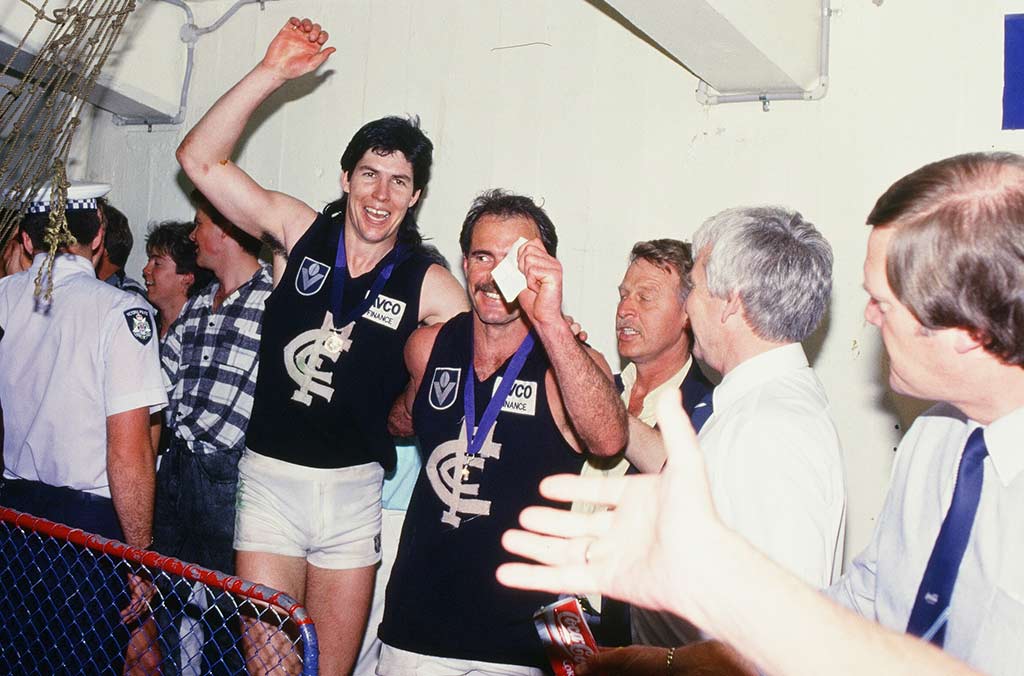 Not that Hunter remembers much from the 1982 decider. He was knocked out by Jim Jess in the opening minutes, one of a number of concussions he received throughout his career.
I can't remember coming on, or anything about the game."
"It's all pretty hazy," Hunter says.
"I don't know when it was, but I think I got knocked out at the 10-minute mark of the first quarter and I came back on towards the end of the first quarter.
"I can't remember coming on, or anything about the game. I think I was just playing on memory. It wasn't until I got to half time that I was able to start recovering and realise where I was and what was going on."
Hunter's determination to attack on the footy again remained unchanged.
In round one of the following season, again facing a fearsome Tigers outfit, Hunter charged into a contest with his eyes focused on the ball. He leapt in the air, twisting his body as he plucked what proved to be that season's Mark of the Year.
Hunter started the 1983 campaign in defence, but soon pushed forward to finish with 43 goals – enough to top Carlton's goalkicking.
If his positional switch proved his versatility, his mark to start that season demonstrated the courage that earned him a reputation among football's toughest players.
Courageous. Consistent. Class of 2019.

We're delighted for one of our own - Ken Hunter has been inducted in the Australian Football Hall of Fame! #BoundByBlue #HallOfFame

— Carlton FC (@CarltonFC) June 4, 2019
In an era packed with hardmen, was there anyone in the game that made Hunter think twice about backing into a pack? Leigh Matthews? Roger Merrett? Dermott Brereton?
"I wouldn't say anyone did," Hunter says.
"I was more focused on the footy and winning the contest. I didn't really worry about what was around me."
Ken Hunter – 2019 Australian Football Hall of Fame inductee
Clubs

Claremont (1975-80),

Carlton (1981-89)

Born
April 28, 1957
Games

246 (99 for Claremont,

147 for Carlton)

Goals
183 (23 for Claremont,

160 for Carlton)

Player honours

Three-time VFL Premiership player (1981, 1982, 1987);

Carlton leading goalscorer (1983);

Four-time All-Australian: 1979 (carnival), 1980 (carnival), 1982, 1983